Idaho's Broadcasters
Serving Every Local Community
Topic: Military-Focused Initiatives
View Video Date Posted: 12/3/2017
Impact Radio Group's KQBL-FM Boise recently helped a veteran in need through their work with local veteran services organization The Tillery Fund. KQBL-FM invites listeners to nominate military families and veterans in need through the "Adopt-A-BULL Family for Christmas" program. This year, they found a medically retired veteran in his early 30s, who is married with three young children and faces a six-month backlog while waiting for disability paychecks. The family relies solely on a wood-burning stove for heat, but they were out of wood. Immediately after KQBL-FM personalities Kevin and Brenda shared his story, they heard that a nearby vacant property had five trees that had already been cut down. The property owner happily agreed to donate the wood. Two days later, 50 volunteers spent four hours to cut and deliver 15 cords of wood, which can keep the family warm for more than two years. Watch the video here.
---
Topic: Community-Focused Initiatives
Date Posted: 5/5/2016
Raycom Media's Fox affiliate KNIN-TV Boise partnered with Idaho Gives, a single-day statewide charitable giving celebration that highlights the diversity of nonprofit organizations. On May 5th, thousands of people showed their support for Idaho's nonprofits by making an online donation through the Idaho Gives web site. KNIN-TV aired stories leading up to the event featuring local non-profits. The day of the event, the station went live in Good Morning Idaho, and FOX 9 News at 9 soliciting more donations. Thorough these efforts, KNIN-TV helped Idaho Gives raise more than $1 Million.
---
Topic: Youth-Focused Initiatives
Date Posted: 12/17/2015
Raycom Media's Fox affiliate KNIN-TV and Scripps TV Station Group's ABC affiliate KIVI-tv, Boise, partnered with Toys for Tots this holiday season. The stations received over 20,000 donations, whch were then distributed across the viewing area.
---
Topic: Health Awareness Campaigns
Date Posted: 12/4/2014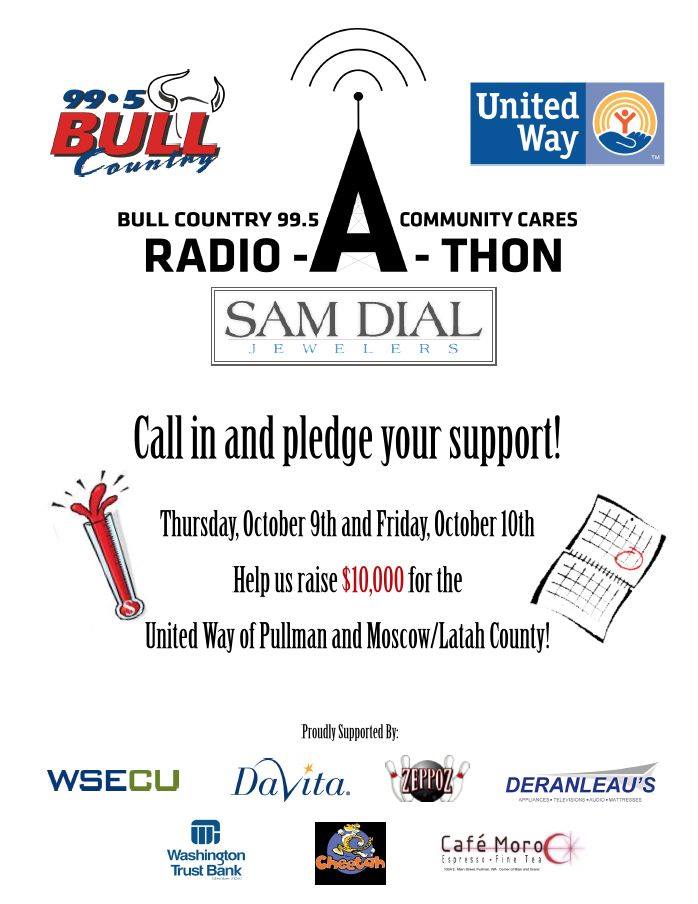 Inland Northwest Broadcasting's KZZL-FM Moscow, Idaho, raised $13,595 for the United Way in the 3rd annual Bull Country Community Cares Radio-A-Thon, held Oct. 9-10. Volunteers from 34 local nonprofit organizations pitched in during the 30-hour event, helping KZZL-FM exceed the station's $10,000 goal.
---
Topic: Neighbors in Need
Date Posted: 8/11/2014

Ida-Vend/Inland Northwest Broadcasting's radio cluster in Lewiston, Idaho, recently hosted the "Four Hour Food Drive" to collect food and money for four local, nonprofit organizations. Each nonprofit was given an hour of radio airtime to solicit donations, and the charity with the most items collected would receive $4,000 in free radio advertising. In total, the drive raised more than 430 pounds of canned food and hundreds of additional household items.
---
Topic: Neighbors in Need
Date Posted: 2/11/2014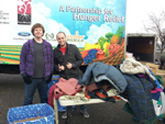 Inland Northwest Broadcasting Radio stations in Lewiston, Idaho, held its Holiday Heroes Food Drive in late December to support local families in need. The broadcast group collected more than 200 bags of packaged food, which were paired with frozen turkeys and hams. The food was distributed at the Salvation Army, along with donated coats, gloves, hats and other warm clothes.
---
Topic: Environment
View Video
Experts say everyone can make a difference in helping to stop global warming, which is why KBCI-TV in Boise, Idaho, created "Project Green." The cornerstone of the station-wide initiative is a quarterly half-hour prime time special devoted to local efforts in the green movement. The first program aired in July of 2007 and focused on recycling, carpooling and purchasing foods grown locally. Subsequent shows have covered everything from ride sharing to green home remodeling. To kick off the campaign, the station co-sponsored "Step It Up 2007," a free community gathering, including music and informational booths about conservation. The event attracted more than 300 people eager to learn about protecting the planet. At the same time, the station stepped up its own efforts to be earth-friendly, recycling all paper, cardboard and plastic products and reducing electrical use. To further the reach of the campaign, the station has devoted a section of its Web site to "Project Green," posting national and local green stories, easy green tips, an archive of previously aired specials and resources for viewers to calculate their personal carbon footprint.
---
Topic: Youth-Focused Initiatives
View Video
The creativity of staff at KNIN-TV in Boise, Idaho, provided Northwest Children's Home with an award-winning public service announcement (PSA), which uses animation to show the safe haven the organization represents for troubled girls. These animated drawings have become the "face" of the group's brand. The detailed process of creating the PSA started with the station arranging for still photos to be taken of models; these photos were tranformed into line drawings and, finally, animation accompanied by a voiceover that explains what the organization does and how the community can support it. The station has played the PSA year-round for three years, updating it as needed. In the upcoming year, when the children's home celebrates its 100th year, the station will provide 30-second spots that feature the achievement. Northwest Children's Home also receives inclusion of its events and fundraisers on the station's community calendar and a link to the organization from the station's Web site.
---
Topic: Drug Prevention

Raising community awareness about the dangers of methamphetamine was just the beginning for KTVB-TV of Boise, Idaho. What began as a community public service project to help combat the use of the highly addictive drug ultimately helped breathe new life into area coalitions, encouraged businesses to consider implementing drug-free workplaces, led to a new detoxification center and inspired the Idaho governor to launch a multimillion dollar media campaign against meth. The station's efforts included news stories during "News at 10," a "Life or Meth" documentary, and remotes at area schools and businesses. KTVB's Web site featured a "March Against Meth" splash page, news stories, a live-stream town hall meeting, public service announcements, and links to resources and treatment centers. The KTVB news group produced 16 different "March Against Meth" announcements that aired more than 1,300 times at a value of $84,590. That was just one part of more than $200,000 worth of resources the station dedicated to the campaign in a 30-day period. KTVB was a National Association of Broadcasters' Service to America Award winner in 2008.
---
Topic: Youth-Focused Initiatives

Radio personality KekeLuv broke a world record when he broadcast for 175 hours straight on KSAS-FM in Boise, Idaho. The afternoon jock gave up his shut-eye for seven consecutive days to stay with the microphone and raise awareness about child abuse. The marathon broadcast marked the beginning of National Child Abuse Prevention Month, and KekeLuv's time on air was used to let listeners know about the work and financial needs of Idaho's Heart, a statewide child abuse prevention center. Emails and calls poured into the station during the "Live for 175" broadcast, leading to open discussions about abuse and ways to prevent it. KekeLuv says his week without sleep was well worth it. One note sent to the station from students at Taft Elementary School said "Thank you for helping to make the world safe for us." Both KekeLuv and KSAS were recognized in the Congressional Record for the week-long broadcast.
---
Topic: Community-Focused Initiatives

It's a baby shower on a grand scale, and KIVI-TV in Boise, Idaho, is the host. At the station's inaugural "Community Baby Shower," more than 1,800 items – including clothing, blankets, diapers, wet wipes and formula – were collected for struggling families with infants. KIVI evening anchor Michelle Edmonds spearheaded the event, and the station broadcast live from different drop-off locations throughout the day. KIVI invited viewers to the shower by distributing posters and fliers, as well as running promotional announcements on KIVI and six local radio stations starting 10 days before the event. The station worked with three charity organizations, including the United Way, to distribute the donations and ran a "Three Degree Guarantee," where a monetary donation was made by the station for each newscast that Scott Dorval, KIVI chief meteorologist, was off in his forecast by three degrees in either direction.
---
Topic: Health Awareness Campaigns

In a single day, four hundred men received a potentially lifesaving cancer screening test brought to the area by a partnership between KLEW-TV in Lewiston, Idaho,and the National Prostate Cancer Coalition. The coalition has mobile units that travel to underserved areas to provide men with free screenings. KLEW let its viewers know about the opportunity with a public service announcement campaign. The station also purchased newspaper and radio ads, which ran for two weeks prior to the event. After its Lewiston stop, the testing unit went on to screen men in the state of Washington, where KEPR-TV and KIMA-TV provided media support. "Through this partnership, men in the local community became better informed regarding annual prostate cancer screenings and the importance of taking ownership of one's health," said Katie Gorscak from the National Prostate Cancer Coalition. "It's because of media partners like these that we're able to stretch our dollars, screen more men and save more lives." To date, the coalition's mobile testing units have screened more than 65,000 men.
---
For more examples of how Idaho's local radio and TV broadcasters are serving every local community, please contact the Idaho State Broadcasters Association .