Indiana's Broadcasters
Serving Every Local Community
Topic: Military-Focused Initiatives
Date Posted: 4/1/2018
WOWO's annual "Penny Pitch" campaign has been providing grants to individuals and not-for-profit organizations serving Northeast Indiana since 1948. The initiative aims to help those who are either disadvantaged or physically handicapped by supporting charities that have a similar mission. In 2017, the campaign raised more than $200,000 for The Shepherd's House, which provides temporary housing for homeless military veterans living with addictions. The Shepherd's House recently had its federal funding denied but the station generated enough money to keep the facility open for nearly six more months.
---
Topic: Investigative Reporting
Date Posted: 4/25/2017
Dispatch Broadcast Group's NBC affiliate WTHR-TV Indianapolis became the first local television station to be honored with two separate Peabody Awards in the same year. The station was honored at an event on April 25 for "Charity Caught on Camera," an undercover investigation that exposed mismanagement at an Indiana charity, and "Dangerous Exposure," which discovered lax oversight by environmental regulators. The investigations are WTHR's fourth and fifth Peabody Awards.
---
Topic: Neighbors in Need
Date Posted: 1/11/2017
Tribune's Fox affiliate Indianapolis WXIN photojournalist Greg Dunn pulled a woman to safety after her car spun into a nearby canal. The car flipped upside down in the water, with the woman trapped inside. In this video , Dunn describes how he climbed down the side of the canal as the woman screamed for help.
---
Topic: Politics and Election Coverage
Date Posted: 11/8/2016
Dispatch Broadcast Group's NBC affiliate WTHR-TV Indianapolis provided extensive coverage on election night. The station led the market in total household viewership from the moment the polls closed at 6:00 p.m. until 2:00 a.m. and WTHR political reporter Kevin Rader was the only Indianapolis-based TV reporter to interview Vice President-elect/Indiana Governor Mike Pence that evening. "I'm proud of our station's great planning, journalistic integrity and commitment to excellence around such an important and historic day in our nation's political history," said Dispatch Broadcast Group President Larry Delia. Additionally, the wthr.com news app and website received 1.4 million page views on election night, including 219,000 unique visitors.
---
Topic: Disaster Relief and Recovery
Date Posted: 8/31/2016
Dispatch Broadcasting's NBC affiliate WTHR-TV Indianapolis raised $200,000 to assist Red Cross relief efforts following the August 24 tornado outbreak. Eight confirmed tornadoes across the state left more than 200 people homeless in Kokomo, damaged 1,000 homes and left thousands without power. Partners in the WTHR Cares Emergency Relief Network include Cumulus' WFMS-FM, the Red Cross, St. Vincent Health, Kroger and FORUM Credit Union. WTHR provided seven hours of live coverage and created on-air promos, including one featuring former Indianapolis Colts quarterback Peyton Manning. "Our team is committed to serving our community every day," said WTHR President and General Manager Larry Delia. "We want to let people of Kokomo and Central Indiana know that WTHR truly cares and that we are here to help in times of need."
---
Topic: Investigative Reporting
Date Posted: 6/1/2016
Dispatch Broadcast's NBC affiliate WTHR-TV Indianapolis broadcast "13 Investigates report 'Dangerous Exposure,' gets results" on June 2. Investigative reporter Sandra Chapman found that a cancer-causing chemical close to some central Indiana homeowners water supply. The Indiana Department of Environmental Management (IDEM) says the creek is at risk of contamination from chemical solvents and petroleum flowing from one of the state's largest voluntary cleanup sites.
---
Topic: Investigative Reporting
Date Posted: 5/23/2016
Dispatch Broadcast's NBC affiliate WTHR-TV Indianapolis aired "Dangerous Exposures: 13 News Investigates Reveals State Program Lets Contamination Spread" on May 23. Reporter Sandra Chapman examines Indiana's voluntary program that protects companies from lawsuits if they agree to stop generating toxins and clean up what has already spread in the air and water. Some companies in the program have not filed a remediation plan in more than a decade and have not taken adequate steps to stop toxins from entering the environment.
---
Topic: Drug Prevention
Date Posted: 5/23/2016
Raycom Media's NBC affiliate WFIE-TV Evansville, Ind. aired a report, "14 News Investigates: Heroin In Henderson" on May 23. In the first of a three-part series, reporter Hillary Simon investigates the heroin epidemic among teenagers and young adults in Henderson County, Ky. Local police are making more arrests in an effort to get teen users into rehab before they experience a fatal overdose. Part two of the series will focus on stark reality that parents of teen addicts face.
---
Topic: Community-Focused Initiatives
Date Posted: 4/4/2016
Nexstar's ABC affiliate WEHT-TV Evansville, IN raised more than $1 million in its 39th annual Easter Seals Telethon, held April 10. The Easter Seals Rehabilitation Center offers therapy services to children and adults with disabilities who cannot otherwise afford services. Evansville Mayor Lloyd Winnecke joined the WEHT news crew on-air and proclaimed April 10 "Easter Seals Day" in Evansville.
---
Topic: Politics and Election Coverage
Date Posted: 3/22/2016
PBS-owned WFYI Indianapolis hosted an hour-long debate on April 18 between Republican candidates for U.S. Senate, Marlin Stutzman and Todd Young. A live feed of the telecast was made available to television stations statewide. Voters also had the opportunity to submit questions for consideration.
---
Topic: Local News
Date Posted: 3/1/2016
Media General's CBS affiliate WANE-TV Ft. Wayne, Ind. will expand "First News Saturday" to two hours, from 7 to 9 a.m., beginning March 26. "WANE-TV sets the standard for news in the Fort Wayne area," said News Director Ted Linn. "It's only natural to make a good thing even better."
---
Topic: Youth-Focused Initiatives
Date Posted: 3/1/2016
Cumulus' WRWM-FM Indianapolis' "JC in the Morning" show collected more than 1,000 homemade Valentine's Day cards, which they delivered to kids at Riley Hospital for Children during a party that the station hosted at the hospital on February 12.
---
Topic: Neighbors in Need
Date Posted: 2/16/2016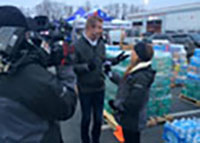 Tribune's Fox affiliate WXIN and CBS affiliate WTTV Indianapolis partnered with Cumulus' WRWM-FM and WJJK-FM Indianapolis to collect bottled water for the citizens of Flint during the week of Jan. 18. The on air, online and on-site promotions resulted in 205,000 bottles of water and over 20,000 gallons of water, plus thousands of dollars in cash. On Jan. 29, six semi-trucks delivered the water to Flint.
---
Topic: Youth-Focused Initiatives
Date Posted: 2/1/2016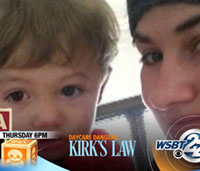 Schurz's CBS affiliate WSBT-TV South Bend, Ind. discovered that nearly 40 children in Indiana died in daycare facilities in six years. WSBT-TV's investigation uncovered inadequacies in state law that allow unlicensed daycares to continue operating after receiving violations. WSBT educated parents on how to choosing a safe place for their children and how to report illegal facilities. Watch video.
---
Topic: Neighbors in Need
Date Posted: 1/14/2016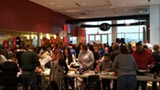 Cumulus' WMDH-FM Muncie, Ind.'s "Secret Families Day," held December 5, provided 372 families with a Christmas tree, decorations, food, cleaning supplies and gifts for each family member. More than 1,000 volunteers delivered $200,000 in goods on "Secret Families Day."
---
Topic: Community-Focused Initiatives
Date Posted: 1/14/2016

Emmis' WIBC-FM Indianapolis raised $250,000 in its annual Salvation Army telethon, held December 4-5. Children could take pictures with Santa in the Emmis lobby on December 4 as part of the event. Watch video.
---
Topic: Youth-Focused Initiatives
Date Posted: 1/14/2016
Nexstar Broadcasting's ABC affiliate WEHT-TV Evansville, Ind., raised almost $300,000 on December 6 for the Santa Clothes Club. The telethon has been running for nearly 70 years and will provide clothes for 3,000 kids this year. Watch video.
---
Topic: Politics and Election Coverage
Date Posted: 11/5/2015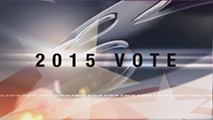 Media General's CBS affiliate WISH-TV Indianapolis hosted and broadcast live the city's only mayoral debate, held Oct. 16 (watch video).
---
Topic: Youth-Focused Initiatives
Date Posted: 10/19/2015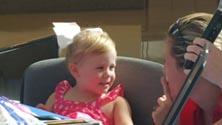 Midwest Communication's WIKY-FM Evansville, Ind., raised more than $90,000 in a radiothon held September 3-4 for Riley Children's Foundation. Riley Children's works with organizations across Indiana to aid kids with serious health issues and helps families with their medical bills.
---
Topic: Community-Focused Initiatives
Date Posted: 10/19/2015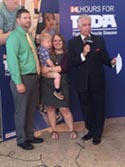 Raycom Media's NBC affiliate WFIE-TV Evansville, Ind., raised $293,000 in its "14 Hours for MDA" fundraiser, held September 1 to support the Muscular Dystrophy Association (MDA). This was the 45th consecutive year that on-air personality Mike Blake hosted the telethon. According to the MDA, WFIE hosts the country's largest event to support the organization's work to fight muscular dystrophy.
---
Topic: Youth-Focused Initiatives
Date Posted: 9/3/2015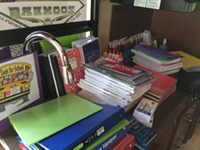 Media General's CBS affiliate WANE-TV Ft. Wayne, Ind., collected more than 20,000 supplies, weighing 640 pounds, and almost $10,000 for The Salvation Army during its "Tools for School" drive in June and July. The 36-day school supply drive collected items at eight "Pack the RV" stops and from collection bins placed at several local businesses and Salvation Army locations. The supplies have been distributed to needy children who attend Fort Wayne and Allen County public schools.
---
Topic: Community-Focused Initiatives
Date Posted: 1/13/2015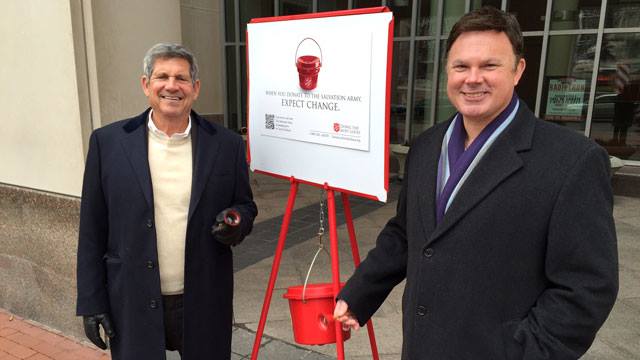 Emmis Communications' WIBC-FM Indianapolis raised $253,000 for the Salvation Army during its radiothon. The radiothon, held Dec. 5-6, broke a station record and surpassed the $250,000 goal. WIBC-FM listeners have donated more than $2 million over the last 20 years.
---
Topic: Community-Focused Initiatives
Date Posted: 8/11/2014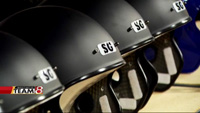 Two stations in Indianapolis investigated helmet safety. LIN Media's CBS affiliate WISH-TV Indianapolis polled seven local schools for information about their students' helmets. The results were posted on the station's website, leading state officials to now require that all area schools report any concussions that occur. Additionally, Dispatch Broadcasting's NBC affiliate WTHR-TV Indianapolis surveyed 160 schools across Indiana, filing more than 100 requests for schools to share information about their football helmets and concussion records. The station created an interactive map that shows the manufacturers and models of more than 12,000 helmets used by middle school and high school football players across the state. The WTHR-TV investigation found that hundreds of the helmets in use offer little protection from severe head injuries.
---
Topic: Safety Initiatives
Date Posted: 8/11/2014

Nineteen radio stations across Indianapolis came together on July 7 to promote and produce "Indy United on the Circle," a rally in downtown Indianapolis to support law enforcement and take a stand against violence. The event was in response to a Fourth of July holiday weekend mass shooting, in which seven people were shot on a main street in one of the city's most popular nightlife districts and a local police officer was killed. Seven radio groups – Emmis, Entercom, Clear Channel, Radio One, Cumulus, Continental and Sarkes Tarzian – promoted the event for a week leading up to the rally. "Indy United" included speeches from business leaders, local elected officials and five members of the Indianapolis clergy. The event was capped off by a moving performance by the Indianapolis Children's Choir.
---
Topic: Education
Date Posted: 9/10/2013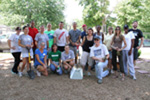 The team at Emmis Communications in Indianapolis, along with the Emmis corporate team and representatives from the group's local radio stations, participated in the 2013 United Way Day of Caring on August 23. Together, Emmis employees painted the exterior of Indianapolis Public School (IPS) 56, while reorganizing, weeding, mulching and planting flowers outside the school. In addition, Emmis CEO Jeff Smulyan read a story to students at IPS 56.
---
Topic: Disaster Relief and Recovery
Date Posted: 6/7/2013

Midwest Communications' five stations in in Terre Haute, Ind., partnered with local NexStar-owned WTWO-TV for "Mission: Moore" to raise money for Oklahoma tornado victims. The 13-hour event collected enough supplies to fill a semi-truck and raised more than $26,000.
---
Topic: Disaster Relief and Recovery
Date Posted: 6/7/2013

Dispatch Broadcasting Group's WTHR-TV Indianapolis hosted the "WTHR Cares: Oklahoma Tornado Relief" drive to provide donations to the American Red Cross. The effort raised more than $60,000 from viewers who donated online or at several locations throughout Central Indiana. "We are always amazed and grateful for the generosity of Hoosiers," said WTHR President-GM John Cardenas.
---
Topic: Education


Schurz Communications partnered with the computer science and engineering department at the University of Notre Dame on their first "innovation challenge," in which students and faculty will "consider real-world digital solutions and opportunities for 21st century media companies." The challenge begins in the fall and will initially focus on mobile media development. Winning prototypes will receive cash prizes. "New relationships with young developers, designers and database talent – literally blocks away – is a potential game changer," said Todd Schurz, CEO of Schurz Communications. Notre Dame and Schurz have been cornerstones in South Bend for 150 years.
---
Topic: Health Awareness Campaigns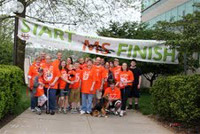 Shurz Communications' WSBT-TV and WSBT-AM Mishawaka, Ind. participated in the "Walk MS Michiana" at Indiana University South Bend. This was the second year that WSBT has sponsored a team for the 3-mile walk that raises money for Multiple Sclerosis research. Sporting bright t-shirts with the WSBT logo, the WSBT Showstoppers team included WSBT employees, family and friends. Spearheaded by a WSBT employee who suffers from MS, the group was eager and motivated and blew away their original $1,000 fundraising goal by raising $2,153 and coming in as the top corporate fundraising team.
---
Topic: Disaster Relief and Recovery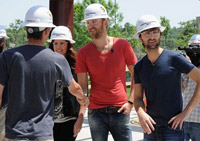 Capitol Records Nashville recording artists Lady Antebellum and JuJu Chang of ABC's "Nightline" toured Henryville High School in southern Indiana. The school is currently under construction to repair devastation from recent tornadoes and will reopen this fall. The story aired on "Good Morning America," "World News Tonight with Diane Sawyer", "Nightline," ABC Radio and ABC affiliates across the country. Additional national and local media supporters aired content from the event throughout the week.
---
Topic: Youth-Focused Initiatives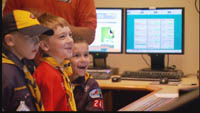 Schurz Communications' WSBT-TV and WSBT-AM Mishawaka, Ind., recently opened their doors for "Scout Day at WSBT." Boy and Girl Scouts from across the area were invited to come and tour the studios, meet some of the news and weather talent and see the daily operations of TV and radio stations. More than 300 scouts attended the event with their parents and troop leaders. A number of WSBT Radio and TV staff volunteered on Saturday to give the kids the opportunity to learn about the TV master control room, take a look at the news and radio sets and be filmed in front of the Chroma Key wall.
---
Topic: Disaster Relief and Recovery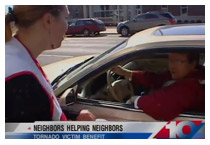 Emmis Communication's WTHI-FM and WWVR-FM Terre Haute, Ind., joined LIN Media's WTHI-TV Terre Haute, Ind. for "Neighbors Helping Neighbors," a day dedicated to raising money for tornado relief. On March 6, employees from each station stood in front of their studios from 6:00 a.m. to 6:30 p.m., collecting money from people traveling by. The three stations raised $17,560 for the Red Cross.
---
Topic: Disaster Relief and Recovery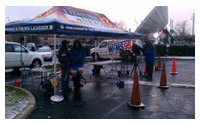 Dispatch Broadcasting Group's WTHR-TV Indianapolis headed a multipronged response to benefit those affected by the tornadoes. WTHR-TV opened a phone bank to accept donations thanks to the help of station volunteers and partners from the Red Cross, Kroger Grocery stores and St. Vincent Health. WTHR-TV turned the station parking lot into a collection point for commuters to drop off donations while Cumulus Media's WFMS-FM Indianapolis broadcast live from the parking lot, encouraging listeners to come by the TV station and drop off donations. WTHR-TV also provided extended news coverage, hosted an Eyewitness News Tornado Special and held an event with the Indiana Pacers. In total, WTHR-TV's efforts helped raise more than $575,660 as of the middle of March.
---
Topic: Disaster Relief and Recovery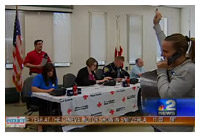 Nextstar Broadcasting's WTWO-TV Terre Haute, Ind., aired a day-long telethon to raise funds for the Red Cross' tornado relief effort. "This hit kind of close to home," said Tim Sanders, promotions director for WTWO-TV. "It could have been us." The telethon ran from 6 a.m. to 7 p.m. on Tuesday, March 6 and raised more than $32,000. Wabash Valley Red Cross Executive Director Carol Stevens said the money raised will go to good use. "It really is going to help us to continue to do our sheltering operations and feeding and providing [tornado victims] with the kind of supplies they need for the cleanup efforts in their individual homes." A summary video of the telethon is available here.
---
Topic: Disaster Relief and Recovery


Emmis Communications-owned WIBC-FM Indianapolis joined Scripps' WRTV-TV Indianapolis to raise money for the Salvation Army Indiana division for tornado victims. On March 6, viewers and listeners donated nearly $46,000 during the 12-hour WIBC/RTV 6 Tornado Relief Drive.
---
Topic: Disaster Relief and Recovery

Tribune Broadcasting's WXIN-TV Indianapolis inserted numerous tornado relief pledge breaks between programming on March 5. Throughout the day station talent and others encouraged viewers to donate to the Salvation Army with Indiana Governor Mitch Daniels lending his support to the cause. The telethon was a success, raising more than $236,000. Lee Rosenthal, WXIN-TV's news director said the response was attributable to "the Hoosier spirit of compassion. We're 90 miles away, but you wouldn't have known it from the response." Click here to watch a video summary of the telethon.
---
Topic: Disaster Relief and Recovery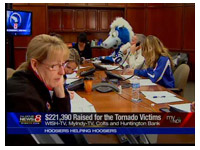 LIN Media's WISH-TV Indianapolis covered the devastating tornadoes that swept through Southern Indiana on Friday, March 2. "The pictures and video in our Friday newscasts demonstrated something needed to be done to help Hoosiers in Southern Indiana," said Jeff White, WISH-TV president and general manager. Saturday morning WISH-TV went into action, launching the "Hoosiers Helping Hoosiers" on-air fund drive during the evening newscast. In less than 24 hours after the storm, viewers raised more than $200,000 for relief efforts.
---
Topic: Health Awareness Campaigns

For the past ten years, Shurz Communications' WSBT-AM Radio South Bend, Ind. has supported University of Notre Dame basketball coach Mike Brey's Coaches Versus Cancer campaign. Coaches Versus Cancer is a nationwide collaboration between the American Cancer Society and the National Association of Basketball Coaches. The initiative leverages the personal experiences, community leadership and professional excellence of basketball coaches nationwide to increase cancer awareness and promote healthy living through year-round awareness efforts, fundraising activities and advocacy programs.

WSBT-AM held Coach Brey's annual two-day radiothon. WSBT-AM personalities provided live remote broadcasts at partner locations throughout the community to raise funds through onsite donations, donations via text and the sale of t-shirts.

A new event, the Coaches Versus Cancer Night of Lights, also debuted this year. This event featured live music, ice cream and an honor ceremony. Luminaries were lit along a walkway decorated in honor of victims of cancer.

WSBT-AM yielded the largest totals in the event's history, raising nearly $3,000 for the American Cancer Society and Coaches Versus Cancer.
---
Topic: Education

Oasis Radio 1 Group's WBTU-FM in Fort Wayne, Ind. set up a scholarship fund in honor of Alina Bigjohnny. Bigjohnny and six others lost their lives on August 13 when a stage at the Indiana State Fair collapsed moments before the Sugarland concert. The "Lights for Alina" scholarship fund will be awarded to a student from Bigjohnny's alma mater whose career focus is education. Alina was a graduate of Wayne High School and soon-to-be teacher at Muncie Community Schools. WBTU-FM also helped organize a memorial event in the week after the tragedy. A video of the remembrance is available online.
---
Topic: Youth-Focused Initiatives

Shurz Communications-owned WSBT-TV Mishawaka, Ind., has been committed to supporting the teachers, students and parents in its viewing area since 1997 in their challenge to improve and encourage reading skills for young people. WSBT's "I Love To Read Challenge" is an annual month-long reading contest that has become an anticipated event among elementary schools in the area. Teachers from across WSBT's viewing area register their classrooms, and students are then supplied with daily log sheets to track how many minutes they spend reading each day. Several schools are featured daily, and parents, teachers, students, friends and family are encouraged to vote online and by phone for their school. Every day, the winning school receives a visit from one of WSBT's news anchors who talks with the kids about the importance of education and the joy of reading. The winning classroom is also featured on the evening newscast.
---
Topic: Youth-Focused Initiatives

LIN Media's WANE-TV, Fort Wayne Ind., recently congratulated its viewers for participating in the "Share the Warmth: Coats for Kids" 11th annual collection. WANE-TV collected 3,017 coats, scarves and mittens, which were distributed to children from 50 area social service agencies, schools and families. Local sports teams the Komets Hockey Team and the Mad Ants Basketball squad also participated in the drive, providing incentives for fans who donated a coat. Since 1999, WANE-TV has collected 27,460 coats for Northeast Indiana's children.
---
Topic: Youth-Focused Initiatives

LIN Media-owned WANE-TV Fort Wayne, Ind., has been a key community supporter of the Voices of Unity Youth Choir (VOU), an award-winning local ensemble of youth, ages 8 - 19. Recently, VOU was chosen as one of four U.S. choirs to compete in the World Choir Games in Shaoxing, China. In order to compete, the group needed to raise close to a half a million dollars in less than six months to send 83 singers, plus chaperones and musicians, across the globe. The fundraising was a total community effort, and WANE-TV was able to provide viewers with a front seat to the performance through its "Dreams of Gold" campaign. The initiative featured interviews, news coverage and a schedule of public service announcements valued at more than $66,000. As a result of WANE-TV's "Dreams of Gold" campaign, the choir raised enough money to represent Fort Wayne on a global stage and returned home with two gold medals.
---
Topic: Neighbors in Need

LIN Media-owned WLFI-TV West Lafayette, Ind., supported Food Finders Food Bank in numerous ways in 2010. WLFI-TV created an ad campaign for the organization to help raise donations year-round. The public service department produced and ran a PSA promoting the Food Finders "My Way" campaign. In the spot, local celebrities explained how they fight hunger and then asked the public to help in the effort. WLFI-TV's Sports Department partnered with area high schools to put on the Annual Frenzy Food Drive. The two schools, competing against each other in basketball that night, also competed to see which fans could donate the most food. They raised 825 pounds in just a few hours.
---
Topic: Health Awareness Campaigns

Shurz Communications' WKHY-FM Mishawaka, Ind., will hold the annual "Grab Life by the Ball Dodgeball Tournament" later this month. Each year 64 teams compete in the competition which supports the American Cancer Society's fight to end testicular cancer. The tournament annually raises $4,000 for the ACS. Click here to watch highlights of last year's competition.
---
Topic: Neighbors in Need

Schurz Communications-owned WSBT-TV Mishawaka, Ind., hosted the third annual "Neighbors in Need" campaign to help people who have been hit hard by the recession with layoffs and losses of shelter, clothing and food. On February 21, WSBT-TV and its partner, the Food Bank of Northern Indiana, braved the cold, wind and snow to receive donations from the community. Within eight hours, WSBT-TV collected $11,943 in cash donations and 6,106 pounds of food.
---
Topic: Community-Focused Initiatives

Dispatch Broadcasting's WTHR-TV Indianapolis, Ind. held a 13-hour donation drive to raise money for Indianapolis' new September 11 Memorial. The memorial, which features two 22-foot steel beams from the World Trade Center site, was ready for its debut; however, the project's organizers did not have enough money to pay the construction costs and maintenance fees. On the Friday before the unveiling, they were at least $30,000 short.

In response, WTHR-TV held a donation drive in the station's parking lot from 6 a.m. to 7 p.m. on Friday, September 9. WTHR-TV's anchors shot live cut-ins from the lot at the top of each hour, as station staff from every department took shifts collecting donations throughout the day. When the drive concluded, WTHR-TV had raised nearly $39,000 in 13 hours, filling the gap in needed funding for the memorial.
---
Topic: Community-Focused Initiatives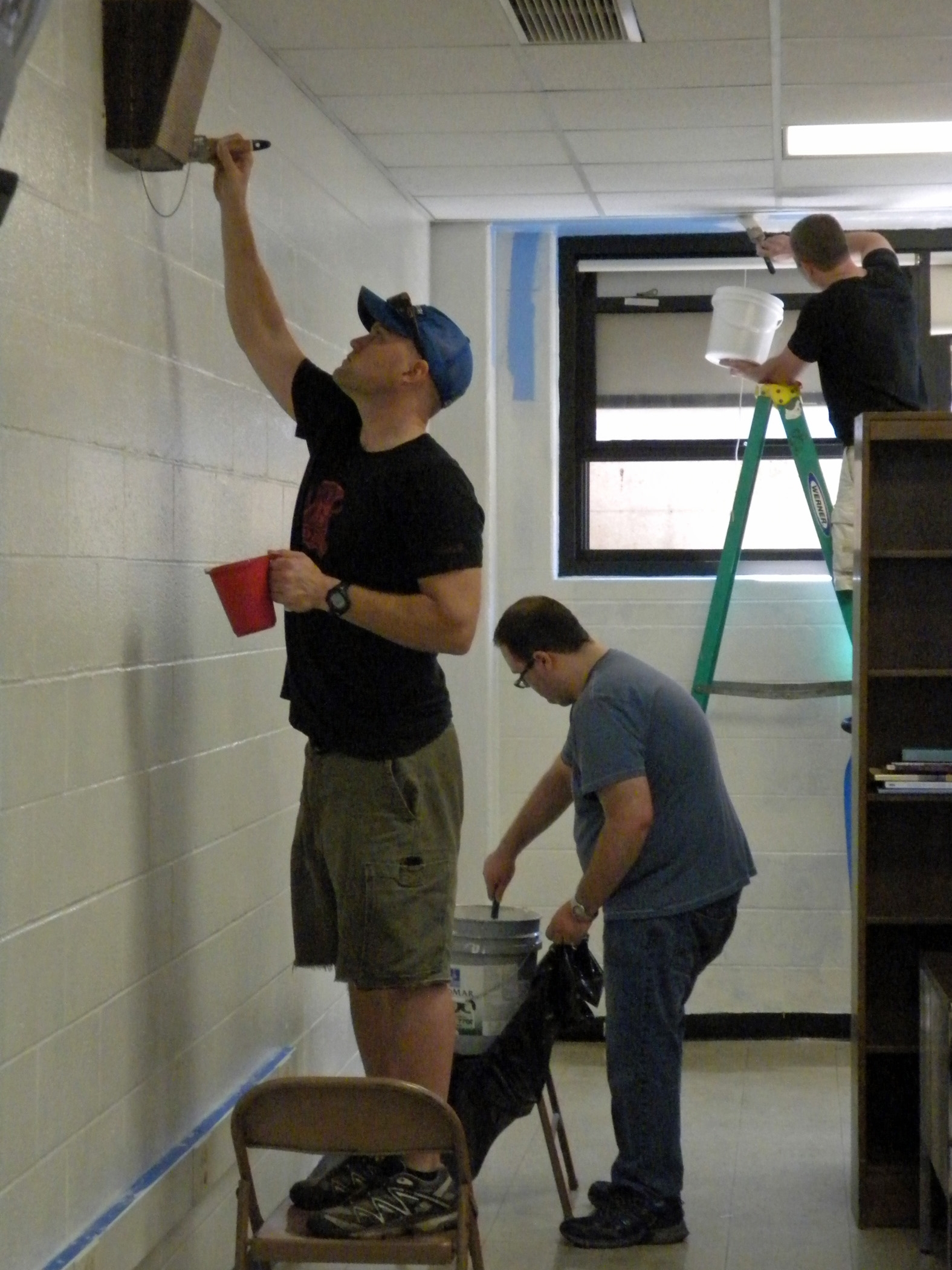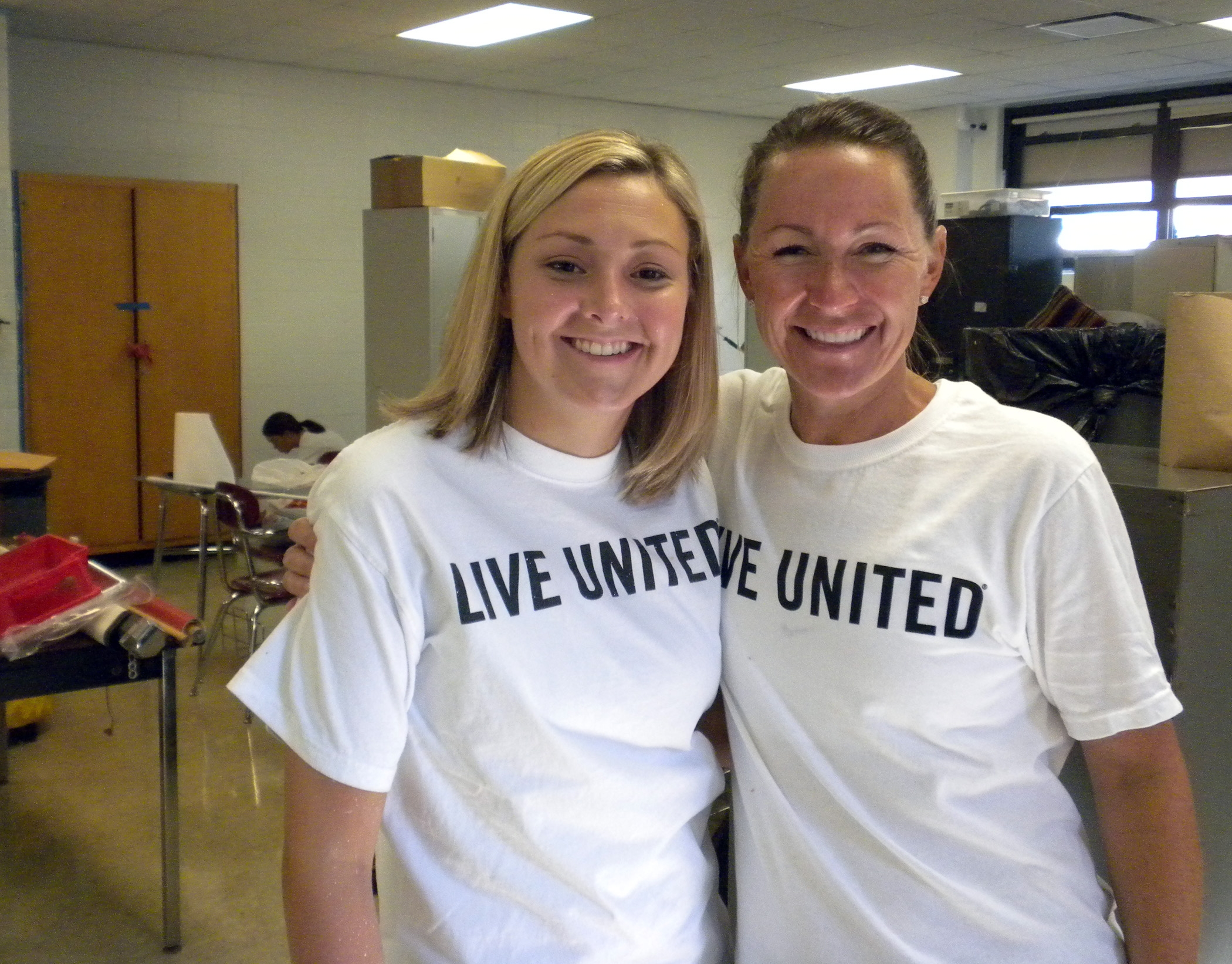 The corporate team at Indianapolis-based Emmis Communications took time off from their usual work recently to paint two rooms at Indianapolis Public School 56. The rooms had been in desperate need of attention before receiving the much-deserved makeovers. Participants in the paint project included Emmis CEO Jeff Smulyan and COO/CFO Patrick Walsh. The event was part of the United Way's 20th Annual Day of Caring. The Day of Caring is the United Way of Central Indiana's signature annual initiative that provides members of the Hoosier state concrete activities to give back to their community.
---
Topic: Health Awareness Campaigns
View Video
Most women don't know that heart disease is the number one killer of women in this country, which is why WANE-TV in Fort Wayne, Ind., teamed with the American Heart Association for a second year to raise awareness and help women get heart healthy. The "Go Red for Women" campaign focuses on education about heart disease risk and prevention. In 2008, the station ran two weeks of promotions about upcoming "Go Red" programming. Their "Straight to the Heart" news segments included information on heart attack symptoms and an interview with a local woman who survived a heart attack at age 36. Taking the programming a step further, the station brainstormed ways to make the campaign interactive. Enlisting the services of a local cardiologist and an emergency medicine physician, the station hosted two hour-long Web chats, which allowed their viewers to ask questions through the station Web site. Transcripts of the Web chats, videos, health stories and links to the American Heart Association remain posted in a special section of the site. The station estimates the "Go Red" message reached 427,000 women ages 35 and older in their viewing area this year. "Raising awareness is the first powerful step to saving women's lives. WANE's commitment to make women aware of their risk and take action is no doubt saving lives," said Kevin Harker, executive vice president of the Midwest affiliate of the American Heart Association.
---
Topic: Neighbors in Need

For 52 hours during a three-day period in December, WIBC-FM in Indianapolis, Ind., used the airways to raise awareness and support for the Salvation Army. Now in its 13th consecutive year, the "WIBC Radio-a-thon to Benefit the Salvation Army" has raised more than $1 million in direct and matching donations to help feed, clothe and house the less fortunate in the area. During last year's marathon broadcast, which raised nearly $160,000, WIBC brought special guests into the studio, conducted an on-air auction featuring celebrity-autographed photos and clothing, and held hourly drawings for one-of-a-kind collectables and prize packages. The airtime donated by the station for the radiothon alone was valued at nearly $800,000. WIBC provided an additional $80,000 worth of on-air promotions for the event.
---
Topic: Health Awareness Campaigns

Whether it's the annual Relay for Life event or the Making Strides Against Breast Cancer walk, WLHK-FM in Indianapolis, Ind., rallies behind its local American Cancer Society chapter throughout the year. In the past 12 months, the station gave more than $40,000 worth of promotional airtime to the American Cancer Society and built custom Web pages on the station's site to support each of the organization's local events. With WLHK's help, last year's Making Strides Against Breast Cancer walk, which was emceed by a station personality, attracted nearly 6,000 participants and raised more than $350,000. The event is the largest single-day fundraiser for the chapter. Work is already underway at the station to make the upcoming walk an even greater success. "WLHK is committed to helping us fight this disease by providing promotional support of our events to spread awareness. We value the leadership role WLHK is taking in our community as a station that cares about this cause," said Tanya Husain, executive director of the American Cancer Society, Central Indiana Area Service Center.
---
Topic: Youth-Focused Initiatives

From Thanksgiving to Christmas, WYXB-FM in Indianapolis, Ind., is on the air and in the community encouraging listeners to embrace the season of giving and donate to the station's annual "Soft Rock Santa" campaign. The month-long effort, which begins with a 10-hour live broadcast from various locations throughout Indianapolis, supports the Shepherd Community Center's Christmas Gift Drive, which brightens the holidays of more than 1,000 needy children each year. The station places donation bins at businesses throughout the area to collect new toys, books, clothing and money. Recorded and live promotional announcements, an email blast to listeners and Web site promotion all help get the community involved. Last year, the station also worked with the Trans Siberian Orchestra to donate a portion of each ticket sale back to the Christmas drive, resulting in more than $8,000 in additional financial support. "WYXB has helped parents in a special way through their commitment to 'Soft Rock Santa.' Their efforts have enabled many needy parents to provide Christmas for their own children – a gift for the child and a gift for the parents' self esteem," said Jay Height, executive director of the Shepherd Community Center.
---
Topic: Youth-Focused Initiatives
View Video
Putting children first, WISH-TV of Indianapolis, Ind., kicked off a year-long program called "Eye on Kids" that quickly became an umbrella campaign to assist community leaders with issues regarding parents and schools, juvenile courts and law enforcement, the health care system and more. The station produced a wide range of programs as part of the comprehensive effort, including two one-hour primetime specials featuring experts discussing childhood obesity, bullying and the importance of role models. "Kids Count Minutes" offered weekly, 60-second educational health tips ranging from childhood obesity to the health benefits of good sleep habits. Special programming encouraged reading, and there was a "Back to School Family Day" to help underserved children get ready for the school year with everything from immunizations to school supplies. The station's "Day of Caring" helped improve the safety and quality of a local early development center with a one-day volunteer blitz. The weekly "Eye on Kids News Reports" gave viewers a more complete understanding of legal issues affecting children. Overall in the 12 months, WISH helped organize and support 36 community-based efforts focused on children and raised more than $500,000 for children's organizations.
---
Topic: Safety Initiatives

WTLC-AM in Indianapolis, Ind., is advocating for an end to street violence. Broadcasting live from a location where multiple homicides took place, on-air talent hosted a public forum for concerned citizens to discuss how to stop the senseless killing. Regular music programming was suspended for two hours so listeners and citizens could have their voices heard. For the week leading up to the broadcast, the station aired recorded public service announcements about the event every day. Making sure the discussion could reach as many community members as possible, WTLC distributed a press release and secured live broadcasts from its four network affiliates as well as coverage in the local newspaper. The station's staff worked 50 hours to organize the event.
---
Topic: Education

WFWA-TV in Ft. Wayne, Ind., took learning about science, technology and nature to new heights with its programs for children. The "Girls Investigating Science and Technology" program provided 80 middle school girls the opportunity to work with female scientists and complete their own scientific investigation. "It's a Big, Big World" enabled 500 preschool children the opportunity to complete hands-on investigations and learn about camouflage in nature. To encourage even more children to learn about science, the station helped create a "Video Field Trip" that uses animation and NASA resources to give students a taste of how they can pursue a space-based career. These educational activities were supported by 690 30-second spots worth more than $22,000. A future program, "Storytelling Festival at the Three Rivers," will use a digital sky to show how early Native Americans used the constellations for guidance.
---
Topic: Neighbors in Need

The community came out in force to help the homeless in a series of events organized by WAOR-FM of South Bend, Ind. In just more than a month's time, the station held a golf outing and two pre-concert parties to raise money for the South Bend Center for the Homeless, which provides food and shelter as well as assistance with job training, sobriety and learning how to re-enter the community. Thanks in large part to 75 promotional spots, targeted email blasts, staff hours and a two-hour live remote that allowed the shelter to educate listeners about its work, the Center for the Homeless Golf Outing sold out, generating $41,000. The station raised an additional $1,100 for the cause by hosting two Pre-Concert Plaza parties as fundraisers on the days of performances by the Doobie Brothers and Deep Purple. On-air support prior to each event featured 50 public service announcements and a four-hour live remote immediately prior to the concert. Ten staff hours and a week-long Web site promotion also contributed to raising awareness of the center and the opportunity to contribute.
---
Topic: Community-Focused Initiatives

To help its listeners cope with a tight employment market and economic uncertainty, WABX-FM of Evansville, Ind., organized the Careers Now! Fair. Thirty-two local businesses and schools participated, and approximately 750 people attended to learn more about job opportunities, provide businesses with resumes and talk about educational possibilities. The event also offered seminars on resume writing and what to expect when enrolling in a college or university. The high turnout was a direct result of WABX providing more than 100 minutes of promotional announcements prior to the event, highlighting the career fair on the station's Web site for three weeks, blasting emails to more than 5,000 listeners and contributing more than 250 hours of staff support.
---
Topic: Drug Prevention

Helping support the St. Joseph County Police Department in its effort to bring drug and alcohol prevention programs to school children, WBYT-FM in Mishawaka, Ind., provided media support for the 2007 "D.A.R.E. Golf Outing and Hog Roast." The station inspired golfers to go to the green by broadcasting promotional spots, a live interview and a two-hour live remote from the event. WBYT staff fielded a team in the event as well. The day on the course brought in a total of $9,000 for the St. Joseph County Police Department D.A.R.E. (Drug and Alcohol Resistance Education) program, which went toward the purchase of workbooks, school supplies and t-shirts for area students participating in the program. In a letter to the station, D.A.R.E. Officer Sgt. William Redman and spokesperson for the Saint Joseph County Police Jaimee Thirion wrote, "The promotional ads that aired live definitely helped us out. We had to turn golf teams away because we filled up so fast! We couldn't have done it without you."
---
For more examples of how Indiana's local radio and TV broadcasters are serving every local community, please contact the Indiana Broadcasters Association .