Alaska's Broadcasters
Serving Every Local Community
Topic: Children's Issues
Date Posted: 2/1/2018
Alpha Media's KBRJ-FM Anchorage raised $83,000 for St. Jude Children's Research Hospital in its 22nd annual radiothon, held January 25-26. Over the past 22 years Alaskans have contributed over $1.9 million dollars to support life-saving research and care.

"This year we created the Heart of Hope, placing a sticky note with the name of every Partner in Hope on the window of the KBEAR Studio," said Program Director Matt Valley. "So many names were added it became the Blob of Hope and filled the entire window!"
---
Topic: Children's Issues
Date Posted: 12/15/2017
Alpha Media's KWHL-FM Anchorage collaborated with the U.S. Marines to host their 25th Annual "Toys for Tots" toy drive. Broadcasting live for the three-day event on December 13-15, the KWHL-FM on-air team collected thousands of toys and raised over $43,000 for Alaskan children.

"People don't realize this drive isn't just for Anchorage, but for the entire state of Alaska," said KWHL-FM Program Director Brad Stennett. "The community really stepped up in a major way and we could not be more thankful."
---
Topic: Health Awareness Campaigns
Date Posted: 2/6/2017
Alpha Media's KBRJ-FM Anchorage, AK raised $81,910 during their 20th Annual "Country Cares for St. Jude Kids" radiothon, held January 26 - 27. "Despite a soft economy, listeners donated by the hundreds during the event," said Alpha Media, Alaska Market Manager, Scott Smith. "K-Bear's link to this community is undeniable."
---
Topic: Children's Issues
Date Posted: 12/28/2016
Alpha Media's KWHL-FM Anchorage raised $36,000 for the United States Marine Corps' Toys for Tots program. The three-day radiothon was held December 7 – 9.
---
Topic: Drug Prevention
Date Posted: 6/1/2016
Denali Media Holdings' CBS affiliate KTVA-TV Anchorage, AK aired "Preventable deaths: What you can do if someone is overdosing on drugs." As the Anchorage Police Department (APD) tries to figure out what led up to the death of 45-year-old Darlene Kunayak, they encourage people to call 911 if they see someone in a possible overdose situation. APD believes Kunayak died of a heroin overdose on May 7. So far this year, local police have investigated 11 deaths involving heroin overdoses. In 2015, 36 people died from heroin statewide.
---
Topic: Disaster Relief and Recovery
Date Posted: 2/16/2016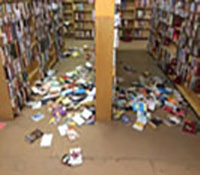 Schurz's NBC affiliate KTUU-TV Anchorage, Alaska, provided lifeline coverage of a 7.1 magnitude earthquake on Jan. 24. One viewer said, "Congratulations and THANK YOU for getting personnel on air as quickly as you folks did… you couldn't have broadcast any sooner… a sense of panic set in when information was not available. Emergencies such as 7.1 or more demonstrate why there were advantages in the [broadcast] system." KTUU's coverage can be found here and here.
---
Topic: Politics and Election Coverage
Date Posted: 11/20/2014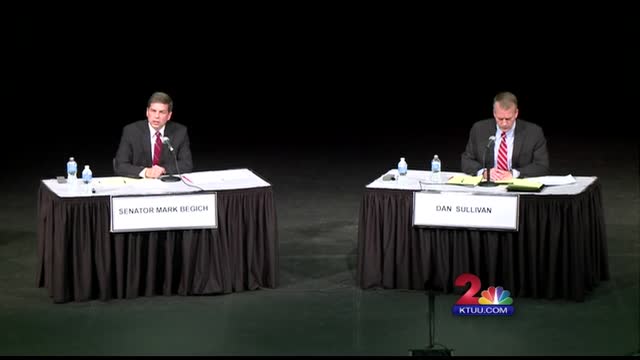 Schurz Communications' NBC affiliate KTUU-TV Anchorage hosted U.S. Senator Mark Begich and Republican challenger Dan Sullivan on Oct. 29. Sullivan and Begich debated again the next night, Oct. 30, on Alaska Public Telecommunications' KSKA-FM and PBS affiliate KAKM Anchorage.
---
Topic: Military-Focused Initiatives

When a deployed master sergeant in the Air Force sent an email asking if KBBO-FM, KDBZ-FM, KFAT-FM and KXLW-FM in Anchorage, Alaska, had any extra CDs lying around that could be sent to him, the stations responded in a much bigger way. In the months following, a DVD and CD drive was organized to send a bit of entertainment to troops away from home. A mixture of recorded promotional announcements and live liners got listeners interested three weeks prior to the drive. On the day of the event, the stations paired off and broadcast live from two different video store locations for seven hours. More than 1,000 DVDs and 500 CDs were collected during the one-day drive. Listeners continued to drop off donations for weeks after the live broadcast. The stations worked with the Alaska Army National Guard to ship the CDs and DVDs to troops from Alaska who are serving overseas.
---
Topic: Health Awareness Campaigns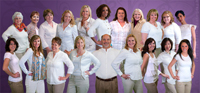 Ohana Media Group's KMBQ-FM Wasilla, AK hosted a "High Heels for High Hopes" Runway Style Show on August 2nd to raise money for the local chapter of the March of Dimes. The event featured a fashion show runway with 19 local celebrity models ranging from mayors, counselors, business women and people from many other professions. Each model raised $2,000 through advanced ticket sales to contribute $38,000 donated to the March of Dimes. KMBQ-FM also accepted donations through the station's Facebook page.
---
Topic: Education

KVAK-AM/FM in Valdez, Alaska, provides kids from grade school to high school with a hands-on learning experience in broadcasting. Every month, participants in the KVAK Kids Club visit the studio to record public service announcements (PSA). The PSAs air daily and more than 200 are produced each year. The kids are part of the complete process, including helping write the scripts. Everything from manners to fire safety to reading have been highlighted. Three-quarters of the area elementary school population is involved. In addition to learning about broadcasting, club members receive a newsletter and have their birthdays announced on the air. For the older students, KVAK's high school program involves weekly sessions at the studio and a monthly live broadcast. The station's good work has not gone unnoticed; the Kids Club has been honored with the both the Alaska Broadcasters Association Service to Children Goldie Award and the National Association of Broadcasters Service to Children Radio Award.
---
Topic: Health Awareness Campaigns

Each year, KTVF-TV in Fairbanks, Alaska, goes "all red," from their anchors' clothing to the graphics during newscasts, in support of the American Heart Association. The station's participation in the "Go Red for Women" campaign, an annual effort to raise awareness of heart disease and its impact on women's health, begins in November and continues through February, which is National Heart Month. In addition to news stories about cardiac health, the station donates $5,000 worth of promotional spots to "Go Red" seminars and events, including a fundraiser luncheon that sold out in 2008. Off-air support includes videotaping the seminars and providing audio and visual technology for the luncheon. In addition to the "Go Red" campaign, KTVF airs announcements for the annual Heart Walk, which has grown dramatically during the 10 years the station has promoted it.
---
Topic: Safety Initiatives

Nationally, Alaska ranks second per capita in homicide of women by men and first in rape, which is why KTVA-TV in Anchorage, Alaska, has dedicated extensive on-air time to the subject of domestic violence. From information on obtaining legal protection if in an abusive relationship to the issue of elder abuse, the station dedicated its "Break the Cycle" segments to different aspects of domestic violence for a three-month period. Playing off the Abused Women's Aid in Crisis (AWAIC) acronym, the station produced a series of "Are you awake?" public service announcements asking viewers to open their eyes to the problem. During October, Domestic Abuse Awareness Month, the station produced and aired nearly $10,000 worth of announcements for AWAIC. The station also inspired an outpouring from viewers when it broadcast an on-air donation drive to provide the AWAIC shelter with needed items. "Per a public opinion survey done last year, 89 percent of Alaskans are concerned about interpersonal violence," said Judy Cordell, executive director of AWAIC. "KTVA has responded to that concern and has become an active partner by airing the victim hotline number, promoting awareness of services and linking donors with the mission." KTVA's commitment earned the station a Victims for Justice Media Award. Each quarter, KTVA dedicates its "Break the Cycle" news segments to a problem of major local concern. In addition to domestic abuse, the segment has been dedicated to alcohol addiction, child abuse and the emergence of gangs.
---
Topic: Community-Focused Initiatives

After paint ball attacks against Alaskan natives, KTUU-TV in Anchorage, Alaska, decided the community was in need of a campaign championing tolerance. After meeting with community leaders, the station's "Change of Heart" initiative was born. Every six months, the station produces new 30-second public service announcements (PSAs) that confront the issue of racism. The spots feature high school students and aim to inspire cultural acceptance. In addition, the station runs news segments about the problem of racism and potential solutions. The flagship PSA produced when the effort first began two years ago features the swing choir from East High School performing "Change of Heart," a song written by their music teacher Janie Lidey. The PSA won two Goldie Awards from the Alaska Broadcasters Association and the song earned a Northwest Regional Emmy Award.
---
Topic: Safety Initiatives

In a remote 100,000 square miles of signal area, KNOM-AM/FM in Nome, Alaska, acts as a critical communications link. The police chief walks to the station when he has safety information, and KNOM immediately starts broadcasting announcements. "Community service is 24-hours a day for us," said General Manager Ric Schmidt. "We are the emergency access point, and the only communication entity that has a back-up power source." This community-based emergency system can be life-saving in a place where temperatures and weather can be extreme. You can travel to Nome only by plane, boat, snow mobile or dog sled, so the KNOM travel report is crucial to residents' safety and includes reports from listeners and local police of places where trails have become "soft" due to thawing. Because there have been several cases of unexplained disappearances in the past 10 years, KNOM staff are very proactive at getting missing people reports on the air. This past year, there were four reports, and all four people were found in fairly short order. "The radio saves lives," said Schmidt. "It keeps folks connected."
---
Topic: Drug Prevention

"Overcome it." That is the anti-drug message KFMJ-FM in Ketchikan, Alaska, uses to reach teens who may be tempted to try illegal substances. The public service announcement (PSA), which features a Ketchikan school board member, won a Goldie Award from the Alaska Broadcasting Association in 2007 and continues to air every day, as it has since it was first produced in 2006. The message is just one of the station's many drug prevention efforts. For more than a decade, KFMJ has used the airways to confront the drug abuse problem in its community. Every October, the station runs PSAs for Red Ribbon Week, a campaign that encourages Alaskans to take action and raise awareness of drug prevention efforts. In 2007, the station supported an inaugural effort by the Women of the Moose, who challenged the third-grade classes in the area to come up with an anti-drug message. When Mrs. Klinger's class from Houghtaling Elementary won the honor of best entry, KFMJ brought the studio to the school and recorded the kids singing "There Ain't No Drugs on Me." The recording is being broadcast as a PSA. Station staff wanted to communicate with parents struggling with addictions as well, so they produced a series of announcements featuring a child's voice saying, "Stop the abuse. You are our role model." The station hopes listeners with a problem get the message.
---
For more examples of how Alaska's local radio and TV broadcasters are serving every local community, please contact the Alaska Broadcasters Association.