Mississippi's Broadcasters
Serving Every Local Community
Topic: Youth-Focused Initiatives
Date Posted: 11/16/2016
Raycom Media's ABC affiliate WLOX-TV Biloxi-Gulfport, Miss. participated in the "Pathways 2 Possibilities" event, November 16-17. The two-day career fair exposed eighth graders and at-risk youth to a variety of career paths. WLOX brought cameras and recording equipment for participants to experience hands-on what it's like to work at a broadcast station. In total, 7,098 students attended the event.
---
Topic: Community-Focused Initiatives
Date Posted: 6/2/2016
Raycom's WLBT-TV Jackson was awarded the Golden Bow Tie Award of Excellence by Jackson Public Schools. The award was given to the station for their continuing coverage of the students, teachers, and staff of the district.
---
Topic: Children's Issues
Date Posted: 6/2/2016
TeleSouth Communication's WLAU-FM Heidelberg, Miss. raised $225,000 for the Palmer Home for Children on June 2 in the fourth annual SuperTalk Mississippi Radiothon. The radiothon nearly doubled last year's total of $128,000. The donations keep Palmer House operational and able to provide food, education and counseling for more than 100 children who are currently staying at its two facilities.
---
Topic: Youth-Focused Initiatives
Date Posted: 5/4/2016
Raycom's NBC affiliate WLBT-TV Jackson, Miss. raised $900,000 for St. Jude Children's Research Hospital in the "St. Jude Dream Home Giveaway" program on April 17. Viewers were able to purchase a ticket for a chance to win the home amongst other prizes including a dream home valued at $500,000, a car, shopping spree, and gift cards. For the first time, tickets sold out before the broadcast.
---
Topic: Youth-Focused Initiatives
Date Posted: 4/10/2016
Raycom Media's ABC affiliate WLOX-TV Biloxi, Miss. held a St. Jude Dream Home Giveaway telethon on April 10. The station raised $703,000 for the hospital's pediatric cancer research efforts.
---
Topic: Community-Focused Initiatives
Date Posted: 4/3/2016
Heartland Media's NBC affiliate WTVA Tupelo, Miss. started as a dream of broadcast engineer Frank Spain, who wanted to build a station in his hometown. He spent three years designing and building the antenna, transmitter and cameras from scratch in his garage. The station went on the air in 1957 as WTWV and soon produced numerous firsts for Mississippi commercial television. It was the first to devote its entire daily morning schedule to educational programming; the first to broadcast a live basketball game; and first to air a live telethon for an entire broadcasting day, raising money to fight cerebral palsy. It switched its call letters to WTVA in 1979. Spain served as CEO until his death in 2006.
---
Topic: Community-Focused Initiatives
Date Posted: 1/14/2016

Heartland Media's NBC affiliate WTVA Tupelo, Miss., raised a record $319,000 for Regional Rehab Center on November 21-22. The center's free resources include physical therapy, speech therapy, occupational therapy, audiology and dyslexia treatment. In the past year, the center has helped more than 1,300 people in 18 counties who cannot afford therapy. The $319,000 far surpasses the $200,000 raised in 2014. (Watch video.)
---
Topic: Community-Focused Initiatives
Date Posted: 1/14/2016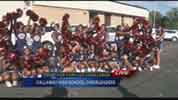 Hearst Television's ABC affiliate WAPT-TV Jackson, Miss. collected 220,326 cans of food in its "Food for Families Football Challenge," which asks local high schools to collect cans at football games. WAPT's PSA featuring Sen. Roger Wicker, Rep. Bennie Thompson and Rep. Greg Harper encouraged participation. In 24 years, WAPT has collected almost 3.7 million cans.
---
Topic: Politics and Election Coverage
Date Posted: 10/19/2015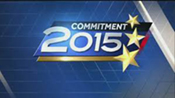 Hearst Television's ABC affiliate WAPT-TV Jackson, Miss., is providing extensive political coverage through its Commitment 2015. In the weeks leading up to the August primaries, more than 40 candidates provided their vision for public office through the station's "In Their Own Words" segment on the 5 and 6 p.m. newscasts.
---
Topic: Community-Focused Initiatives
Date Posted: 2/9/2015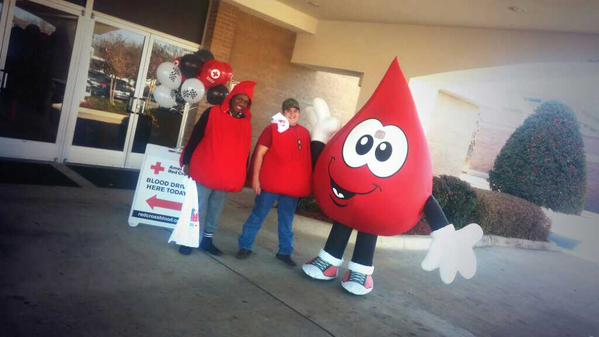 Raycom Media's ABC affiliate KAIT-TV Jonesboro, Ark.; CBS affiliate KFVS-TV Paducah-Cape Girardeau-Harrisburg, Miss;. and ABC affiliate WLOX-TV Biloxi, Miss. hosted successful blood drives. KAIT-TV hosted the "2015 Drive for Life" in January, and had a total of 368 people donate. The KFVS-TV Heartland Blood Drive was a three-day event at seven locations throughout Southeast Missouri and Southern Illinois that generated 1,091 pints of blood. This particular event has won several awards for community service and continues to be one of the largest blood drives in the Midwest. WLOX-TV's 32nd Annual Blood Drive in December collected 458 pints of blood for the Red Cross.
---
Topic: Disaster Relief and Recovery
Date Posted: 2/9/2015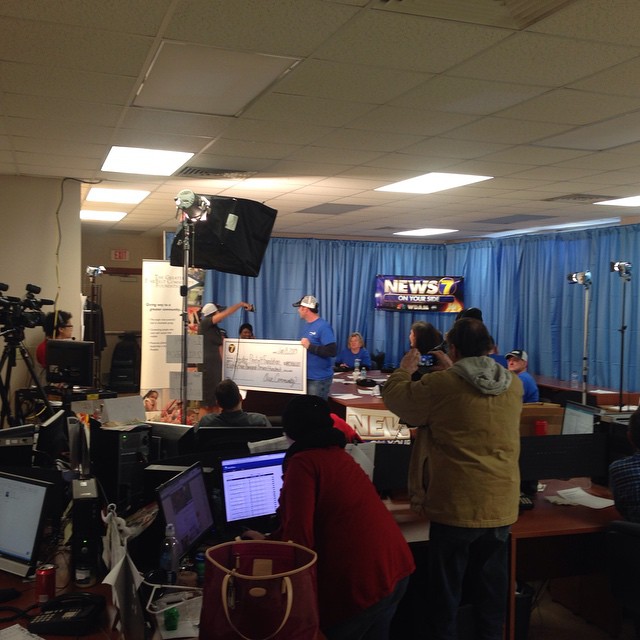 Raycom Media stations NBC affiliate WDAM-TV Hattiesburg MS, NBC affiliate WLBT-TV Jackson MS, ABC affiliate WLOX-TV Biloxi MS and NBC affiliate WMC-TV Memphis, Tenn. raised $218,000 in a fundraiser held on Jan. 8. The fundraiser aids long-term recovery following the tornadoes on Dec. 23, 2014 through the Greater Pine Belt Community Foundation. The tornadoes that ripped through central Mississippi killed at least 5 people and destroyed more than 300 homes and businesses. With WDAM-TV leading the efforts, the three other Raycom media television stations assisted the efforts.
---
Topic: Youth-Focused Initiatives
Date Posted: 1/20/2015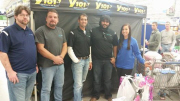 The Radio People's WYOY-FM Jackson, Miss. worked with the Salvation Army for its ninth annual "Operation Angel Tree," which helped thousands of local children celebrate the holidays. During the trip to the "North Pole," 60 kids and their families were chosen to take a flight to the North Pole on a C-130 plane. Santa, Mrs. Claus and 100 eager elves awaited the kids arrival to personally deliver gifts.
---
Topic: Disaster Relief and Recovery
Date Posted: 5/14/2014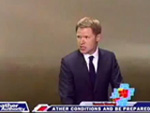 The Clarion-Ledger reports, "Many tornado-weary Tupelo [Miss.] residents credit their survival of the April 28 twister to Spain Family's WTVA-TV Tupelo, Miss. Chief Meteorologist Matt Laubhan, whose urgent evacuation of the studio prompted many to take shelter at home, and which since has become a viral video on the Internet." The clip has been viewed over 1.2 million times. The newspaper quotes one resident who said, "Everyone is like, 'Matt Laubhan saved my life.' Considering the severity of the damage, and the fact there was just one death, that's a testament right there of the weather guy getting people prepared."
---
Topic: Politics and Election Coverage
Date Posted: 5/14/2014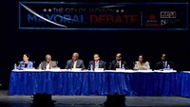 Raycom Media's FOX affiliate WLBT-TV Jackson, Miss., worked quickly to educate voters after the untimely death of the city's mayor. The station partnered with the Jackson Chamber of Commerce to host a live debate for the mayoral candidates at Jackson State University. WLBT-TV devoted two hours of weeknight primetime for the event, which was also streamed live on the station's website. WLBT-TV's digital content director also live-blogged the debate. The station held a text poll that asked viewers to vote on the candidate of their choice. The poll generated more than 30,000 votes, in a city of just 173,000 people. In the end, voters had their first substantive impression of the candidates who were waging short, 30-day campaigns leading up to the special election.
---
Topic: Community-Focused Initiatives
Date Posted: 5/10/2013

Meridian's WGBC-TV and WMDN-TV Meridian, MS received a Governor's Initiative for Volunteer Excellence (GIVE) Award for "Outstanding Community Outreach by a Media Organization." Meridian donated more than $1 million worth of PSA production and air time to the United Way of East Mississippi, The Choctaw Area Council of the Boy Scouts of America, Lauderdale County Habitat for Humanity, Hope Village's Run for Hope and The American Heart Association. The stations head The Golden Apple Awards to recognize outstanding teachers based on nominations from students, parents and faculty.
---
Topic: Youth-Focused Initiatives

The Radio People-owned KLSM-FM Vicksburg, Miss., held an annual Chili for Children competition, a fundraising event aimed at assisting the abused, neglected and homeless children of Warren County and surrounding areas. "We jumped at the chance to cook up something fun to raise money for our local children's shelter," said Deloris Evans, KLSM-FM's sales manager. Local celebrities were also on hand for the contest including Patrick House winner of NBC's "The Biggest Loser," and CNN Top 10 Local Hero Linda Fondren. More than 20 teams participated in the chili cook-off which raised $4,000, shattering KLSM-FM's previous record of $2,400.
---
Topic: Community-Focused Initiatives

It was a day of service to honor Martin Luther King Jr., and WQYZ-FM in Biloxi, Miss., used it to encourage commitment and dedication to community. As a sponsor of the Martin Luther King Jr. Day of Service, the station broadcast from a day-long community celebration, which started with a parade and concluded in John Henry Beck Park, where members of AmeriCorps and volunteer organization Hands On Gulf Coast shared service project opportunities and activities for children focused on Dr. King's work. In addition to the live broadcast, the station used the airwaves to encourage its listeners to make the holiday a "day on, not a day off," spreading the spirit behind Dr. King's words, "Everyone can be great, because everyone can serve."
---
Topic: Neighbors in Need
View Video
More than 1 million needy people have been fed through the WAPT-TV in Jackson, Miss., "Food for Families" Football Challenge, a friendly competition between area high schools organized by the station. While the state is among the nation's poorest on a per capita basis, Mississippians are also among the most generous. People in the area also have a strong passion for high school football. Knowing this, the station designed a challenge that taps into the competitive spirit inherent in football to battle hunger. Each week, a high school football game is named the "challenge" game, and the two schools hold food drives during the week to see which can collect the most donations for the Mississippi Food Network. The Thursday before game night, both schools' cheerleaders come to the WAPT studio and cheer for their team during the station's 5 p.m. news. The next day, the winning school is announced by the station's chief meteorologist at halftime. In addition to ample news coverage, the station contributes more than $25,000 in production and commercial airtime each year. Since the program began 15 years ago, more than 1.7 million canned goods have been donated to the Mississippi Food Network, providing more than 950,000 meals to the hungry. More than 185,000 items were collected in 2007 alone.
---
Topic: Health Awareness Campaigns
View Video
A friendly competition between the weatherman and morning anchor from WXVT-TV in Greenville, Miss., brings in lifesaving donations for the Mississippi Blood Center. Now in its second year, the "12 Days of Giving" blood drive encourages viewers to help their favorite on-air personality win by donating blood at the location that person is stationed. For 12 days, the weatherman and anchor make daily blood drive appearances. Each summer, a similar concept pits WXVT's morning host against an on-air personality from WDMS-FM for the "A.M. Host You Like the Most" blood drive. The two on-air personalities are put in "jail" and can only be freed by blood donations on their behalf. They compete to see who can get out of jail first. In 2007, the two efforts generated more than 250 pints of blood. "Without the generous support of WXVT through their talent and their time, countless lives throughout Mississippi would not be saved," said Rayette Serio, operations manager for the Mississippi Blood Services Greenville Division.
---
Topic: Education

From football season to basketball season, WQNZ-FM in Natchez, Miss., brings its listeners "Live From the Locker Room," a one-hour show that travels to high schools throughout the community to highlight athletic programs and athlete scholars. Hosts Rosco and "Porky" Smith interview the athletes, coaches, cheerleaders, band members, officials, students and parents. In partnership with the local chapter of the National High School Football Hall of Fame Awards, an organization that gives scholarships to outstanding academic athletes in the area, the show spotlights students who have shown strength both on the field and in the classroom. The show broadcasts from schools within a 70-mile radius, giving many smaller communities exposure not often received. In addition to football and basketball, "Live From the Locker Room" has covered soccer, track, tennis, baseball, softball, golf, bowling, cheerleading and a even a chess team. The show has been a Mississippi Association of Broadcasters award winner for four years running, and WQNZ was a National Association of Broadcasters Crystal Awards Finalist in 2008.
---
Topic: Community-Focused Initiatives

In a time of high crime statistics, WHLH-FM in Jackson, Miss., organized a community-wide event to unite Jacksonians. The "Peace and Unity Weekend and Rally" took place over three days in the summer of 2007. The station secured the support of community leaders, including the governor and mayor, and several major gospel artists. Heavy play of promotional spots, on-air interviews and an email blast to listeners brought out thousands of people for the festivities in Smith Park. In addition to music, the event included free breakfast, trolley service to and from the rally and on-site giveaways. A live broadcast from the event was followed with news reports and additional promotional spots throughout the weekend. To further promote the goal of unity, WHLH staff distributed 5,000 purple hallelujah vehicle flags prior to and during the event.
---
Topic: Youth-Focused Initiatives

Over the years, WOKK-FM, WJXM-FM, WKZB-FM and WMLV-FM in Meridian, Miss., have made it possible for thousands of children in need to unwrap shiny, new gifts on Christmas Day. The stations support the Salvation Army's Angel Tree by reading the Christmas wishes of a child on the air every hour of broadcast during the months of November and December. Listeners are asked to be a child's angel by calling in to the station and agreeing to provide the items on one child's wish list from the tree. By the end of the campaign, the stations are filled with bicycles, clothing and toys. In a single year, the effort helped make the holiday special for 1,300 children. "If it wasn't for WOKK and its sister stations, all of my angels wouldn't have been adopted," said Maj. Helene Wildish of the Meridian Salvation Army. "They go on air, and people just respond."
---
Topic: Youth-Focused Initiatives

The support of WJKK-FM in Ridgeland, Miss., and seven sister stations throughout the central part of the state, helped make miracles happen for children in need of medical care. In its seventh year, the "Mississippi Miracles Radiothon" generated more than $350,000 for the Blair E. Batson Hospital for Children, which treats more than 150,000 kids each year. The money will go toward new state-of-the-art equipment and research to ensure Mississippi's children have the best possible medical care available to them. Together in force, the stations broadcast live from the hospital lobby, where doctors, nurses, children and families are interviewed about the lifesaving work of the hospital. During the 39-hour, three-day event, on-air personalities ask their viewers to call in pledges. Money raised by the radiothon in previous years made it possible for the hospital to finish a two-story addition that houses the state's only surgical facility designed specifically for children.
---
For more examples of how Mississippi's local radio and TV broadcasters are serving every local community, please contact the Mississippi Association of Broadcasters .