Nevada's Broadcasters
Serving Every Local Community
Topic: Community-Focused Initiatives
Date Posted: 10/6/2017
Nevada Broadcasters Association promoted "Broadcasters Unite Nevada Day," held October 6 in the aftermath of the mass shooting in Las Vegas that left 58 dead and over 500 injured. Local radio and TV personalities showed their support by wearing the state colors of blue and silver on air and encouraging residents to do the same, showing they are "Nevada Proud and Vegas Strong."
---
Topic: Children's Issues
Date Posted: 12/27/2016
CBS Radio's KLUC-FM Las Vegas wrapped their annual toy drive on December 13. The station collected 6,700 bikes and $442,669 in cash and gift cards.
---
Topic: Politics and Election Coverage
Date Posted: 10/14/2016
Nexstar's CBS affiliate KLAS-TV and Univision-owned KINC Las Vegas hosted an hour-long, prime time debate on October 14 between Joe Heck and Catherine Cortez Masto, who vied for the seat of retiring Sen. Harry Reid. Sarkes Tarzian's CBS affiliate KTVN Reno live-simulcast the debate to ensure statewide coverage. KLAS also aired a live post-debate special. Univision's KINC Las Vegas and KREN-TV Reno aired the debate on October 16. "We are thrilled our local team at 8 News Now, in partnership with Noticias Univision, will moderate this event as candidates tackle the issues important to Nevadans," said KLAS Vice President and General Manager Lisa Howfield.
---
Topic: Local News
Date Posted: 4/3/2016
Nexstar's CBS affiliate KLAS-TV Las Vegas invested $1.3 million into upgrading all aspects of its broadcast operation, including news sets, equipment and weather technology. KLAS will debut expanded local news programming this fall, plus a new local lifestyle show scheduled to launch in early 2017. The station is hiring additional news and production personnel to support the expanded local programming. "We are raising our commitment to local viewers, hometown businesses, and public organizations," said Vice President and General Manager Lisa Howfield. ''The Valley's News Leader' brand will empower our viewers to make informed decisions and take action with our exceptional local news coverage and the most accurate weather forecasts."
---
Topic: Community-Focused Initiatives
Date Posted: 9/3/2015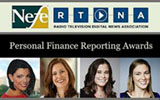 Nexstar Broadcasting's CBS affiliate KLAS-TV Las Vegas and North Texas Public Broadcasting's KERA-FM Dallas won the 2015 RTDNA/NEFE Award for Personal Finance Reporting from the Radio Television Digital News Association (RTDNA) and the National Endowment for Financial Education (NEFE). KLAS-TV's Emmy Award-winning journalist Michelle Mortensen and photojournalist Sarita Kichok were honored for the "8 On Your Side Consumer Series." Mortensen launched the "Debt Destroyer" program in 2015 to help viewers become financially stable. On the radio side, KERA-FM's award-winning reporter Courtney Collins was honored for "One Crisis Away: Inside a Neighborhood."
---
Topic: Youth-Focused Initiatives
Date Posted: 9/3/2015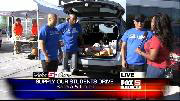 Meredith Corporation's Fox affiliate KVVU-TV Las Vegas collected more than $22,000 in its "Supply Our Students Drive (SOS)," held August 12-14. This year, KVVU added a new way to give: a $15 donation provided a junior high school student with a backpack filled with school supplies, while a $20 donation does the same for an elementary school student. The Salvation Army distributed school supplies to 2,000 kids last year, but the Clark County School District identified 9,000 homeless students in the 2013-14 school year. "This partnership with FOX5 is about changing reality for people in our community," said Maj. Kelly Pontsler of The Salvation Army Clark County. "For some, it might look like just a pack of pencils or a backpack, but to those we serve, it's new hope for having a successful school year."
---
Topic: Community-Focused Initiatives
Date Posted: 6/4/2015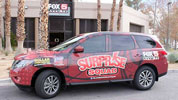 Meredith Corporation's Fox affiliate KVVU-TV Las Vegas launched the Surprise Squad in December 2013. The Surprise Squad travels around Las Vegas performing random acts of kindness for local residents. The surprises have included providing people in need with groceries, gas and furniture. Over Memorial Day weekend, the Surprise Squad personally delivered flowers to four families who lost a loved one to military service. KVVU-TV donated money in honor of each family to provide care packages for troops or lay wreaths on the graves of fallen soldiers at Arlington National Cemetery through the Wreaths Across America organization. Click here to watch videos of more of their work.
---
Topic: Youth-Focused Initiatives
Date Posted: 1/13/2015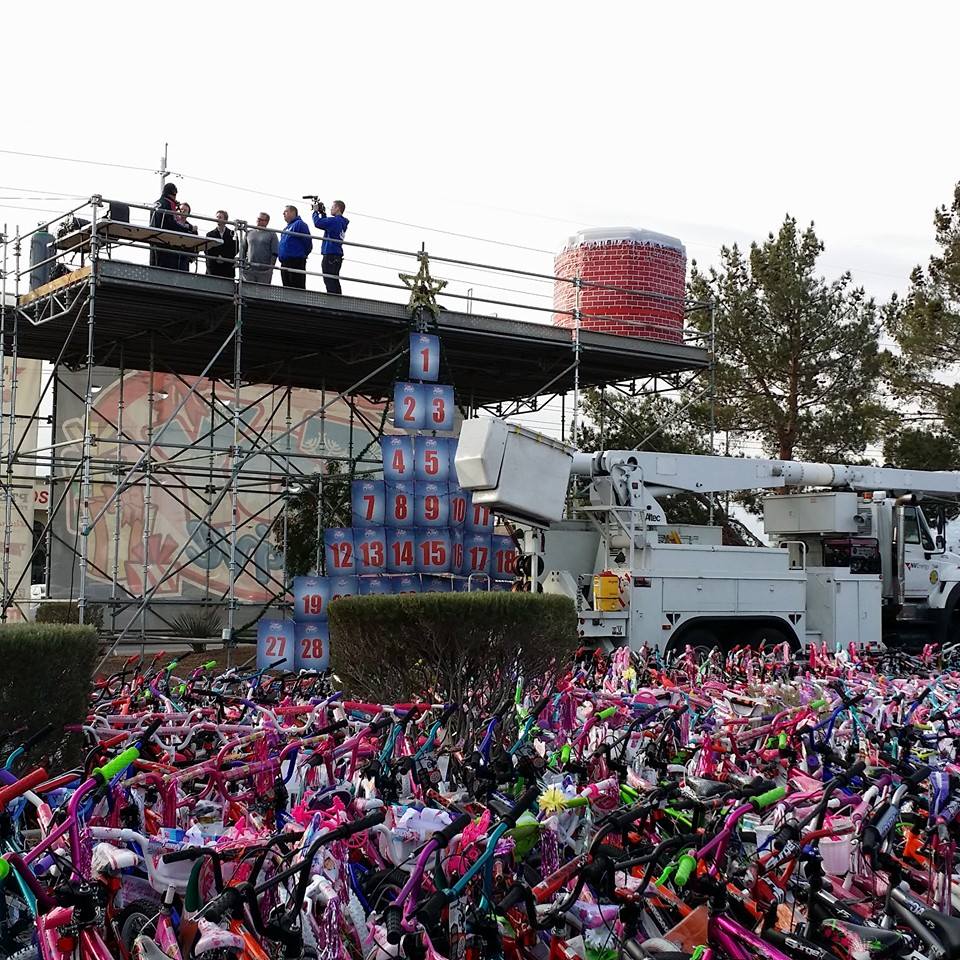 CBS Radio's KLUC-FM Las Vegas broke records with the 16th Annual Chet Buchanan & The Morning Zoo Toy Drive. The station raised $323,000 and filled 29 trailers with new toys, including 5,146 bikes, to benefit HELP of Southern Nevada. HELP assisted 3,000 local families this holiday season.
---
Topic: Education
Date Posted: 4/13/2014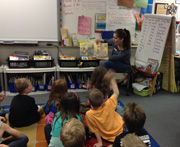 Beasley Broadcasting Group Las Vegas employees participated in Nevada Reading Week this March. Several Beasley staff members visited local first graders at Paul Culley Elementary School and Smalley Elementary School to encourage students to love reading by giving them opportunities to read and be read to in school. Nevada Reading Week was created more than 30 years ago by the Nevada State Department of Education and several local teachers. It continues to make an impact today.
---
Topic: Education
Date Posted: 10/4/2013

The Nevada Broadcasters Foundation raised $40,000 for the Tony and Linda Bonnici Broadcasters Scholarship Program during auctions held at its Hall of Fame Gala. More than 600 people attended the event held at the Red Rock Casino.
---
Topic: Health Awareness Campaigns
Date Posted: 3/1/2013

Lotus Communications Corp.'s KOZZ-FM, KUUB-FM and KDOT-FM Reno, Nev., raised $50,000 during the company's 14th annual radiothon to support St. Jude Children's Research Hospital. For more than a decade, the stations have helped raise more than a million dollars to benefit St. Jude. Lotus Radio Corp. General Manager Dane Wilt said, "Northern Nevada and nearly every community in the world benefits from money raised for St. Jude. The research conducted at their facility is shared with hospitals around the globe.
---
Topic: Youth-Focused Initiatives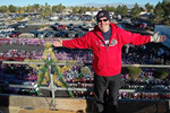 CBS Radio's KLUC-FM Las Vegas held its 14th annual Chet Buchanan & The Morning Zoo Toy Drive, hoisting morning show host Chet Buchanan up on a 30 foot-high scaffolding. Buchanan stayed there for 12 days to encourage listeners to donate toys and money to benefit HELP of Southern Nevada. In total the drive collected 3,280 bikes, $268,000 in cash and gift cards and 19 trucks full of donated gifts for local children. Click here to watch video from the 12-day event.
---
Topic: Youth-Focused Initiatives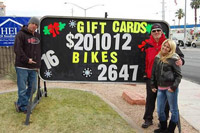 The 13th Annual CBS Radio KLUC-FM's Chet Buchanan & The Morning Zoo Toy Drive wrapped up with overwhelming numbers: 2,647 bikes, sixteen 50-foot semi-trucks full of toys and $201,012 in gift cards and cash, all of which were gifted to children who may have not otherwise had presents this holiday season.



On December 1, DJ Chet Buchanan moved into a tent atop a thirty-foot scaffolding for 24-hours, enduring wind, rain and below average temperatures. His live broadcast encouraged listeners to visit and donate.

"It is so amazing to see all these people come together and be a part of something bigger than them," says Buchanan. "When you're there, its magic; the semi-trucks lined up, the sea of bikes, the gift card count… it's indescribable."
Celebrities who donated or visited to show their support included Nick Cannon, Carlos Mencia, Nick Carter, T.I., Shane Victorino and many more.
---
Topic: Environment

KNYE-FM Pahrump Valley, Nev., announced the station has developed 80 acres of land to create a community garden. Local residents and green thumbs are invited to secure a plot of land on the grounds to grow flowers, vegetables and other foliage. KNYE-FM General Manager Karen Jackson says she was inspired to launch the community garden to help local residents learn to grow produce and ensure they will always have food to eat. Click here to watch Karen's interview about the gardening initiative.
---
Topic: Community-Focused Initiatives

Sarkes Tarzian-owned KTVN-TV Reno, Nev., helped raise more than 178,000 pounds of food and more than $107,000 in donations during the station's 18th annual Share Your Christmas Food Drive. These totals greatly exceeded the 150,000 pounds raised in 2009.
---
Topic: Youth-Focused Initiatives

Chet Buchanan of CBS Radio's KLUC-FM Las Vegas, braved wind, rain and cold temperatures in December to host the stations' 12th annual "Twelve Days of Toy Drive." Buchanan spent 12 full days living in a tent atop a 30-foot scaffolding to encourage listeners to donate items. KLUC-FM collected 2,287 bikes, enough toys to fill fourteen 15-foot semi trucks and $145,069 in gift cards and cash. "It is so amazing to see all these people come together and be part of something so positive." said Buchanan. Click here to listen to an audio recap of the 12 days.
---
Topic: Youth-Focused Initiatives
Listen to Audio
Broadcasting live from dawn to dusk in their jammies, on-air personalities from KCYE-FM, KKLZ-FM, KFRH-FM and KDWN-AM in Las Vegas, Nev., collected more than 12,000 pairs of pajamas and sleepwear for local children in need at the sixth annual "DJs for PJs" donation drive. During the all-day event, the stations broadcast live from collection sites, where local celebrities, elected officials, concerned citizens, civic and business group representatives, firemen, policemen, school kids and parents all dropped by to donate new pajamas. The sleepwear is distributed to Child Haven, a part of the Clark County Department of Family Services that takes care of children who have been abused, abandoned and neglected, and six other local organizations. As long as there are children without necessities like sleepwear, these DJs are committed to being seen in their PJs each spring. Since its inception, the event has grown from one collection site to four.
---
Topic: Community-Focused Initiatives

Mrs. Claus wouldn't have known what to do. "The Great Santa Run," an annual fundraiser for Opportunity Village sponsored by KVVU-TV in Henderson, Nev., reined in more than 7,200 runners clad in red hats and white beards, a number high enough to break the world record for the greatest number of Santas in a single place. Opportunity Village, a nonprofit organization that provides vocational training, job placement and social events for people with intellectual disabilities, partners with KVVU for the race as well as other fundraising activities throughout the year. In addition to creating a public service announcement (PSA) campaign for the most recent run, the station integrated coverage into all of its newscasts. Representatives from Opportunity Village were interviewed numerous times on the air, and on race day, KVVU talent hosted the run, which raised more than $360,000. After the event, the station produced thank-you PSAs for all of the Santas and aired follow-up features for a week. "It's a major undertaking, and without the support we receive from KVVU, I don't think we would be half as successful," said Holly Spoor, resource development director for Opportunity Village. "They never lose sight of the Opportunity Village message. Their support is phenomenal." On a related note, KVVU's chief meteorologist recently hosted the Opportunity Village Celebrity Poker Tournament, which raised $100,000 for the organization.
---
Topic: Neighbors in Need

To make sure those experiencing hard times in the northern part of the state don't go hungry, KTVN-TV in Reno, Nev., organizes an annual "Share Your Holiday Food Drive." Over the last two years, the effort has provided more than 150,000 meals. On the day of the drive, on-air coverage starts at 5 a.m. "Share Your Holiday" is the focus of programming for the majority of the day, with live remotes airing from four collection sites. Station staff and volunteers gather donations from viewers' cars. The station starts gearing up the community for the holiday event in November with public service announcements featuring its four main evening anchors. To help encourage business and groups to make large donations, the station also provides news coverage of check presentations. With a 15-year history, the event has become a critical source of help for those in need. A total of 128,743 pounds of food was collected during the 2007 drive, making it a record-breaking year. The drive provides resources to more than 110 agencies.
---
Topic: Community-Focused Initiatives
View Video
From the beginning, KOLO-TV in Reno, Nev., has been part of Artown, a month-long community event acclaimed as one of the most comprehensive art festivals in the country by the National Endowment of the Arts. During its 13 years, the festival has grown from a local event targeted at reviving the downtown area to a month-long celebration offering 350 different performances, the majority of which are free to the public. Dance, music, art and theater are all part of the mix. In addition public service announcements that air the entire month of July, KOLO keeps Artown top of mind with extensive coverage. The festival has a presence in almost every newscast throughout the month. At least once a week the station broadcasts live from a festival event and Artown participants often come in the studio as a guest on the station's morning show. "KOLO has marketed and publicized the festival in a way we never could have done alone," said Beth McMillan, executive director of Artown. "I can't say enough about them."
---
Topic: Health Awareness Campaigns

KTNV-TV in Las Vegas, Nev., is helping make "Strides Against Breast Cancer." The station has been a partner in the event since the beginning, when 300 community members gathered for the first local "American Cancer Society Making Strides Against Breast Cancer Walk." Now in its eighth year, more than 6,000 people gather together for the October fundraiser, which generated $350,000 in 2007. All of the money stays in Nevada to help further research, fund early detection programs, and provide support for area patients and their families. KTNV helps formally kick off promotion for the walk each August at a breakfast where a four-minute video produced by the station provides inspiration and hope. From August until race day, the station runs one feature story a week related to breast cancer, including profiles of survivors and updates on the latest medical breakthroughs. Three weeks out from the event, the station begins airing a heavy schedule of race announcements featuring KTNV anchor Tiffany Sargent along with on-air personalities from partner radio station KXPT-FM. On the day of the walk, KTNV brings out its chopper as well as its news crews to get live shots of the race and its participants, dozens of which are KTNV staff. In total, the station donates nearly $150,000 in promotional spots and airtime each year.
---
Topic: Education

In partnership with Great Basin Community College, KENV-TV in Elko, Nev., has helped found a broadcast technology program, giving local students more opportunities to learn than ever before. In addition to providing classroom space at the station, KENV is funding the effort for its first two years. The program, for which KENV staff act as adjunct faculty, involves six classes, including production and writing for radio and television. KENV also offers two paid student internships during the fall and spring semesters. To help with recruitment, the station runs public service announcements before the start of each semester and covers the program in news stories throughout the year. "It's a big boost to this community," said KENV's Terry Hriz, who teaches the speech writing class. "It can keep kids who want to go into journalism in the area for their education."
---
Topic: Youth-Focused Initiatives

For 20 years, little ghosts and goblins have enjoyed "Trick or Treat Street," a safe Halloween celebration organized by KRJC-FM and KTSN-AM in Elko, Nev. Inside the Elko Convention Center, dozens of doors are set up to allow children an old-fashioned trick or treat experience. The festival atmosphere boasts painting and clowns, as well as safety demonstrations from police officers about seat belt use and healthy meal information from a nutritionist. The stations use public service announcements filled with spooky noises and funny voices to get word out to all families in town. To make sure every child has the chance to participate, the stations also send posters to schools in the area in both English and Spanish. Proceeds from the event go to the Elko Police Athletic League (PAL), a nonprofit organization providing sports programs for youth. "Treat or Treat Street" is PAL's only annual fundraising event. The 2007 festivities brought in $15,000 for the organization.
---
Topic: Youth-Focused Initiatives

Whether it's one girl's dream to be a pop star for a day or a teenager's request to have his vintage car painted, the Make-A-Wish Foundation and KVBC-TV in Las Vegas, Nev., work together to make the wishes of ill children come true. Make-A-Wish has a regular presence in the station's programming. Every other week, Kendell Tenny, the station's Kids First reporter and chairman of the local Make-A-Wish Board, hosts a "Make-A-Wish Monday" segment. Each holiday season, the station produces a Make-A-Wish special highlighting all of the courageous children whose wishes were granted during the year. KVBC helps with fundraising as well. This year, Tenny appeared in more than $80,000 worth of promotional spots for the "Run for a Wish" race, which drew 3,000 participants and raised more than $340,000, making it the most successful fundraiser to date for of the local chapter. In addition to Tenny emceeing the event, 25 staff members sported their gym shoes and took to the course. "The station's support has been indispensable in helping us grow," said Emily Williams, director of Make-A-Wish of Southern Nevada. "They are our biggest cheerleaders in the community."
---
For more examples of how Nevada's local radio and TV broadcasters are serving every local community, please contact the Nevada Broadcasters Association .