New Mexico's Broadcasters
Serving Every Local Community
Topic: Investigative Reporting
Date Posted: 7/14/2016
University of New Mexico's KUNM News Radio investigated a dry cleaning chemical spill that occurred in Albuquerque. The investigation revealed that state officials had not studied health effects the spill had on the local community. Ultimately, the company responsible for the spill submitted a cleanup proposal to the state. In St. Louis, Missouri, the Public Radio News Directors, Inc. awarded KUNM First Place for Enterprise/Investigative reporting for the Poisoned Earth coverage at the PRNDI Awards Banquet.
---
Topic: Investigative Reporting
Date Posted: 7/7/2016
Hubbard Broadcasting's NBC affiliate KOB-TV Albuquerque aired a story "4 Investigates: Whistleblower Says City Ignores Code Violations in New Home Construction" after a whistleblower alerted the KOB investigated the problem that potentially affects thousands of new home buyers in Albuquerque are getting ripped off. Structural engineer Brian Seylar, who worked for the city's code enforcement department, said too many homes that are not up to code pass inspection. Subcontractors fail to account for critical pieces of wood and nails that help distribute the weight of the roof, eventually leading to cracks and leaks. Seylar was fired after he shared his concerns with his superiors at city hall.
---
Topic: Community-Focused Initiatives
Date Posted: 11/5/2015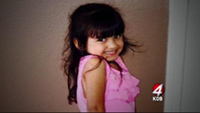 Cumulus Media's KKOB-AM and KOB-FM Albuquerque provided support to a grieving city after a four-year-old girl was shot and killed in a road rage incident on Oct. 20. Albuquerque Police Chief Gordon Eden called KKOB as Morning Show Host Bob Clark discussed the story with listeners. Police Chief Eden said, "We know that 770 [KKOB-AM] is heard around the Southwest and we need your help in tracking down truckers who may have witnessed the road rage shooting." Listen to this audio clip from his call, which shows KKOB's importance in the community.
The next morning, KOB-FM hosts Carlos & Kiki dedicated their show to listener calls, which covered news tips on the shooter and reasons "why we need to hug our kids." KOB asked listeners to donate to a GoFundMe account for the girl's family. The account raised $40,000 by noon, ultimately reaching $66,000. This horrific event demonstrates "the power of local radio to bring communities together during difficult times and to help keep our communities safe," said a Cumulus Media spokesperson. Watch news segments featuring Carlos & Kiki here and here (starts at 5:14).
---
Topic: Disaster Relief and Recovery
Date Posted: 2/11/2014

Noalmark Broadcasting's KBIM-FM Roswell, N.M., kept area listeners informed when a local middle school was forced into lockdown for a school shooting. Within 21 minutes of the shooting, KBIM-FM had the Roswell police on air providing information to local parents and other listeners about the situation and where they could reunite with their children. KBIM-FM also used its Facebook account to share on-air information via social media.
---
Topic: Safety Initiatives

KXMT-FM, KKIT-FM, KKTC-FM and KVOT-AM in Taos, N.M. have made it hard to stay a fugitive from the law for long. Since the four stations launched their "Fugitive of the Week" program in 2003, 214 fugitives have been featured and only nine are still at large. The joint effort involves the stations, the Taos County Sheriff's Department, the Taos Police Department and the New Mexico State Police. Segments play daily on all four stations and are voiced by a police officer from one of the three agencies, most often the Taos Police Department. "It's not just bank robbers and murders we are looking for, but also those that haven't paid their child support or failed to show up in court after a DWI," said Jeff Singer, operations manager for the stations. In related efforts, the chief of police is interviewed by Singer on KKTC each Monday morning, and the all four stations air public service announcements about DUI checkpoints and saturation patrols.
---
Topic: Politics and Election Coverage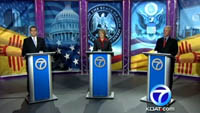 Hearst's KOAT-TV Albuquerque hosted a debate between the three Democratic candidates running in the primary for New Mexico's first Congressional District seat. The candidates included Marty Chavez, Eric Griego and Michelle Lujan Grisham. The debate was co-sponsored by the Albuquerque Journal.
---
Topic: Animal Protection

The animal-loving staff at KTAO-FM in Taos, N.M., hosts an annual 12-hour radiothon to support Stray Hearts, a local no-kill shelter. During the radiothon, KTAO spreads the word about volunteer opportunities, the need for animal foster parents and the importance of spay and neuter clinics. During the year, whenever Stray Hearts meets its capacity, the station airs a live "adopt-a-thon" remote from the shelter, encouraging listeners to come meet their four-legged match. In addition, to make sure pets and their people stay together, KTAO set up a "Lost and Hound" hotline. The station airs reports on all missing pouches and felines, as well as those that have been found, twice each day. "KTAO is a core component to this community, like the glue that pulls us all together," said Lisa Davis, president of the shelter's board of directors. "On behalf of all of us at Stray Hearts, we appreciate so much KTAO's generosity and willingness to help get our word out." No doubt, cats and dogs throughout Taos are barking and meowing in agreement.
---
Topic: Neighbors in Need
Listen to Audio
The "Rooney and Moon Morning Show" hosts from KSMX-FM in Clovis, N.M., are willing to do anything to make sure families have a proper Christmas, even be "frozen alive." In 2007, Duffy Moon, agreed to stay in a 7,200 pound ice block for as long as it took to raise the $20,000 needed to fund that station's annual "Secret Santa" campaign. The idea to raise money to give to families on the High Plains that may be facing a bleak Christmas or, worse yet, no Christmas at all, started four years ago. To date, the effort has collected more than $82,000 and provided a special holiday to 41 families. The Christmas delivery involves station staff and volunteer "elves" from the community, who show up with a tree, lights, Christmas dinner, groceries and presents. Listeners get to hear the experience on-the-air the next day. "The entire project, by far, is the most rewarding thing we do year in and year out," said Steve Rooney. One story that stands out involves a family of five who had lost everything in a home fire. The station's Christmas delivery, which included new furniture, was met with awe, but the family had one additional request. A woman had saved their lives by honking her horn until they woke up on the night of the fire. They wanted the station's help to find their guardian angel. After the story broadcast, the women came forward, and the family's reunion with her was aired live.
---
Topic: Youth-Focused Initiatives
View Video
More than 230,000 children have been protected from cold winter weather as a result of a 19-year effort by KOAT-TV in Albuquerque, N.M. The station's "KOATS for Kids" project has reached needy children throughout New Mexico. Each year, the station partners with a local cleaner and the New Mexico Army National Guard to ensure donated coats are cleaned and transported across the state. In 2007, the station ran 750 promotional announcements and distributed informational posters about the program. In addition, newscasts throughout December helped direct viewers to drop-off points and provided a toll-free number for assistance with donating or receiving a coat. "On behalf of our students and parents, I would like to sincerely thank you for your assistance in providing winter jackets to some of our wonderful children," wrote Dr. Patricia Rael, superintendent of Belen Consolidated Schools, in a letter to the station. "You all truly reflect and have advanced the spirit of caring that the 'KOATS for Kids' program has come to represent."
---
Topic: Youth-Focused Initiatives

With the help of KAZX-FM and KKFG-FM in Farmington, N.M., thousands of dollars are raised each year at the "Cops and Lobster" event for the Special Olympics. For two days, 100 local, county and state law enforcement officers can be found volunteering their time to sell donated items from local businesses, such as t-shirts and knickknacks, to patrons at a local seafood restaurant. In 2008, a record-breaking $12,000 was raised to support 40 local Special Olympians. The event kicks off on a Friday at lunchtime, and both stations broadcast live with their morning show teams. The stations make continuous on-air mentions throughout the event. As the exclusive media sponsors, both KAZX an KKFG gear up listeners in advance with mentions starting two weeks before, a presence on their Web sites, and in-studio interviews with members of the police department and representatives from the San Juan County Special Olympics. "It is an awesome, small-town, warm-fuzzy event," said Jennifer Dennis from the KAZX morning show.
---
Topic: Youth-Focused Initiatives

A partnership has blossomed between KRQE-TV in Albuquerque, N.M., and El Ranchito de los Niños, a nonprofit children's home that provides siblings a long-term place to live and grow together. El Ranchito first approached the station when it was in need of assistance with its largest fundraiser, a raffle for a new house. With KRQE's help, which includes the posting of a virtual tour of the house on the station's Web site, raffle tickets now sell out each year, raising $100,000 in annual support. The past four years, the station has donated its time to help El Ranchito develop additional fundraising and promotional strategies. As part of these efforts, the station airs news segment about the home and then opens its phone banks for viewers to call in pledges more than once a quarter. In addition, the station airs public service announcements and promotes El Ranchito's annual charity cruise, which is emceed by anchors Deanna Sauceda and Mike Powers. "KRQE has been instrumental in getting our name out there," said Chris Gillis, director of development for El Ranchito. "What they do is pretty phenomenal. It has been monumental in our lives." The station also gives directly to the children, sponsoring trips to baseball games and other fun events.
---
Topic: Community-Focused Initiatives

As the exclusive radio sponsor, KPEK-FM in Albuquerque, N.M., helped get word to thousands of families about the LodeStar Astronomy Center's "Starry Nights" program in 2007. Each Saturday, for eight weeks, families enjoyed an evening under the constellations regardless of how many clouds were in the winter nighttime sky. After the planetarium show, kids and parents had the opportunity to look through the large telescopes in the center's observatory. Previously a division of the University of New Mexico and now a part of the New Mexico Museum of Natural History Foundation, the astronomy center needs the help of local media to make the community aware of its services. Prior to and throughout the "Starry Nights" program, the station aired recorded announcements, live liners and gave away tickets during broadcasts to get the community excited. Eight email blasts went out to the KPEK's listener database of 5,600, which helped bring more than 3,000 people to the center to learn about the stars. The station supported the "Starry Nights" program again in 2008. "Thanks to KPEK's continued promotional support in 2008, the New Mexico Museum of Natural History Foundation's refreshed program quickly became the most successful 'Starry Nights' series since the event began eight years ago," said Shauna Shannon, marketing manager of the New Mexico Museum of Natural History Foundation.
---
For more examples of how New Mexico's local radio and TV broadcasters are serving every local community, please contact the New Mexico Broadcasters Association .