Ohio's Broadcasters
Serving Every Local Community
Topic: Investigative Reporting
Date Posted: 2/23/2017
Tribune's Fox affiliate WJW Cleveland anchor Amanda Berry hosts a daily segment to help locate missing people and support their families. The issue is personal for Berry, as she had escaped a home where she and two others were held captive for a decade. On the segment, Berry discusses details of a different northeastern Ohio missing-person case each day and talks about how viewers can help the families and investigators. "When I was missing, the people who were looking for me never gave up," Berry said. "My wish is that this segment will not only help find those who are missing but offer hope for the loved ones who are looking for them."
---
Topic: Health Awareness Campaigns
Date Posted: 2/14/2017
iHeartMedia's WKDD-FM Akron raised $551,886 during its 18th annual "Have a Heart, Do Your Part" radiothon that ended on February 11 to benefit Akron Children's Hospital. This year's fundraiser netted almost $100,000 more than what was raised in 2016. Akron Children's Hospital uses the money raised to buy child-size medical equipment and to fund patient care, community outreach and research.
---
Topic: Neighbors in Need
Date Posted: 1/11/2017
Media General's NBC affiliate WCMH-TV Columbus collected $1.6 million for the Mid-Ohio Foodbank in an 18-hour telethon on December 14. The funds will provide seven million meals through the Mid-Ohio Foodbank's network of more than 650 pantries, soup kitchens, emergency shelters, senior living centers, day care and after-school programs in 20 counties. "It's an honor and privilege for NBC4 to partner with Mid-Ohio Food Bank to mobilize the generosity of our community for this years' 'Double Your Donation Day,'" said Vice President and General Manager Ken Freedman.
---
Topic: Community-Focused Initiatives
Date Posted: 12/10/2016
Media General's NBC affiliate WCMH-TV Columbus, OH, in partnership with the Columbus Division of Fire, collected enough toy donations to fill two semi-trailers and more than $41,000 in monetary and gift card donations during the 39th annual "NBC4 Firefighters 4 Kids Toy Drive." "I'm always inspired and awed by the kindness of our neighbors in Central Ohio, witnessing them share their blessings with others less fortunate; it rekindles your belief in the innate goodness in the human spirit," said WCMH-TV Vice President and General Manager Ken Freedman.
---
Topic: Community-Focused Initiatives
Date Posted: 11/22/2016
Raycom Media's WOIO/WUAB-TV Cleveland again partnered with Ohio-based personal injury law firm Kisling, Nestico & Redick (KNR) in hosting the fourth annual "KNR Coats & Cans for Kids Turkey Giveaway." WOIO broadcast live during their noon and evening newscasts, along with Facebook Live & social media engagement with KNR, as they handed out 1,000 Thanksgiving turkeys in exchange for a canned good to benefit the Akron-Canton Regional Foodbank or a gently used coat for The Salvation Army and Volunteers of America. Twenty thousand pounds of non-perishable food was collected, which will serve over 16,000 meals – plus hundreds of coats were collected for local needy families in Northeast Ohio. Station Managing Partner Rob Nestico said "It's overwhelming to see so many people donating to help their neighbors in need and we are so thankful to everyone who came out to support us."
---
Topic: Health Awareness Campaigns
Date Posted: 11/17/2016
Raycom Media's Fox affiliate WXIX-TV Cincinnati continued tis "Think Pink" initiative on November 18. The station hosted the St. Elizabeth Healthcare Mobile Mammography Van at its studio. Local women were invited to undergo a routine mammography without scheduling an appointment. Financial assistance was available to those who could not afford the screening.
---
Topic: Community-Focused Initiatives
Date Posted: 11/1/2016
Raycom Media's CBS affiliate WOIO-TV and WUAB-TV Cleveland partnered with Ohio-based law firm Kisling, Nestico and Redick (KNR) for the fourth annual "KNR Coats & Cans for Kids Turkey Giveaway." The station distributed 1,000 Thanksgiving turkeys in exchange for canned goods to benefit the Akron-Canton Regional Foodbank or gently used coats for The Salvation Army and Volunteers of America. In total, 20,000 pounds of non-perishable food was collected, which will serve over 16,000 meals. Hundreds of coats were collected.
---
Topic: Politics and Election Coverage
Date Posted: 10/20/2016
E.W. Scripps' ABC affiliates WEWS Cleveland and WCPO Cincinnati partnered on a U.S. Senate debate on October 20 debate between Republican incumbent Rob Portman and Democratic challenger Ted Strickland. The debate streamed live and also aired on stations in Youngstown, Lima and Columbus.
---
Topic: Health Awareness Campaigns
Date Posted: 9/13/2016
Rubber City Radio Group's WAKR-FM, WONE-FM, WQMX-FM, and WNWV-FM, in the greater Cleveland area, have devoted numerous resources to addressing the local and nationwide opioid epidemic. The station group invested a week's worth of intensive reporting on its news and community talk programs regarding the topic, supported by live broadcasts and a strong web reporting presence that included social media. Also, the "Jasen Sokol Show" conducted a live four-hour program from the local Department of Health, which included a broadcast of a news conference detailing new initiatives to help listeners dispose of outdated prescription drugs safely. The station group also developed a section of their website where listeners can visit for additional information. Access it here.
---
Topic: Youth-Focused Initiatives
Date Posted: 8/11/2016
Alpha Media, Canton announced that WHBC-FM and WHBC-AM joined forces with AultCare to help raise $158,673 during the 9th Annual AultCare Wish-A-Thon, held August 11-12. A storm ripped leveled the Wish-A-Thon tent in the 10th hour of the 36-hour broadcast, but the event continued in the WHBC studios. "While the storm took out some of our technical abilities it never dampened the spirit of the event or the resolve of our staff," said Alpha Media Market Manager Larry Gawthrop. "What we were able to accomplish was a great example of teamwork at its best." All donations will go to Wishes Can Happen Inc., a local charity that supports children with life threatening illnesses.
---
Topic: Community-Focused Initiatives
Date Posted: 7/15/2016
Raycom Media's FOX affiliate WXIX-TV Cincinnati broadcast "Black, White and Blue: A Community Conversation" on July 15 following the deaths of two unarmed black men in in Minnesota and Louisiana. The special focused on topics such as policing with body cameras, race and justice. As part of the project, activists, city leaders and former law enforcement officers came to the station to discuss the nation's toughest questions and how those issues are felt in the community. Viewers also interacted via social media.
---
Topic: Health Awareness Campaigns
Date Posted: 6/17/2016
Raycom's Fox affiliate WXIX Cincinnati partnered with St. Elizabeth's Healthcare on "Think Pink" to offer convenient, fast mammograms on June 17. WXIX provided information on scheduling and necessary documentation during "FOX19 NOW in the Morning." The test took ten minutes in the St. Elizabeth's van, making it easier for busy women to get screened. Qualifying women took the test free of charge.
---
Topic: Youth-Focused Initiatives
Date Posted: 6/1/2016
Raycom Media's Fox affiliate WXIX-TV Cincinnati partnered with St. Jude Children's Research Hospital for its "Dream home Giveaway" campaign. Over a two-month period, WXIX-TV anchors and reporters fronted live cut-ins from the Dream Home, hosted a day-long telethon to drive ticket sales, and produced a series of special reports focusing on families' personal stories and how St. Jude's supports the entire family, not just the patient, as they battle childhood cancer. Over $801,315 was raised.
---
Topic: Investigative Reporting
Date Posted: 5/16/2016
E.W. Scripps' ABC affiliate WEWS-TV Cleveland aired an investigation on May 21, "How Serious Breakdowns in Cleveland's 911 System Put Your Safety at Risk." Reporter Sarah Buduson has been reporting for months on delays and failures in connecting emergency calls in Cleveland. In this new report, emergency dispatchers express their concerns. They say 911 callers are often placed "on hold," lost, and subject to a heavy volume of system malfunctions that leave callers without timely assistance.
---
Topic: Investigative Reporting
Date Posted: 5/5/2016
TEGNA's NBC affiliate WKYC-TV Cleveland reporter Dawn Kendrick received a 2016 Broadcast Media Award from the Ohio Pharmacists Association for her story "See the Possible." The series on Kevin Houdeshell's family's fight for access to life-saving drugs led to a law change that allows pharmacists to extend emergency supplies of life-saving drugs.
---
Topic: Community-Focused Initiatives
Date Posted: 3/29/2016
WHKO-FM Dayton was recognized by the Dayton Daily News in an article published March 3, titled "7 ways K99 makes our community better." "Of course you've heard [Nancy Wilson and James Frye] host K99.1 FM's morning show, but few people know how much they serve the community," wrote Kamron Taylor. "It's intrinsically tied to the station's mission to connect with the community -- and the station provides a platform for the two to make it happen." Taylor then goes on to provide seven reasons why the station makes the community better.
---
Topic: Youth-Focused Initiatives
Date Posted: 3/1/2016
iHeartMedia's WKDD-FM Akron raised $452,000 for Akron Children's Hospital in its 17th annual "Have a Heart, Do Your Part Radiothon," February 11-13. The radiothon featured five-year-old Fiona Smith, who had a kidney removed and endured months of chemotherapy and radiation. Fiona is now in remission. Last year, Fiona turned in 36 pounds of quarters, nickels, dimes and pennies as a "Change Bandit," or volunteer who asks family and friends to donate coins.
---
Topic: Politics and Election Coverage
Date Posted: 2/16/2016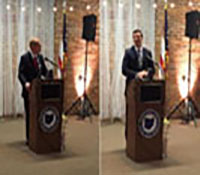 Scripps' ABC affiliate WCPO-TV Cincinnati asked Democratic candidates for U.S. Senator from Ohio, former Governor Ted Strickland and Cincinnati Councilman P.G. Sittenfeld to participate in a televised debate. Strickland declined to participate and said he would also decline any debate requests from other outlets.
---
Topic: Youth-Focused Initiatives
Date Posted: 2/15/2016
Media General's NBC affiliate WDTN Dayton, OH has presented its anti-texting and driving campaign, WAIT2TXT, at over 50 schools. WDNT has devoted free airtime to a PSA made for WDTN by a student who survived a distracted driving accident. "Community service is the most important thing we do," said General Manager Joseph Abouzeid.
---
Topic: Youth-Focused Initiatives
Date Posted: 1/14/2016

CBS Radio's WDOK-FM Cleveland raised $398,000 on December 4 in a radiothon for the UH Rainbow Babies and Children's Hospital. WDOK has raised more than $2 million in seven years.
---
Topic: Community-Focused Initiatives
Date Posted: 1/14/2016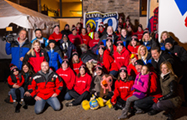 Raycom Media's CBS affiliate WOIO Cleveland collected hundreds of coats and 2,875 pounds of food on November 20, when it gave away 1,000 free turkeys to those who donated to the fifth annual "Share Your Holidays" drive. Many turkeys are donated back for area residents in need. The Salvation Army of Summit County, Volunteers of America of Greater Cleveland and the Akron-Canton Regional Foodbank distributed the donations.
---
Topic: Drug Prevention
Date Posted: 11/16/2015
Dispatch Broadcasting's CBS affiliate WBNS-TV Columbus, OH aired a one-hour documentary, "Heroin at Home" on November 12, 2015. The documentary features the story of four addicts who grew up on the suburbs of Columbus and started using after experimenting with prescription pain killers. It also explores roadblocks to recovery in Ohio and what the future may hold.
---
Topic: Youth-Focused Initiatives
Date Posted: 10/19/2015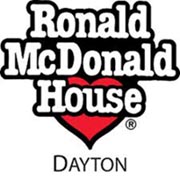 iHeartMedia's WMMX-FM Dayton, Ohio, raised $74,000 for the Ronald McDonald House of Dayton, easily surpassing the $50,000 that the radiothon raised last year. The Ronald McDonald House plans to renovate its 14 rooms for the first time in 16 years, which will cost approximately $300,000. The Ronald McDonald House provides a home for families of critically ill and injured, hospitalized babies and children. Click here for coverage of the event on Media General's WDTN-FM Dayton.
---
Topic: Animal Protection
Date Posted: 10/14/2015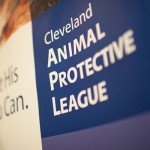 Tribune Broadcasting Company's Fox affiliate WJW-TV Cleveland held a telethon for the Animal Protective League on September 17. Through pledges on phone and online, the telethon raised more than $128,000 to help sick and abandoned animals. Numerous cats and dogs were adopted during the telethon as well.
---
Topic: Drug Prevention
Date Posted: 6/4/2015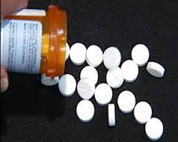 Media General's NBC affiliate WCMH-TV Columbus, OH held a "Drug Disposal Day" on May 2. Almost 2,600 pounds of pills and drug paraphernalia were turned over to law enforcement. This equates to about 1.8 million tablets. Drug Disposal Day aims to curb teen prescription drug abuse by offering a way to safely dispose of expired and unused medication. Almost 4.5 million teens report recreational use of prescription drugs.
---
Topic: Politics and Election Coverage
Date Posted: 6/4/2015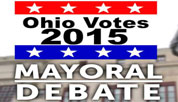 Media General's NBC affiliate WCMH-TV Columbus hosted a debate on April 22 between the candidates for Columbus Mayor: Terry Boyd (R), Andrew Ginther (D), James Ragland (D) and Zach Scott (D). The "Ohio Votes 2015 Mayoral Debate" broadcast live on air and online, and was replayed in its entirety on April 25. The public was invited to attend the event or submit questions via Facebook.
---
Topic: Community-Focused Initiatives
Date Posted: 4/7/2015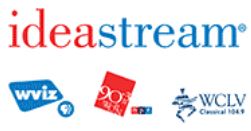 The National Association of Broadcasters Education Foundation (NABEF) announced the winners for the 2015 Celebration of Service to America Awards, recognizing outstanding community service by local broadcasters. Winners will be honored at the Celebration of Service to America dinner held Tuesday, June 16 at the National Building Museum in Washington, D.C.

"Broadcasters have an unwavering commitment to serving the public, and the Service to America Awards are an opportunity for us to celebrate those radio and TV stations that epitomize what it means to be a broadcaster," said NABEF President Marcellus Alexander. "This year's winners have gone above and beyond to create a positive and worthwhile impact on the communities they serve." This year's Service to America Awards will honor the following broadcaster:

SERVICE TO CHILDREN AWARDS
These awards spotlight television and radio stations for outstanding programs, campaigns and public service announcements produced for the benefit of children.

Television
WVIZ Cleveland, Ohio
Owner: Ideastream
Cleveland area schools have the second worst dropout rate in the country. To address the educational challenges in the community, WVIZ, WCPN and WCLV partnered to create a nonprofit organization with a mission to address this issue. Throughout 2014, the group expanded its early childhood literacy efforts and partnered with other organizations to help older students stay in school. Through televised programming, they brought attention to community resources and raised awareness for the types of dangers youths face during after school hours. The group also hosted a drop-out prevention day, gathering more than one-hundred 8th graders who received advice from and interacted with experts and recent graduates. WVIZ produced content from this event for local television, radio, web and social media, and followed up with the students at their schools. In addition to assisting students, the group also provides resources for parents and educators.

Category Finalists:
WHAS-TV Louisville, Ky., Gannett Broadcasting
WISN-TV Milwaukee, Wisc., Hearst Television
WJLA-TV Washington, D.C., Sinclair Broadcasting Group
---
Topic: Animal Protection
Date Posted: 3/13/2015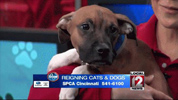 Sinclair Broadcasting's CBS affiliate WKRC-TV Cincinnati raised $80,000 for a local Society for the Prevention of Cruelty to Animals (SPCA). During its Jan. 17 Best of the Adopt-A-Pet event, all 26 dogs and cats featured were adopted. After the event, more than 100 families visited the SPCA to inquire about adoption.
---
Topic: Community-Focused Initiatives
Date Posted: 2/17/2015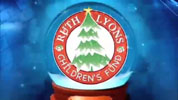 Hearst Television's NBC affiliate WLWT-TV was a finalist for the 2014 NAB Education Foundation Service to America Awards. WLWT-TV's Ruth Lyons Children's Fund, established on radio in 1939 and considered to be America's longest-running broadcast charity, aims to ensure each child receives a toy of their own to keep during an overnight stay in a Greater Cincinnati hospital. Other services include book carts, activity centers, TVs, DVD players, games and birthday and holiday parties for hospitalized children. It currently serves 15 hospitals and has raised more than $20 million. Today, the Ruth Lyons Children's Fund remains a top priority for WLWT. The annual fund drive runs from Oct. 4 (Ruth Lyons' birthday) through Dec. 25. The Fund receives ongoing support on all WLWT platforms through promotional, public service and news stories highlighting some of the millions of children and families who have benefited.
---
Topic: Health Awareness Campaigns
Date Posted: 1/22/2015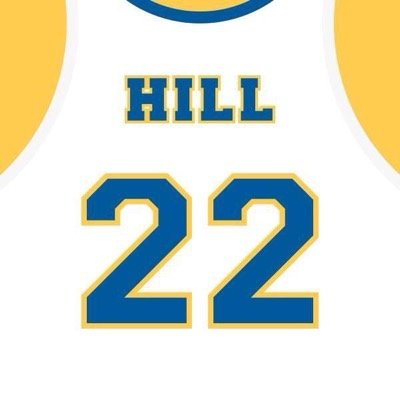 Cincinnati television stations including Hearst's NBC affiliate WLWT-TV, Raycom Media's Fox affiliate WXIX-TV and Sinclair Broadcasting's CBS affiliate WKRC-TV helped Lauren Hill reach her $1 million goal to support cancer research through The Cure Starts Now on December 30. She reached her goal, passing $1.1 million. Early in 2014, Lauren played in her first collegiate basketball game in front of thousands of supporters while battling a rare, terminal form of brain cancer called DIPG. She set the $1 million goal after that game.
---
Topic: Community-Focused Initiatives
Date Posted: 1/20/2015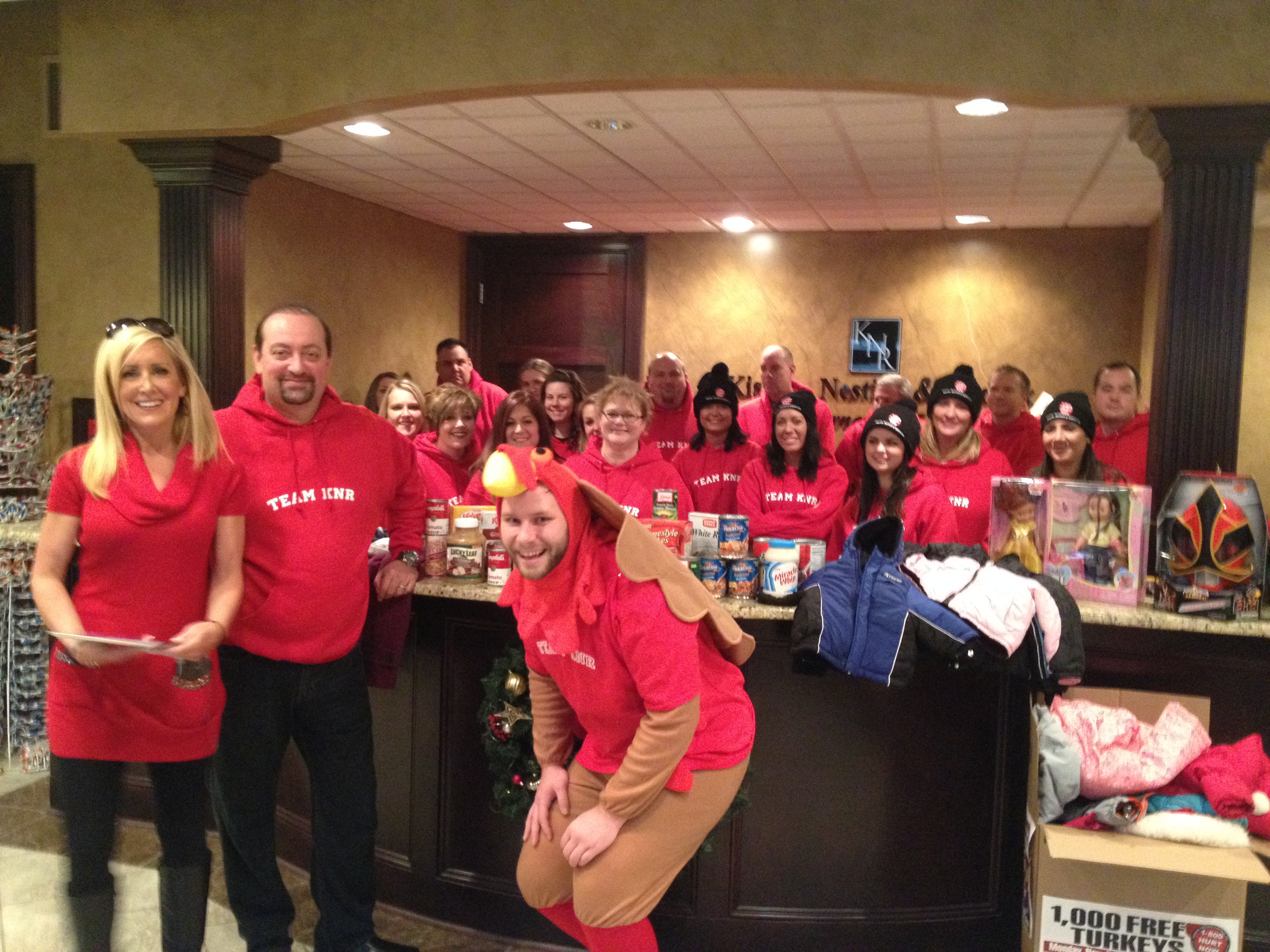 Raycom Media's CBS affiliate WOIO-TV and MyNetworkTV affiliate WUAB-TV Cleveland held the largest collection drive in Northeast Ohio this season. The stations collected gently used and new coats, new toys and non-perishable food items to benefit the Salvation Army, Cleveland and Akron food banks and Volunteers of America.
---
Topic: Youth-Focused Initiatives
Date Posted: 11/24/2014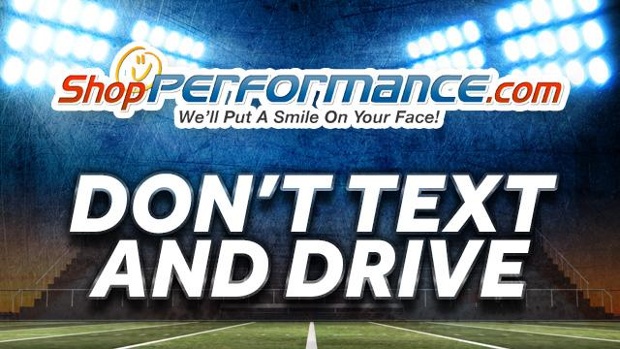 Hearst Television's NBC affiliate WLWT-TV Highlights student athletes from local high schools each week through its Blitz5 program. Blitz5 also featured the Don't Text and Drive campaign in partnership with Shopperformance.com. Each Thursday from September through November, students who pledged not to text and drive had the opportunity to win a $100 gas card. At the end of the campaign, the school with the most pledges was given a $2,500 scholarship to present to a deserving student.
---
Topic: Health Awareness Campaigns
Date Posted: 10/29/2014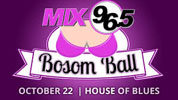 Hubbard Radio's WKRQ-FM raised $45,000 during the 2014 Bosom Ball, held Oct. 16. Proceeds from the Ball benefitted Susan G. Komen and American Cancer Society. Musical artists Mary Lambert and O.A.R. performed at the event. WKRQ-FM lists upcoming public service events here.
---
Topic: Safety Initiatives
Date Posted: 10/2/2014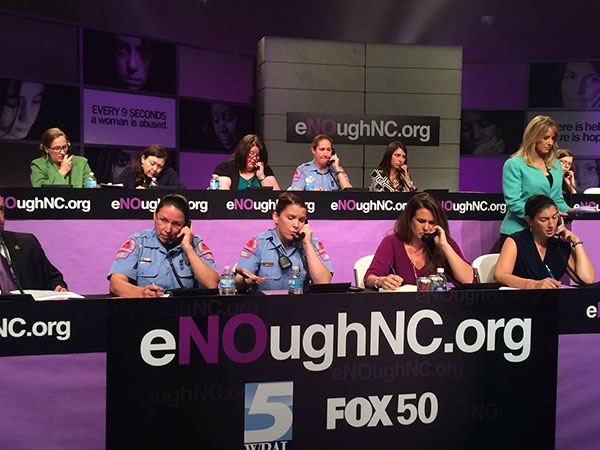 Broadcasters ramping up domestic violence initiatives through special news reports, telethons and tributes to victims following recent NFL incidents include E. W. Scripps' WEWS Cleveland, WFTS Tampa and Raycom's Honolulu stations, CBS affiliate KGMB and NBC affiliate KHNL, according to Broadcasting & Cable. In addition, Capitol Broadcasting launched the "eNOughNC" campaign, with WRAL-TV and WRAZ-TV Raleigh, NC producing two PSAs that debuted during an NFL game featuring Ray Rice's former team, the Ravens, and ran on WILM Wilmington and Capitol radio stations. "eNOughNC" provides education on how to break the domestic violence cycle.
---
Topic: Health Awareness Campaigns
Date Posted: 9/15/2014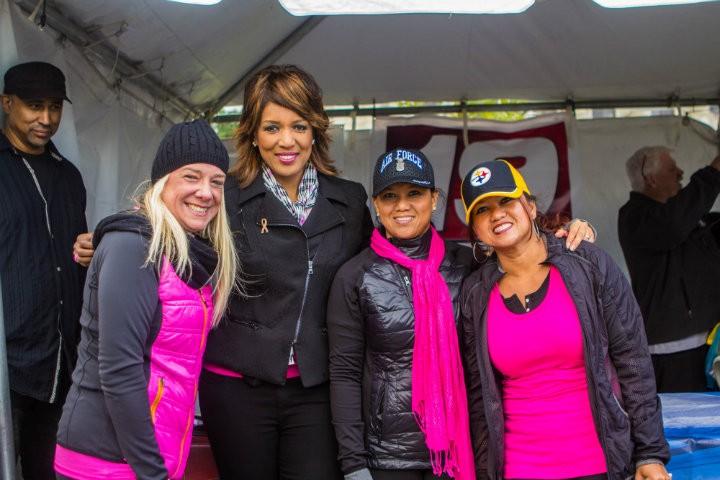 Raycom Media's CBS affiliate WOIO-TV and MyNetworkTV affiliate WUAB-TV Cleveland partnered with Susan G. Komen to provide in-depth coverage of the event. This included on-air promos, web pages, and a social media campaign. The race raised over $250,000, of which 75 percent will help provide free education, screening, treatment and survivor support services for those who need it the most. The remaining 25 percent will fund global research to help find cures. The Susan G. Komen foundation nominated WOIO-TV for the Medical Mutual Pillar Award for Community Service in recognition of their efforts. The Pillar Award honors businesses that make exceptional contributions to their community, showcasing the ties and room for collaboration between for-profit and nonprofit worlds.
---
Topic: Neighbors in Need
Date Posted: 9/8/2014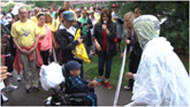 Raycom Media's CBS affiliate WOIO-TV and MyNetworkTV affiliate WUAB-TV Cleveland partnered with Make-A-Wish Foundation to sponsor the annual "Walk for Wishes" to help children with life-threatening medical conditions. WOIO-TV anchor Denise Dufala helped to kick off the event, which involved more than 2,100 walkers, sponsors and volunteers. In total, WOIO-TV and WUAB-TV helped raise more than $180,000 for Make-A-Wish Foundation.
---
Topic: Youth-Focused Initiatives
Date Posted: 8/12/2014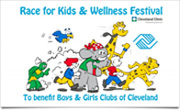 Raycom Media's CBS affiliate WOIO-TV and MyNetworkTV affiliate WUAB-TV Cleveland were busy supporting children this month. Continuing their partnership with the Boys & Girls Clubs of Northeast Ohio, the stations sponsored the organization's Race for Kids and Wellness Festival at the Cleveland Metroparks Zoo. WOIO-TV and WUAB-TV promoted the event on air, while station talent emceed the day's events. The stations helped raise $70,000 to support local children in need with many afterschool programs, nutritious meals and caring, adult mentors.
---
Topic: Youth-Focused Initiatives
Date Posted: 8/11/2014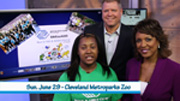 Raycom Media's CBS affiliate WOIO-TV and MyNetworkTV affiliate WUAB-TV Cleveland partnered with the Boys & Girls Clubs of Northeast Ohio for the annual Race for Kids and Wellness Festival at the Cleveland Metroparks Zoo. The event featured a 5K and a one mile run/walk and demonstrations from local healthcare providers and fitness experts. More than 550 people attended the event, which raised more than $70,000 for the Boys & Girls Clubs of Cleveland. Proceeds will support over 8,000 local kids through one-on-one tutoring, recreational activities, character building programs and more.
---
Topic: Neighbors in Need
Date Posted: 6/22/2014
Hearst Television's NBC affiliate WLWT-TV partnered with the Cincinnati Reds and St. Vincent de Paul on a food drive. The event, held June 20-21 at Great American Ballpark collected more than 27,000 pounds of food. The donation was 75 per cent more the record-setting drive in 2013, which collected 15,600 pounds. "We are tremendously grateful to the Reds, WLWT and Reds fans for a record-breaking food drive," said St. Vincent de Paul of Cincinnati Executive Director Liz Carter. "During the summer months, kids don't receive school lunches. St. Vincent de Paul is a vital source of food for families across Cincinnati." In 2013, St. Vincent de Paul provided food to more than 100,000 people in Cincinnati.
---
Topic: Politics and Election Coverage
Date Posted: 11/22/2013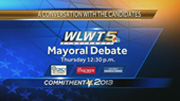 Hearst's NBC affiliate WLWT-TV Cincinnati sponsored a debate between the Cincinnati mayoral candidates Roxanne Qualls and John Cranley. The Cincinnati Enquirer and The Business Courier also sponsored the event, which was held at the local Rotary Club. WLWT-TV's anchor Mike Dardis moderated the debate, which was televised live on WLWT-TV and streamed online at WLWT.com and on the station's mobile app.
---
Topic: Politics and Election Coverage
Date Posted: 11/22/2013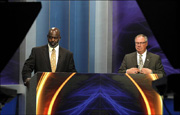 Barrington Broadcasting's WNWO-TV Toledo and Clear Channel's WSPD-AM Toledo partnered to host a televised debate between Toledo's mayoral candidates, incumbent Mike Bell and Councilman D. Michael Collins. The candidates discussed issues of transparency in government, job creation and crime. The debate was broadcast on WNWO-TV and WSPD-AM.
---
Topic: Neighbors in Need
Date Posted: 11/12/2013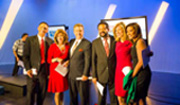 Columbus, Ohio, broadcasters including Media General's NBC affiliate WCMH-TV, Sinclair's ABC affiliate WSYX-TV, Cunningham Broadcasting's Fox affiliate WTTE-TV and Dispatch Broadcasting's WBNS-TV partnered with the United Way to raise awareness of poverty in central Ohio and to inspire the community to unite to fight it. On October 10, broadcasters created a day-long roadblock to flood the market with United Way messaging and stories during newscasts. Anchors from all four stations were also featured together in TV and print ads.
---
Topic: Politics and Election Coverage
Date Posted: 9/10/2013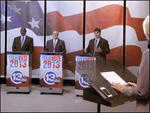 SJL Broadcasting's WTVG-TV Toledo partnered with The Blade newspaper to host an hour-long, live debate between the four main candidates running for mayor of Toledo. The debate was moderated by WTVG-TV's anchor Diane Larson, and addressed topics including the city's budget, crime and neighborhoods.
---
Topic: Disaster Relief and Recovery
Date Posted: 3/15/2012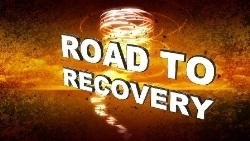 Raycom Media's Fox affiliate WXIX-TV raised more than $119,000 for the Red Cross in March 2012. The all-day telethon supported long-term relief efforts for victims of the severe storms and deadly tornadoes to the Tri-state almost one week ago.
---
Topic: Youth-Focused Initiatives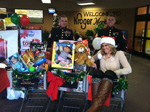 Scripps Television's WCPO-TV Cincinnati collected more than 8,000 toys during its second annual holiday toy drive, which included a one-hour news special. Six local Kroger grocery stores were staffed with two WCPO-TV news anchors and meteorologists, and radio personalities from Cumulus Media's WGRR-FM and WRRM-FM. The toys were donated to Child Focus, The Salvation Army, Brighton Center and Toys for Tots.
---
Topic: Youth-Focused Initiatives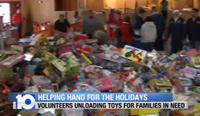 Dispatch Broadcasting's WBNS-TV and Clear Channel Media and Entertainment's WCOL-FM Columbus, Ohio, joined The Salvation Army and Walmart for the "A Helping Hand for the Holidays" campaign, which provides toys and food for central Ohio families. WBNS-TV and WCOL-FM promoted the event by asking viewers to donate new, unwrapped toys or cash. One week before Christmas, The Salvation Army converted the Ohio fairgrounds into a toyshop and food pantry with thousands of toys and pounds of food. Click here to watch video of the event.
---
Topic: Disaster Relief and Recovery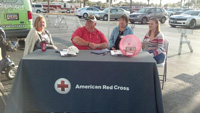 Media General stations that held telethons to raise money for the American Red Cross relief efforts included WBTW-TV Myrtle Beach, S.C.; WCMH-TV Columbus, Ohio ($27,000 raised); WFLA-TV Tampa, Fla. ($28,000 raised); WJBF-TV and WAGT-TV Augusta, Ga. ($15,000 raised); WJHL-TV Johnson City, Tenn. ($25,000 raised); WSAV-TV Savannah, Ga.; and WSPA-TV Spartanburg, S.C. WSAV-TV also ran a ticker promoting Red Cross donations throughout newscasts. WJAR-TV Providence, R.I., dedicated a 7 p.m. newscast to Sandy's aftermath. The station replayed top stories that many viewers missed due to power outages and also fielded calls from viewers who wanted to volunteer or donate money to relief efforts.
---
Topic: Disaster Relief and Recovery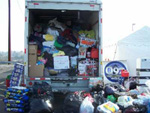 Five Canton, Ohio, stations held a joint radiothon and auction to aid Hurricane Sandy relief efforts: D A Peterson's WDJQ-FM and WDPN-AM, Clear Channel Media and Entertainment's WYNT-FM and Next Media Group's WHBC-FM/AM. According to Radio World, the stations raised over $17,000 for the Red Cross and collected five U-Haul trucks full of donations including clothing, diapers, blankets and food. After the radiothon, the five trucks caravanned to Long Island, where the National Guard unloaded and distributed the goods.
---
Topic: Politics and Election Coverage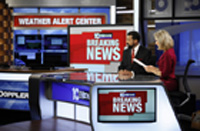 Dispatch Broadcasting's WBNS-TV Columbus, in swing state Ohio, conducted inverviews with President Obama, Vice President Biden, Gov. Romney and Rep. Ryan and booked satellite interviews with the campaigns during each presidential debate. The station's "Show You Care & Vote Bus" registered 130 people at local colleges. WBNS-TV produced a one-hour U.S. Senatorial debate between Senator Sherrod Brown and opponent Josh Mandel. Eighteen candidates for U.S. Senate, Congress and local offices taped one-minute responses to a series of questions, which aired during newscasts and online.
---
Topic: Politics and Election Coverage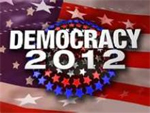 E.W. Scripps' "Democracy 2012" included five minutes of free airtime daily to candidates in nearly 200 races, live streams of presidential candidate speeches, 15 debates for state and local races and "Get Out the Vote" PSAs. Scripps' Florida stations and newspapers created an online portal with information on candidate platforms and voter registration. Participating stations were WXYZ-TV Detroit; KMGH-TV Denver; KGTV-TV San Diego; KERO-TV Bakersfield, CA; WCPO-TV Cincinnati; WEWS Cleveland; WRTV Indianapolis; WFTS Tampa; WMAR-TV Baltimore; KNXV Phoenix; WPTV West Palm Beach, Fl.; KSHB-TV Kansas City, Mo., and KJRH Tulsa.
---
Topic: Community-Focused Initiatives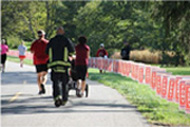 Scripps-owned WCPO-TV Cincinnati sponsored the first Tunnel to Towers run in Cincinnati to remember the victims of September 11 and continue to make a difference in the local community. Tunnel to Towers runs across the country honor FDNY firefighter, Stephen Siller. On 9/11 Siller ran several miles in full turnout gear through the Brooklyn Battery Tunnel to the World Trade Center only to lose his life. The Tunnel to Towers Foundation was created by Sillers' brothers, who wanted to honor their younger brother's selfless sacrifice. WCPO-TV promoted the Cincinnati run and invited organizers to be guests on the evening news. Additionally, WCPO-TV provided live coverage of the event, and the station's anchor, Brendan Keefe, emceed the race. All proceeds raised from the run went toward building a "smart" home for Pfc. Kyle Hockenberry, an Ohio soldier who lost both legs and his left arm last year when a terrorist's bomb exploded in Afghanistan.
---
Topic: Education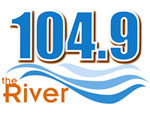 One Connection Media's WCVO-FM Columbus kicked off its annual Mission Backpack, a drive to collect school supplies for area children. This year Heartland Bank has partnered with WCVO-FM and listeners can donate backpacks filled with supplies at 11 bank locations through August 18th. WCVO-FM aims to collect 1,004 backpacks to donate to the Lutheran Social Services Food Pantry.
---
Topic: Military-Focused Initiatives

Dispatch Broadcasting Group's WBNS-FM Columbus Promotions Director Todd Reigle will take part in a five day bike ride for Honor Ride Ohio. The program begins June 30 in Sylvania, Ohio and concludes in Cincinnati on July 4. He hopes to raise $100,000 for six veterans' organizations: Honor Flight Columbus, Hidden Scars Foundation, the Wounded Warriors Project, Ohio Fallen Heroes Scholarship Fund, Ohio Combat Veterans and the Ohio Fallen Heroes Memorial. Retired military personnel will join him on the 400 mile ride. The riders will stop in Lima, Kenton, Sunbury, Columbus, London, Dayton and Cincinnati to lay wreaths at veterans' memorials. "This is the least I could do to show my support for the veterans and help raise money for trips to D.C. for the WWII veterans, remember those who have died in the war on terror, support those who are battling PTSD and assure the children of our soldiers who laid down their lives, that college is part of their future," Reigle said.
---
Topic: Youth-Focused Initiatives

United Stations Radio Network Syndicated morning duo Dave and Jimmy, heard on Clear Channel Media and Entertainment Group's WNCI-FM Columbus, hosted a charity drive based on Dave's fear of heights. The morning show asked listeners to donate a dollar to charity for every foot Dave climbed on a radio tower. All money benefited 10-year-old Trinity Russell, who was recently diagnosed with a rare type of bone cancer. To watch a video of Dave's daring climb, click here.
---
Topic: Politics and Election Coverage

The E.W. Scripps Co.'s "Democracy 2012," strives to be "a one-stop shop of voter education." Stations in all 13 of the company's TV markets will provide candidates at least five free minutes of airtime nightly between 5-11:35 p.m. in the 30 days preceding the general elections. They provide free airtime in the 30 days preceding primary elections.
Democracy 2012 includes:

An online portal with information on candidates' positions, voter registration and maps of political jurisdictional boundaries;
'Ask the Candidates' lets users submit questions and compare candidates' answers;
'Get out the vote' public service announcements;
Town hall meetings and debates during the 30 days leading up to the general election; and
Web-based, searchable databases that allow voters to research campaign contributions.
"Political education and discourse are a centerpiece of our local news presentation. In one of the most crucial election cycles in our lifetimes, we're going to marinate our audience in political coverage so they'll make fully informed choices when it comes time to vote," said Brian Lawlor, senior vice president of the Scripps television division.
---
Topic: Community-Focused Initiatives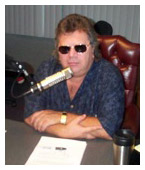 Clear Channel Communication's WTAM-AM Cleveland provided listeners with live coverage of the February 28 shooting at Chardon High School. Mike "Triv" Trivisonno mixed coverage with commentary on the local tragedy that claimed the lives of three students and injured two others. Mike (pictured) remained on the air until 7 p.m. to take calls and give the community a place to talk, something no medium does better than talk radio. Reporter Colleen O'Neill also provided listeners with a report later in the day. The station's website featured live updates, funeral details, interviews with families, tributes to the deceased as well as donation information in the days following the tragedy.
---
Topic: Neighbors in Need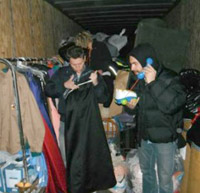 Clear Channel Communications' WKSC-FM's five-day fundraiser collected over 15,000 pounds of clothing, furniture and toys for the Ohio Valley Goodwill during its first "Skyline Chili Stuff Santa's Sleigh" fundraiser.
George Palmer of the Ohio Valley Goodwill said "We especially appreciate the community's generosity during this critical time of year when donations are so very important to our mission."

Kiss 107's on-air personalities held live broadcasts all week from a Holman Motors recreational vehicle and "Santa's sleigh," a 48-foot Goodwill donation truck, to help raise awareness and collect donations for those in need during the holidays. More than 400 listeners helped fill Santa's sleigh. Brian Leonard from the Cincinnati Bengals helped collect donations and greeted listeners, along with appearances from The Cincinnati Cyclones' mascot and Warner Bros. recording artist Outasight.
---
Topic: Community-Focused Initiatives

WNZR-FM and WMVO-AM in Mount Vernon, Ohio, helped ensure Mount Vernon families could support themselves during the holidays and beyond with their participation in the "Food for the Hungry" drive in December 2008. The need for food was realized when Salvation Army representatives in the area reported tough times for Knox County residents, with budgets stretched to the limit and food reserves disappearing quickly. Local agencies saw a dramatic rise in the request for food and other emergency help from families who had never requested help before. In response to the community's need, WNZR-FM and WMVO-AM competed with each other to collect the most cash donations and cans of food for the drive. To supplement the competition, local listeners also donated used items to the "Food for the Hungry" auction. Items donated included hats, dresses, cars and even a trailer equipped for tailgating. The community-wide effort paid off: 54 truckloads full of food and $180,000 were collected and put to use within Knox County.
---
Topic: Safety Initiatives

LIN Media-owned WUPW-TV Toledo, Ohio is working with the Red Cross and area fire departments to distribute free smoke detectors to those in need. WUPW-TV invites area residents to visit select locations across Northwest Ohio on assigned dates to receive a free smoke detector. More than 2,500 devices have been distributed in the past 15 months.
---
Topic: Neighbors in Need

Dispatch Broadcasting's WBNS-TV Columbus, Ohio, joined the Mid-Ohio Foodbank this March for a day-long campaign entitled "One Paycheck Away: 10TV Dedicates the Day to Hunger," continuing the 27-year tradition. The initiative featured a documentary that explored hunger in the suburbs, tough choices faced by seniors and alarming poverty rates in Marion County. The "One Paycheck Away" broadcast was followed by a live fundraising telethon held at the WBNS-TV studios. "As Central Ohio's News Leader, we have devoted a great deal of time and resources to helping promote the health and well-being of central Ohioans," said President and General Manager Tom Griesdorn. "Continuing to support the Mid-Ohio Foodbank in its efforts is another way of furthering our commitment and letting the community know we care." Click here to watch a video of the telethon.
---
Topic: Disaster Relief and Recovery

Last week, as severe storms and tornadoes moved across the Cincinnati/Northern Kentucky DMA, the area's four local broadcast television stations were live on air, commercial free, until nearly 3 a.m. providing weather updates and information to keep their viewers safe. According to Nielsen, between 1 and 2:30 a.m. the four local stations had a combined household ratings of more than 30. To put that in context, more people were awake from 1 to 2:30 a.m. watching weather coverage provided by local broadcasters than would be watching a Sunday afternoon Bengals game. Scripps Television-owned WCPO-TV, Cincinnati's ABC affiliate, had a household rating of more than 10 between 1 and 2:30 a.m., the second highest rated programming of the day only behind "Dancing With The Stars."
---
Topic: Health Awareness Campaigns
View Video
The 13th annual All American Blood Drive, sponsored by WTVG-TV in Toledo, Ohio, offered viewers an untraditional way to celebrate the Fourth of July holiday. The 13-hour kick-off event marked the beginning of a nine-day campaign to increase blood donations during summer, a time when blood needs are often greater than the supply. WTVG broadcast live from the event both in the morning and at noon, and then held an afternoon employee blood drive at the station. Public service announcements featuring on-air personalities and news coverage added to the support. "WTVG's sponsorship has been huge and amazing for us over these past 13 years. They are always willing and ready to jump in," said Annie Marckel from the American Red Cross Blood Services, Western Lake Erie Region. Each of the 168 people who gave blood on the day of the kick-off event saved up to three lives with their donation.
---
Topic: Education

To introduce students to the world of broadcast journalism, WCPO-TV in Cincinnati, Ohio, began its "Careers in Media" program, which provides internships in the studio to minority high school students. The program aims to inspire local minority students to consider television and other media as they begin thinking about college and their future careers. Resume writing, correspondence, interviewing, time management and college planning are also part of the program. Each year, the station sends a letter and application form to all high schools within WCPO's broadcast area, and the station's community affairs director makes visits to high school career days and school assemblies to talk about the opportunity. Each student who participates is required to complete a project, which is presented to parents, teachers and station management at the end of the summer. WCPO has joined forces with local radio, newspaper, Internet and advertising agencies to expand internship opportunities to all facets of mass communication. Since the program began in 2001, 50 students have participated, and 93 percent of them have chosen a media-related field of study in college.
---
Topic: Environment
View Video
Kermit the Frog may have sung the lyrics "It's not easy being green," but WTOV-TV in Steubenville, Ohio, is helping its viewers prove just the opposite. Each month, two new station-produced public service announcements air, sharing tips on how to go green. The station honors a "Green School of the Month" and a "Green Business of the Month" with news coverage and a presence on the station Web site. The extensive "Going Green" section of the site lists community resources, a Living Green Lecture Series, green news and interactive tools, including a water consumption calculator. The station also organizes planet-friendly community events. Currently, a tire recycling day and responsible disposal of electronics event are on the calendar. "We are trying to give people an easy way to do the right thing," said General Manager Tim McCoy. He added, "Before we could tell our community to go green, we had to go green ourselves." And green the station went. All new station vehicles are hybrids. All scripts, cans and plastic bottles are recycled. All paper products are sold to a recycling company and proceeds are donated to school systems in the area. All studio lighting uses low energy light bulbs, and the station has gone tapeless, since videotapes are a cause of plastic waste in landfills. WTOV is part of Cox Broadcasting, whose entire enterprise has gone green.
---
Topic: Drug Prevention

With the support of WUBE-FM in Cincinnati, Ohio, Comedy Jam, a fundraiser for the Center for Chemical Addictions Treatment, packed a full audience. The laughs kept on coming, and so did awareness and money for the treatment center, which supports those with chemical addictions in the greater Cincinnati area. Bill Whyte, WUBE's morning show co-host, emceed the event and took the stage for his own stand-up routine. The station rallied its listeners to the event with live, on-air announcements and Web banners. After the last comedian took the microphone, over $16,000 had been generated for the center, which provides treatment options, including detoxification and short-term residential care, on a sliding-fee scale based on household income. "As a nonprofit, we rely on media relationships to help deliver our message. WUBE provided publicity we very much needed," said Laurie Zimmerman, development director at the Center for Chemical Addictions Treatment. "The station is an old name in Cincinnati, so it gave our event credibility." WUBE has plans underway to provide support for the center's next Comedy Jam.
---
Topic: Neighbors in Need

The owner of WBLL-AM in Bellefontaine, Ohio, wanted to create a community event from scratch that would benefit a local cause not often in the spotlight. Enter "Rail Jam," a snowboarding contest at Mad River Mountain that is both a fundraiser for the Society of St. Vincent DePaul of St. Patrick Church and a family event rolled into one. For the past three years the station has organized, sponsored and promoted the event. Admission requires only a donation of a non-perishable food or household item to St. Vincent, which provides for the poor. The 2007 "Rail Jam" collected enough food to feed 11 families for three months. The station brought in local snowboarding celebrity and X Games finalist Louie Vito to host the event. On-air coverage included interviews beforehand, live cut-ins during the event and news stories after the competition. All of the prizes for the winning snowboarders were donated or solicited by the station. "It was a huge success," said Judy Heck from St. Patrick Church. "It meant so much to St. Vincent because of the amount of support it provided, and it also gave hundreds of kids the option to participate in a day of fun without having to pay."
---
Topic: Military-Focused Initiatives

To provide troops stationed overseas with necessities and comforts from home, WKRQ-FM in Cincinnati, Ohio, sponsored a drive with the Yellow Ribbon Support Center. For six days over a two-week period, on-air personalities broadcast live from collection sites, where listeners donated toiletries, bug spray, suntan lotion, CDs, DVDs and pre-paid phone cards. The station got word to its listeners with 140 minutes of promotional time, which also played as a streaming broadcast. In addition, two email blasts went out to the station's 15,000 member listeners. Nearly 200 staff hours went into organizing and conducting the drive, which resulted in several tons of items being sent overseas. The station concluded the event with a week of on-air thank yous to the community for helping our troops know they have support back home. WKRQ was a National Association of Broadcaster's Crystal Award finalist in 2008.
---
Topic: Education
View Video
Using "Find Treasures. Read," as the tagline, WCMH-TV in Columbus, Ohio, helped inspire grade schoolers to keep opening books during their 2007 summer vacation. The "Summer Reading Club," a partnership of the Columbus Metropolitan Library, Southwest Public Libraries and Worthington Public Libraries, attracted a record 74,000 young readers last summer. The station has provided media support for the program since 1990. Public service announcements (PSAs) featuring WCMH anchors encouraging children ages 12 and younger to sign up started 10 days prior to the beginning of the program. Station talent participated in the kick-off party, as well, calling bingo and greeting kids. In addition to news coverage, a community page on the station Web site featured the program, as did the station's special events recorded hotline. Additional on-air support included a live interview guest segment with Columbus Metropolitan Library's children's coordinator, additional PSAs and a joint donation with Volunteers of American and Scholastic Inc. of a book to each child reaching a specific incentive level.
---
Topic: Safety Initiatives
View Video
Every Monday, during the 11 p.m. news, WKYC-TV in Cleveland, Ohio, profiles a "Fugitive of the Week" and points viewers to a call-in tip line. U.S. Marshal Pete Elliott approached the station five years ago after a local police officer was killed in the line of duty. Elliott was creating a task force to track down the most violent fugitives and he needed the station to let viewers know how they could assist. Together, the task force and the station have helped arrest 15,000 fugitives. In addition to weekly newscasts, a section of the station Web site is dedicated to information about the fugitives, including photos and regular updates on arrests. The station and task force have expanded the campaign with "Fugitive Safe Surrender" and "Operation Second Chance," two programs aimed at helping clear the courts of minor warrants so law enforcement can concentrate on the more violent criminals. Neutral ground for people with outstanding warrants to turn themselves in has been established with several inner city churches, and the station runs stories and promotional spots to get the word out. The station also runs longer news stories about both fugitives and the task force itself. "The Marshals' partnership with WKYC has been absolutely tremendous," said Elliott. "Countless fugitives including murderers, rapists and robbers are off the streets as a direct result of our teamwork together."
---
Topic: Youth-Focused Initiatives

Devoted to the welfare of local children, WWCD-FM in Columbus, Ohio, created its own nonprofit organization as an avenue to support charities committed to the same causes. CD101 for the Kids receives year-round funding from the station, which covers all overhead costs from letterhead and postage to legal fees. Whether organizing and promoting fundraising events, which have included everything from dodgeball tournaments to concerts, or holding their annual 48-hour "Andyman-a-Thon," a DJ marathon titled after WWCD's jockey Andy Davis that raised $60,000 in 2007, the station inspires community-wide giving. In what has become a signature act, the station asks bands and recording artists that enter their studios to autograph an item, which is then auctioned off on eBay in support of the kids. Some of the unique objects that inspired high bidding include a muffler signed by Matthew Sweet, a miniature piano autographed by Tori Amos and an R.E.M. guitar. Childhood League, Family and Child Advocacy, Homeless Families Foundation and Ronald McDonald House are among the many beneficiaries of CD101 for the Kids.
---
Topic: Safety Initiatives

After the tristate area lost several teens in car crashes, the news team at WXIX-TV in Cincinnati, Ohio decided to take action to help reduce deaths and injuries among young drivers. Their "Street Safe Teens" campaign involved a monthly news package highlighting different aspects of driving safety. Topics have covered everything from parent-teen driving contracts to car care for new drivers. Twice, the news crew have headed to a local high school and broadcast live seat belt checks as student drivers pulled into the parking lot. Those who were wearing seat belts won prizes; those who weren't received a brochure with potentially life-saving information. Public service safety announcements aired in addition to the news features, and the station Web site hosted an entire section on teen driving safety, including a downloadable contract, driver education resources and news video clips.
---
For more examples of how Ohio's local radio and TV broadcasters are serving every local community, please contact the Ohio Association of Broadcasters .