South Carolina's Broadcasters
Serving Every Local Community
Topic: Disaster Relief and Recovery
Date Posted: 9/13/2017
Raycom's NBC affiliate WIS-TV Columbia, S.C., raised $40,000 for the American Red Cross in a telethon held September 13 in partnership with Alpha Radio.
---
Topic: Safety Initiatives
Date Posted: 6/2/2017
Salem Media Group's WGTK-FM Greenville, S.C. hosts a weekly segment, "Week N Pulse," which includes information on local law enforcements' Crime Stoppers program. The segment and program highlights ongoing investigations of homicides, robberies and thefts and missing persons. Local law enforcement agencies use the airwaves to ask citizens for help solving crimes.
---
Topic: Community-Focused Initiatives
Date Posted: 12/1/2016
Jackson Radio Works' WKHM-FM partnered with 14 area businesses for its annual "K-105.3 Cares" promotion. These businesses helped the station purchase around $1,400 in gifts for two adopted families through The Salvation Army.
---
Topic: Community-Focused Initiatives
Date Posted: 12/1/2016
Raycom Media's NBC affiliate WIS-TV Columbia, S.C. partnered with the Palmetto Project for the 26th annual "Families Helping Families Phone Bank." Each year, WIS works with the Palmetto Project, a statewide non-profit organization, to organize and publicize the gift-giving campaign. WIS maintains a phone bank for 10 days to compile a list of donors, who spend on average $300 each to "adopt" a needy individual or family. Family sizes range from two to 10 or more. The 2016 event provided gifts for more than 3,000 applicant families (totaling more than 9,000 individuals), with an estimated value of over $1.5 million.
---
Topic: Disaster Relief and Recovery
Date Posted: 10/21/2016
Hearst's NBC affiliate WYFF-TV Greenville, S.C. raised $300,000 for American Red Cross disaster relief in a 12-hour telethon on October 14. WYFF had also aired extensive weather tracking and breaking news coverage during and after Hurricane Matthew touched down.
---
Topic: Disaster Relief and Recovery
Date Posted: 10/8/2016
Cumulus Charleston managers meet every June to prepare for Hurricane Season. They develop a plan that includes strategies for hurricane watches, warnings, evacuations and recovery. "We also have a plan on each Tower if damage is done for us to keep it on the air and remain live and local for the Charleston Community," said Cumulus Charleston Market Manager Sherry Dollar. Communication during any emergency situation can be difficult, which is why Cumulus Charleston developed an opt-in text messaging alert system. The group also operates with an internal communication system to ensure all employees are kept up to date on the latest developments and are staying safe themselves.
---
Topic: Investigative Reporting
Date Posted: 7/7/2016
Hearst's NBC affiliate WYFF-TV Greenville S.C. aired "South Carolina Inmates Caught on Camera Live Streaming From Inside Prison." WYFF discovers that hundreds of inmates in South Carolina prisons are using cell phones to access social media sites online, set up accounts and interact with family, friends and the general public. WFYY's Patrick Hussion interviewed FCC commissioner Ajit Pai for this segment.
---
Topic: Community-Focused Initiatives
Date Posted: 6/1/2016
Raycom Media's WCSC-TV Charleston, S.C. is supporting "Project Cool Breeze" all summer. The initiative from South Carolina Councilman Wendell Gilliard provides new fans and air conditioners to elderly persons, 60 years of age or older. In addition to an on-air PSA, the station covered the kickoff event and distribution as well as included multiple pushes for donations.
---
Topic: Community-Focused Initiatives
Date Posted: 6/1/2016
Raycom Media's WCSC-TV Charleston, S.C. sponsored the "Carolina Strong Book Drive," honoring Mother Emanuel AME shooting victim Cynthia Graham Hurd. Throughout June, the station encouraged viewers to donate through promos, live news coverage and digital elements, resulting in thousands of donations that will help continue Cynthia's life work in teaching children to read. The drive was presented in partnership with WBTV, Charleston County Public Library and Reading Partners.
---
Topic: Investigative Reporting
Date Posted: 6/1/2016
Raycom Media's NBC affiliate WMBF-TV Myrtle Beach, S.C. won a regional Emmy on June 11 for "Dirty Money," a story that exposed a billion-dollar money laundering industry operating in South Carolina. WMBF showed that fewer than 10 percent of the 3,000 money transfer services operating in Horry and Georgetown Counties are registered with the state. Those businesses wired nearly $700 million a year to addresses operated by Hezbollah and cartels in Mexico and Columbia. Two months after WMBF aired the story, State Representative Alan Clemmons filed the South Carolina Anti-Money Laundering Act. Governor Nikki Haley signed the bill into law on June 9.
---
Topic: Community-Focused Initiatives
Date Posted: 5/3/2016
Raycom's NBC affiliate WIS-TV Columbia, S.C. raised $1.6 million during the Midlands Gives radiothon, May 3. The Central Carolina Community Foundation dispenses the funds to local non-profit organizations.
---
Topic: Youth-Focused Initiatives
Date Posted: 3/1/2016
Raycom's NBC affiliate WIS-TV and Cumulus' WTCB-FM Columbia, S.C. raised $164,000 on February 10 so Palmetto Health Children's Hospital can build a special playground designed for kids with IVs, in wheelchairs and those diagnosed with autism. This helps 150,000 kids who visit the hospital annually. The event featured Eli Adams, a 10-year-old boy with leukemia whose passions include baseball, basketball and kickball.
---
Topic: Investigative Reporting
Date Posted: 2/15/2016
Hearst's NBC affiliate WYFF Greenville, S.C. added a half-hour to its Sunday 11 p.m. newscast, starting February 21. "We know that local news is very important to our viewers," said News Director Bruce Barkley. "We'll be able to give our viewers a comprehensive look at what happened over the weekend and the in-depth local news coverage that they expect from WYFF News 4."
---
Topic: Disaster Relief and Recovery
Date Posted: 11/5/2015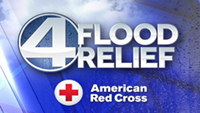 WIS Columbia shared this letter from a viewer: "I would like to commend the entire WIS news team for the outstanding job they have done bringing the viewers of this state very crucial information during this historic natural disaster. We all are aware that many of the WIS news team went many hours and some of them days without sleep. They all continued to provide updated information in the very most professional manner. Your team's unwavering dedication to getting the news out expeditiously undoubtedly saved lives and property. Your team's dedication to this state is nothing short of heroic."
WYFF Greenville received this letter from Ann Wright, Executive Director of the Upstate SC Red Cross. It reads, in part: "There really aren't enough words to express our sincere appreciation for the telethon you and your team conducted on October 7, 2015 to help with the floods... Thanks to you and the team at WYFF, we raised $830,519!
The power of your television reach and the mission of the Red Cross to provide immediate, emergency relief resulted in the most successful telethon in our area in recent years. In fact, we have now worked with you and WYFF since Hurricane Hugo, 25 years ago to hold eight telethons and raise $3,325,073. That is truly amazing.

Your willingness to do these telethons means that thousands of people received a hot meal, something to drink, a clean-up kit or a comfort kit filled with hygiene items and toys for children."
---
Topic: Disaster Relief and Recovery
Date Posted: 11/5/2015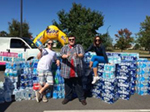 Radio and television stations organized tremendous disaster relief initiatives in the wake of the flood. Hearst Television's NBC affiliate WYFF-TV Greenville, S.C. raised more than
$700,000
for the American Red Cross during a telethon on Oct. 7.
Greater Media's WBT-AM/FM and WLNK-FM Charlotte, N.C. delivered 200,000 bottles of water on Oct. 8 (watch video).
Beasley Broadcasting held several drives, with the company's Augusta, Ga. stations collecting 700,000 bottles of water and WNKS-FM Charlotte, N.C. bringing in an additional 250,000.
Alpha Media stations' two-day radiothon raised $736,000.
Raycom Media's NBC affiliate WIS-TV Columbia, S.C. raised $24,000 in a telethon on Oct. 8 (watch video via TVNewsCheck).
Syndicated radio host Bobby Bones and his band, The Raging Idiots, raised $82,000 at a benefit concert presented by iHeartMedia's WEZL-FM Charleston. Access photos and audio here.
WLTX Columbia raised $141,000 in a telethon, which Congressman Joe Wilson (SC-2) acknowledged on the floor of the U.S. House of Representatives. His remarks are in the Congressional Record for Oct. 20, 2015.
---
Topic: Disaster Relief and Recovery
Date Posted: 11/5/2015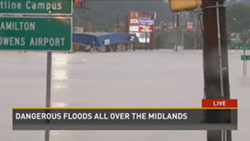 On Oct. 7, a "thousand-year rain" event dumped 11 trillion gallons of water on South Carolina. The 26 inches of rain submerged entire towns and killed at least 17 people. Radio and television stations provided
lifeline safety information
on how to access water, power and shelter and updates on road closures and conditions. These stations include Alpha Media's WWDM-FM, WARQ-FM, WMFX-FM and WHXT-FM Columbia; Cumulus Media's WLXC-FM; Summit Media's WJMZ-HD2 Greenville; Raycom Media's CBS affiliate WCSC-TV Charleston and NBC affiliate WIS Columbia; Sinclair's MyNetworkTV affiliate WCIV-TV Charleston; and Tegna's CBS affiliate WLTX-TV Columbia.
WLTX-TV aired more than 101 hours of storm, rescue and relief coverage. WLTX hosted a phone bank for the Salvation Army Disaster Relief fund and another for residents to access safety information such as road closures. "People in the Hispanic community didn't understand the boil water advisory and their children were getting sick because they drank the water. We were able to get the word out—in Spanish," said WLTX President and General Manager Rich O'Dell.
---
Topic: Youth-Focused Initiatives
Date Posted: 9/3/2015
Entercom Raises $300K for Local Hospital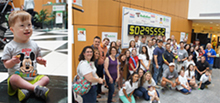 Entercom's Greenville, S.C., cluster raised $300,000 for the Greenville Health System, in a radiothon held Aug. 27-28. Participating stations included WFBC-FM, WTPT-FM, WROQ-FM, WYRD-FM, WYRD-AM and WSPA-FM. Live audio from WTPT-FM's broadcast can be found at the minute markers indicated in the following links: 2:25, 13:41, 19:58, 21:43.
---
Topic: Environment
Date Posted: 6/6/2014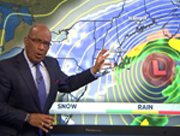 President Barack Obama recently invited eight weather broadcasters to the White House to help raise awareness of the National Climate Assessment, a new report that explains how the warming climate is causing dramatic changes across the United States. The New York Times reports, "Polls show that local television weathercasters are among the most trusted media figures." Broadcasters who were invited included NBC's Al Roker, and meteorologists from Gannett Broadcasting's CBS affiliate WLTX-TV Columbia, S.C., and NBC-owned WTVJ-TV Miami.
---
Topic: Neighbors in Need
Date Posted: 2/11/2014
Idaho Broadcaster Donates Food and Warm Clothes to Locals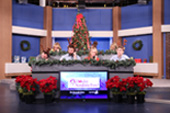 Hearst-owned NBC affiliate WYFF-TV Greenville, S.C., raised more than $172,000 in donations for two local charities during the holiday season. WYFF-TV partnered with The Greenville News for the Holiday Sunshine Fund. The station provided daily newscast mentions, a call-in effort and news stories to highlight the fundraiser. The effort collected $82,000 to help families with their heating bills, shelter and food this winter. WYFF-TV also partnered with the local Children's Hospital for the Virtual Toy Drive. The effort raised $90,000 in donations to purchase toys for children in the hospital.
---
Topic: Military-Focused Initiatives
Date Posted: 8/8/2013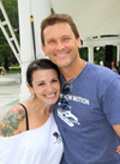 Alpha Broadcasting's WUBB-FM Hilton Head Island, S.C.'s morning show "Tim Leary & The Morning Showgram" hosted a benefit concert to support Wounded Warriors and Sua Sponte, an organization that helps wounded Army Rangers returning from deployment. The event raised $6,500. "It was humbling not only to see the crowd coming out to support this event in the rain, but to actually talk to the soldiers, some of whom have just returned from overseas," said WUBB-FM's host Tim Leary.
---
Topic: Neighbors in Need
Date Posted: 8/8/2013

Hearst-owned WYFF-TV Greenville, S.C., recently produced a TV special, "Chronicle: Living in Fear," which highlighted the alarming rate of domestic violence in the state. The program explained that one in four women in the United States will become a victim of criminal domestic violence in their lifetime, and South Carolina ranks second in the country for the number of women killed by their partners. By raising awareness to the issue, WYFF-TV aims to reduce the staggering statistics.
---
Topic: Disaster Relief and Recovery
Date Posted: 6/7/2013

Several Raycom Media-owned television stations conducted relief efforts following the tornado. Stations donating to the American Red Cross include WSFA-TV Montgomery, Ala. ($50,232); WMC-TV Memphis ($36,000); WCSC-TV Charleston, S.C. ($10,000); WWBT Richmond, Va. (over $7,000); and KAIT-TV Jonesboro, Ark., organized a statewide telethon. WAFB-TV Birmingham, Ala., collected several storage unit's full of supplies for the Salvation Army in its one day donation drive. WBRC-TV Birmingham collected 200,000 pounds of water for the Salvation Army. KOLD-TV Tucson, Ariz., filled two semi-trucks with supplies, to be distributed by World Care.
---
Topic: Disaster Relief and Recovery
Date Posted: 5/10/2013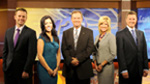 Media General's WBTW-FM Myrtle Beach, SC and the American Red Cross raised $27,000 after a fire in Carolina Forest burned more than 100 condominiums, displacing 200 people. "The financial donations they're giving to the Red Cross are wonderful to be able to give to our fire families. It will help them get back on their feet again, which is really important," said American Red Cross volunteer Judy Delsignore.
---
Topic: Politics and Election Coverage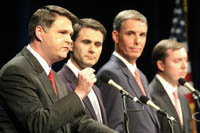 Media General's WBTW-TV Myrtle Beach produced and aired a one-hour debate on June 4 for the Republican candidates vying for South Carolina's 7th Congressional District seat. The debate aired live from the Francis Marion University Performing Arts Center. On June 7, WBTW-TV ran a second hour-long debate for the Democratic challengers. All five Democratic candidates participated in the debate that was broadcast live from the Coastal Carolina University's Wheelwright auditorium from 7 to 8 p.m. Both debates were moderated by WBTW-TV's anchor Bob Juback and were streamed live on www.scnow.com. This October, WBTW-TV will air a third debate with the nominees from both parties.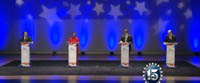 Barrington Broadcasting-owned WPDE-TV Myrtle Beach broadcast two primetime debates the week of June 4 for candidates in South Carolina's 7th Congressional District. All four Democratic candidates participated in a live debate June 5, while the 10 Republican candidates debated live Thursday, June 7. Both debates were streamed online. In addition to debates, every candidate that is running for an elected position in WPDE-TV's DMA has been a guest on its Sunday morning show, "Carolina This Week," where they had 15 minutes to discuss their platform.
---
Topic: Disaster Relief and Recovery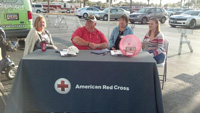 Media General stations that held telethons to raise money for the American Red Cross relief efforts included WBTW-TV Myrtle Beach, S.C.; WCMH-TV Columbus, Ohio ($27,000 raised); WFLA-TV Tampa, Fla. ($28,000 raised); WJBF-TV and WAGT-TV Augusta, Ga. ($15,000 raised); WJHL-TV Johnson City, Tenn. ($25,000 raised); WSAV-TV Savannah, Ga.; and WSPA-TV Spartanburg, S.C. WSAV-TV also ran a ticker promoting Red Cross donations throughout newscasts. WJAR-TV Providence, R.I., dedicated a 7 p.m. newscast to Sandy's aftermath. The station replayed top stories that many viewers missed due to power outages and also fielded calls from viewers who wanted to volunteer or donate money to relief efforts.
---
Topic: Environment

WLTX-TV Hosts E-Cycle Event for Columbia, South Carolina Community Gannett-owned WLTX-TV Columbia, S.C. recently partnered with the Richland County Solid Waste division for a day-long E-Cycle event. Viewers were invited to drop off their old TV sets, computers, microwaves and other electronics to be recycled in the WLTX-TV parking lot. A local shredding company was also onsite to dispose of sensitive documents and old tires. In total, more than 1,400 vehicles came to the station. Six tractor trailers of electronics were filled and more than 30,000 pounds of old tires were shredded. Because of WLTX-TV and this event, materials that would have otherwise ended up in landfills in the community will be recycled.
---
Topic: Health Awareness Campaigns

Triad's WUBB-FM Raises Over $2,000 In Charity Kickball Game

Triad Broadcasting's country station, WUBB-FM (BOB 106.9) Bluffton, South Carolina morning personality Tim Leary and PD Kenny Jay raised over $2,000 in their "Kickball 2 Kick Cancer Tournament." The money raised benefitted The Pink Heals, a group of firefighters who volunteer their time to help raise money and awareness for breast cancer.
---
Topic: Community-Focused Initiatives

There is no more relevant issue than today's economy, which is why WYFF-TV in Greenville, S.C., launched its ongoing series, "Project Economy." The effort is part of a multifaceted campaign organized by WYFF's parent station group, Hearst-Argyle Television. In addition to national economic news, daily airtime is being dedicated to money-saving tips, feature stories about unemployed locals seeking work, job trends in the area, and area businesses and their struggles during the recession. The Web site component of the project includes guest bloggers, savings calculators and an interactive online community where members can share advice. To help people find work, WYFF partnered with local radio stations WJMZ-FM and WHZT-FM for a job fair, where participants were able to apply for hundreds of openings and receive help with résumé writing. "WYFF has a long history of helping our community through tough times and this year will be no different," said Justin Antoniotti, WYFF news director. "'Project Economy' is our pledge to help viewers through this economic downturn."
---
Topic: Neighbors in Need

For the fourth year in a row, morning show hosts Mitch Adams and Alix Michaels from WMYB-FM in Myrtle Beach, S.C., braved the cold, ants, lack of sleep and sore throats for the station's "Camp Out to Stamp Out Hunger" food drive. The duo camped for three days straight, broadcasting live from various locations along the Grand Strand and encouraging listeners to bring non-perishable food items and monetary donations to their camp site. The donations totaled more than six tons of food for the Low Country Food Bank and helped feed thousands of people during the 2007 holiday season. "It's a new record for the camp out," said Mitch and Alix. "We beat the previous year by two and a half tons!"
---
Topic: Politics and Election Coverage

WJMZ-FM in Greenville, S.C., is working hard to make sure listeners are registered to vote and informed on Election Day. The station held a voter registration drive with sister station WHZT-FM at the gates of Fluor Field. The event, complete with a live broadcast, participation by on-air personalities, demonstration voter machines and representatives to answer registration questions, inspired those passing by to be part of the democratic process. In related efforts, the station routinely invites elected public officials and political candidates on the air. Both Barack Obama and Hillary Clinton were interviewed on WJMZ leading up to the South Carolina primary. In partnership with the League of Women Voters of Spartanburg County and a local television station, the station is hosting an October political forum for the 16 candidates running in the eight contested local and state November races. In addition, the station's Web site has an extensive election resource section, including a downloadable registration form and a review of voting machine instructions. "No matter your political party, WJMZ and WHZT feel strongly that every upstate resident needs to have their voice heard," said Stephen Crumbley, operations manager for the stations. "Obviously, our national election is receiving a lot of press, but it is just as important for our listeners to get out and vote on state and local matters."
---
Topic: Education

Surveys show the majority of Americans haven't pick up a book lately, but that is not the case in the viewing area of WCSC-TV in Charleston, S.C., where the station recently partnered with the local library for its first-ever "Big Read." The campaign, which was centered around a community-wide reading of Zora Neale Hurston's 1937 book "Their Eyes Were Watching God," promoted literacy and celebrated bringing people together through literature. The novel was a perfect pick for the residents of the lowcountry, who have a rich Gullah heritage and a desire to preserve Gullah traditions. In total, more than 58,000 people attended 60 Big Read events at 30 locations across the county, including local colleges, bookstores, rural community centers and outdoor venues. More than 100 public service announcements featuring WCSC anchor Ann McGill aired in support of the project. News coverage was heavy and included more than two dozen community segments, on-set interviews and live broadcasts from events, some of which were hosted by station talent. McGill conducted the program "Zora's Insight of the Rural South," where she talked about how growing up in rural South Carolina gave her insight into the characters in the book, and anchor Raphael James emceed a final event, "Their Eyes Were Watching God: Expressions of Praise in the Southern Folk Tradition."
---
Topic: Health Awareness Campaigns

Prostate cancer is the second leading cause of cancer deaths among men in South Carolina, a statistic that prompted WIS-TV in Columbia, S.C., to partner with the National Prostate Coalition and Doctors Care to bring a two-day mobile screening unit to the area. During the event, 807 men received free Prostate Specific Antigen tests, setting a record, according to the National Prostate Coalition. WIS promoted the screenings with live interviews of its partners, as well as news coverage and public service announcements, which began airing two weeks beforehand. The station donated more than $20,000 in airtime to promotion of the event alone. "Through our partnership, men in the local community became better informed regarding annual prostate cancer screenings and the importance of taking ownership of one's health," said Katie Gorscak from the National Prostate Coalition.
---
Topic: Youth-Focused Initiatives

WRHI-AM/FM in Rock Hill, S.C., has harnessed the true spirit of Christmas with its "Toys for Happiness" campaign. The station started the effort more than 15 years ago to make sure all children in the area have gifts under the tree. The effort has blossomed into a true community effort: needy families can apply to be part of the program through the local United Way and its 30 agencies; schools donate gymnasium space for toy storage; and volunteers sort through toys for distribution. Each year, nearly 30,000 toys make their way to South Carolina children. Regular promotional spots start playing at Thanksgiving. In addition, news stories keep listeners up to date on progress, and live remotes from toy collection areas run at least a half-dozen times during the one-month span. All of this coverage is duplicated on the station's Web stream. "Virtually every word out of our mouths from Thanksgiving through December is about 'Toys for Happiness.' And just like the miracle of Christmas, toys start coming in," said Manning Kimmel, managing partner of WRHI. "The campaign involves literally hundreds, if not thousands, of community members. It's a wonderful thing to be a part of."
---
Topic: Military-Focused Initiatives

It was a Veterans Day to remember for 150 local World War II veterans who spent the day in Washington, D.C., because of the efforts of WPDE-TV in Myrtle Beach, S.C. For many of the men and women, it was their first and only chance to see the National World War II Memorial. To make the trip possible, the station held a day-long telethon, which raised $20,300 – enough to cover the entire cost of the trip. The station ran public service announcements, promotional mentions and news stories about the fundraiser, as well as interviews with veterans about what the anticipated trip meant to them. While in D.C., the WPDE news crew captured the emotion, awe and appreciation of the veterans at the memorial and shared it with viewers through live cut-ins every 30 minutes throughout the day. The station continued with the veterans' stories through follow-up interviews once they returned to South Carolina. In an area with a high population of veterans, being able to contribute to the event was personal for many, including WPDE's Billy Huggins who donated in honor and remembrance of his five uncles who served in WWII but did not live long enough to see the memorial finished.
---
Topic: Disaster Relief and Recovery
View Video
In October 2007, when a beach house fire claimed the lives of seven college students from the state, four of whom were from the immediate area, WYFF-TV in Greenville, S.C., immediately began airing information to help their community cope with the situation. Breaking news coverage started with aerial shots of the crisis and continued for a week with extended news coverage online. The station broadcast the University of South Carolina vigil services live to help viewers share in the grieving process. "The loss rocked the four mid-sized areas that our station covers," said WYFF President and General Manager Michael Hayes. Months after the fire, WYFF continues to provide information to help the community heal, including an exclusive interview with the parents of fire victim Lauren Mahon about their grieving process. WYFF was a National Association of Broadcasters' Service to America Award winner in 2008.
---
Topic: Politics and Election Coverage

When it comes to broadcasting, the most important political events in the state, WGCV-AM of Columbia, S.C., covers it all. In the early days of the presidential election cycle, the presidential candidates came to South Carolina and the station provided its listeners with the type of live, comprehensive coverage essential to help voters truly understand the issues. The station broadcast the candidacy announcements of both Barack Obama and Hillary Clinton, and its coverage included interviews with local voters, political pundits and campaign representatives. When the Democratic and Republican candidates held their "First in the South" debates, the station carried them live and provided analysis and interviews following the contests. WGCV also broadcast the address of U.S. House of Representatives Majority Whip James Clyburn (D-SC-6) to a joint session of the South Carolina legislature — the first time an African-American had done so since Reconstruction. WGCV was a National Association of Broadcasters' Crystal Award Finalist in 2008.
---
Topic: Youth-Focused Initiatives

Around the holidays, viewers of WLTX-TV in Columbia, S.C.,donate toy after toy until six buses are crammed full and ready for Santa's delivery. Every year, the station's "Stuff-A-Bus" toy drive makes sure thousands of needy children receive Christmas presents. On two Fridays in December, the station arranges for city transit buses to be stationed at three separate collection sites from which the station airs live cut-ins throughout the day. Last year, the station's main anchor and sports reporter started a "Bike Challenge." Viewers were asked to donate a bike at the drive location of their favorite on-air talent, which resulted in bragging rights for the main anchor and hundreds of shiny, new two-wheelers for the children. To get word out, the station teams with Clear Channel radio stations in the area. Together, the stations launch an extensive promotional campaign a month before the drive, including public service announcements featuring families that have been helped by the effort in past years. On the days of the drive, a "homepage takeover" occurs on the WLTX Web site, where all banner ads are replaced by promotions for "Stuff-A-Bus."
---
Topic: Education

To raise money for the Future Leader Scholarship Fund, an educational effort of Glory Communications, WFMV-FM in Columbia, S.C., organizes and promotes several events throughout the year. In 2007, local musical groups from Columbia, Lake City, Orangeburg and Sumter took the stage to help the cause. The station used more than 100 minutes of public service announcements and live talk from on-air talent during every shift to get word out about the choir concert series. The station also organized "March Mania," a basketball tournament, where church and community teams were invited to play one another. In addition to promotional spots before the event, live reports and donation updates were given twice an hour during the tournament. To award the students chosen as recipients of the scholarship and thank the community for its support, WFMV organized Family Fest, a large outdoor concert in Columbia's Finlay Park where six college-bound students were awarded $1,500 checks. In total, station staff put more than 500 hours into events supporting the scholarship fund during the year.
---
For more examples of how South Carolina's local radio and TV broadcasters are serving every local community, please contact the South Carolina Broadcasters Association .