Arkansas's Broadcasters
Serving Every Local Community
Topic: Disaster Relief and Recovery
Date Posted: 5/1/2017
Raycom Media's KAIT-TV Jonesboro, Ark. provided in-depth coverage of severe storms and subsequent flooding that hit the area in early May. The station continued its weather coverage late into the evening, logging peak viewership at 1:00 a.m. A station representative commented "Hopefully we will not experience any severe storms in the future, but if we do, KAIT will be here for you. It's the most important work we do."
---
Topic: Health Awareness Campaigns
Date Posted: 2/17/2017
Saga Communications' six station cluster in Jonesboro, Arkansas teamed with Raycom Media's ABC affiliate KAIT-TV Jonesboro to raise $351,123.25 for the Make-A-Wish foundation at the 19th annual "Have-A-Heart Wishathon." The event was held February 17.
---
Topic: Safety Initiatives
Date Posted: 2/13/2017
Nexstar's NBC affiliate KARK-TV and Mission Broadcasting's Fox affiliate KLRT Little Rock launch "Victory over Violence" campaign in early February in response to the shooting of a local toddler.
The campaign's goal is to cover crime in a responsible manner and to be a resource for issues including education, jobs, mentoring and hunger. "We decided we needed to be part of the solution," said KARK News Director Austin Kellerman.
---
Topic: Investigative Reporting
Date Posted: 8/2/2016
TEGNA'S CBS affiliate KTHV-TV Little Rock aired "11 News Investigates: Cause of slow 911 dispatch response time in Little Rock." Little Rock 911 dispatch traditionally received an average of 187,000 calls a year. By 2015, this number skyrocketed to more than 600,000 calls. They are currently 18 members short of an ideal staff, with employee retention causing consistent issues.
---
Topic: Community-Focused Initiatives
Date Posted: 7/7/2016
Cumulus' KLAL-FM Wrightsville, AR collected more than 300,000 boxes of cereal for the Arkansas Food Bank in the "Summer Cereal Drive." KLAL-FM staff members spent nearly a month traveling from town to town collecting cereal The Drive provides local families with non-perishable breakfast items that are both nutritious and kid-friendly, so families in central Arkansas do not have to skip the most important meal of the day. In 15 years, the drive has provided over 2.1 million boxes of cereal.
---
Topic: Community-Focused Initiatives
Date Posted: 4/7/2016
Raycom Media's ABC affiliate KAIT-TV Jonesboro partnered with local nonprofit Arkansas Gives for a fundraiser on April 7. Over $4 million was raised. An additional $500,000 was distributed among area nonprofits.
---
Topic: Community-Focused Initiatives
Date Posted: 4/6/2016
Arkansas County Broadcasters' KDEW-FM Stuttgart, AR raised $36,000 on April 8 during the Stuttgart Kiwanis Radiothon. The funds support the Kiwanis' community and child-focused projects, including Boys Scouts, Boys State, Girls State, a local Food Bank, Museum of the Arkansas Grand Prairie, scholarships for graduating high school seniors, children's programs at the Grand Prairie Center, Easter Seals, a Back Pack Program, Restoration of Hope, Stuttgart Parks and a Teachers Appreciation Luncheon.
---
Topic: Community-Focused Initiatives
Date Posted: 1/14/2016
Hearst Television's ABC affiliates KHBS-TV Fort Smith, Ark., and KHOG-TV Fayetteville, Ark., collected 3,000 turkeys in the "Feeding Hope" food drive, held November 20. (Watch video.)
---
Topic: Military-Focused Initiatives
Date Posted: 6/4/2015

Cumulus Media's KARN-AM Little Rock personality Doc Washburn hosted a three-hour special, A Hero's Best Medicine, to raise awareness of the Fisher House Foundation. Radio stations that aired the program over Memorial Day weekend included WMAL-AM Washington, D.C.; CBS Radio's WCCO-AM Minneapolis, Minn.; Cumulus Media's WBAP-AM and KLIF-AM Dallas, iHeartMedia's KHOW-AM Denver; WHAS-AM Louisville, Ky. and KSTE-AM Sacramento, Calif.; Cox Media Group's WSB-AM Atlanta; Bonneville's KTAR-AM Phoenix, Ariz.; Greater Media's WBT-AM Charlotte; E.W. Scripps' KQTH-AM Tucson, Ariz.; Midwest Communications WHBL-AM Sheboygan, Wis.; and Townsquare Media's KPEL-AM Lafayette, La.
---
Topic: Community-Focused Initiatives
Date Posted: 2/9/2015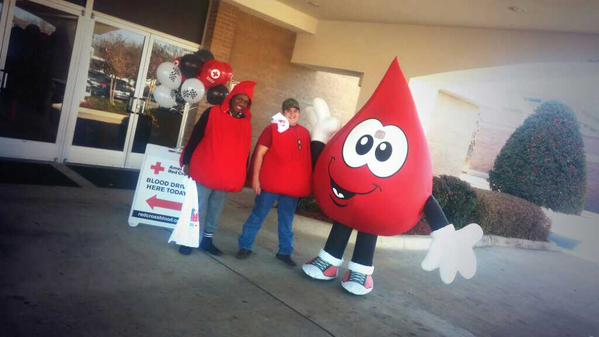 Raycom Media's ABC affiliate KAIT-TV Jonesboro, Ark.; CBS affiliate KFVS-TV Paducah-Cape Girardeau-Harrisburg, Miss;. and ABC affiliate WLOX-TV Biloxi, Miss. hosted successful blood drives. KAIT-TV hosted the "2015 Drive for Life" in January, and had a total of 368 people donate. The KFVS-TV Heartland Blood Drive was a three-day event at seven locations throughout Southeast Missouri and Southern Illinois that generated 1,091 pints of blood. This particular event has won several awards for community service and continues to be one of the largest blood drives in the Midwest. WLOX-TV's 32nd Annual Blood Drive in December collected 458 pints of blood for the Red Cross.
---
Topic: Youth-Focused Initiatives
Date Posted: 1/13/2015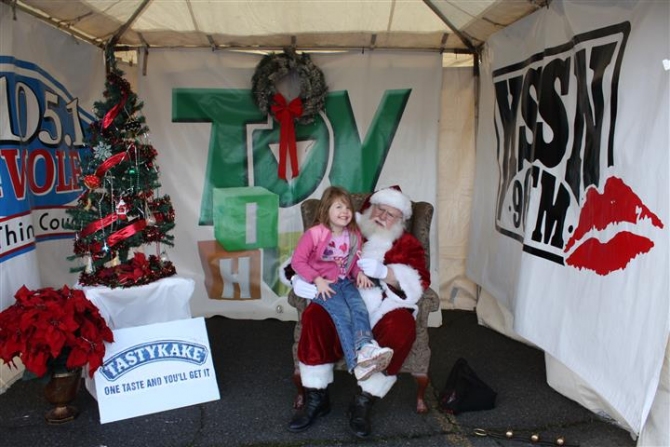 iHeartMedia stations KMJX-FM and KSSN-FM Little Rock, Ark. held their 2014 Toy Hill Toy Drive from Dec. 5-7. During the 72-hour toy drive, KMJX-FM and KSSN-FM collected $24,000 and filled three 18-wheel trucks with 20,000 new toys. The donations benefitted the Marine Corp's Toys for Tots Program.
---
Topic: Politics and Election Coverage
Date Posted: 10/2/2014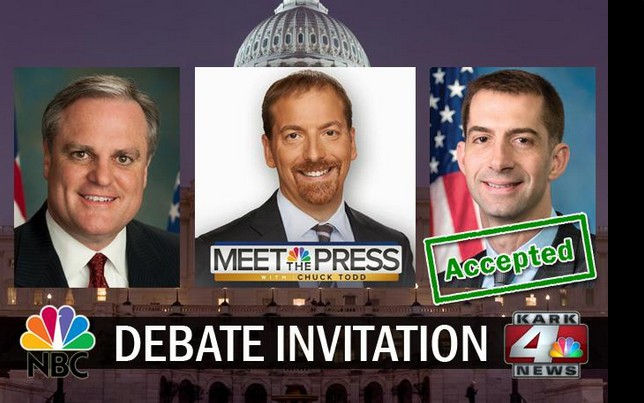 Nexstar Broadcasting's NBC affiliate KARK-TV Little Rock hosted a September 19 gubernatorial debate that also aired live on Nextar's KNWA-TV Fayetteville and KTAL-TV Texarkana. Also in Arkansas, Sinclair-owned KATV Little Rock will host U.S. Senate candidates on October 14 in a debate that will also air live on Raycom Media's ABC affiliate KAIT-TV Jonesboro and Hearst's affiliates in Fort Smith, KHBS and KHOG-TV.
---
Topic: Disaster Relief and Recovery
Date Posted: 6/9/2014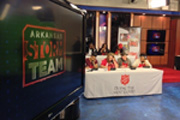 Nexstar Broadcasting Group's owned and affiliated television stations in Arkansas combined their local resources and staff to support the greater Little Rock community after severe storms and tornadoes tore through the region. Nexstar's NBC affiliate KARK-TV and FOX affiliate KLRT-TV quickly set up a telethon to support the Salvation Army's relief and recovery efforts in Arkansas. The tornado telethon aired on Nexstar and Mission Broadcasting stations in Little Rock and Fayetteville, Ark., and Monroe, La. The event raised more than $200,000 and proceeds helped purchase food, water and equipment for the Salvation Army's mobile feeding units.
---
Topic: Disaster Relief and Recovery
Date Posted: 5/14/2014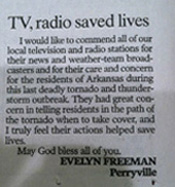 A Perryville, Ark., resident, Evelyn Freeman, wrote in a letter to the editor of the Arkansas Democrat-Gazette, "I would like to commend all of our local television and radio stations for their news and weather-team broadcasters and for their care and concern for the residents of Arkansas during this last deadly tornado and thunderstorm outbreak. They had great concern in telling residents in the path of the tornado when to take cover, and I truly feel their actions helped save lives. May God bless all of you."
---
Topic: Youth-Focused Initiatives
Date Posted: 3/17/2014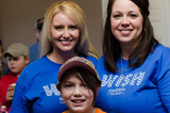 Saga Communications' KDXY-FM and Raycom-owned ABC affiliate KAIT-TV Jonesboro, Ark., partnered to host the 16th annual Have-A-Heart Wishathon to benefit the Make-A-Wish Foundation's Mid-South Chapter. The Foundation helps to grant the wishes of children with life-threatening medical conditions. Together KDXY-FM and KAIT-TV raised more than $323,000. Click here to watch video from the Wishathon.
---
Topic: Disaster Relief and Recovery
Date Posted: 6/7/2013

Several Raycom Media-owned television stations conducted relief efforts following the tornado. Stations donating to the American Red Cross include WSFA-TV Montgomery, Ala. ($50,232); WMC-TV Memphis ($36,000); WCSC-TV Charleston, S.C. ($10,000); WWBT Richmond, Va. (over $7,000); and KAIT-TV Jonesboro, Ark., organized a statewide telethon. WAFB-TV Birmingham, Ala., collected several storage unit's full of supplies for the Salvation Army in its one day donation drive. WBRC-TV Birmingham collected 200,000 pounds of water for the Salvation Army. KOLD-TV Tucson, Ariz., filled two semi-trucks with supplies, to be distributed by World Care.
---
Topic: Youth-Focused Initiatives

KSSN-FM in Little Rock, Ark., wrapped up its 23rd annual Toy Hill Toys for Tots drive with nearly 25,000 Christmas presents and $25,000 for the area's neediest children. For the 72-hour event, morning host personality Bob Robbins camps out in an RV next to an area that grows into Toy Hill as donations pile in. Robbins stays on the air at all times, except for the few hours he catches his sleep. In addition to the three-day live broadcast, the station posts new photos on its Web site every four hours. Streaming broadcasts, Web banners and email blasts all play a part in getting listeners involved. Each year, the governor and mayor call in or stop by, and country artists and other prominent leaders share their support on the air. The schedule leading up to the 72-hour event is extensive, including live three-hour remotes from toy drop-off locations throughout the community and various promotional spots for other Toys for Tots events. At the conclusion of last year's campaign, KSSN staff had given 500 hours of their time, which they plan on doing again come December. "We wouldn't be successful without the local community and Bob Robbins and the KSSN family," said U.S. Marine Corps Staff Sgt. Adkin Lomax. "We look forward to an even greater campaign next year."
---
Topic: Disaster Relief and Recovery

When a series of deadly tornadoes hit the South on Super Tuesday, broadcasters across the region provided a lifeline to their viewers and listeners, including KAIT-TV in Jonesboro, Ark. The station started with breaking weather coverage before the tornados hit and brought in a satellite from Shreveport, La., so live coverage could continue for the days following the destruction. Across the state, 13 people lost their lives. Homes and buildings were devastated. Within 48 hours of the storm, KAIT teamed with Jonesboro radio stations KDXY-FM, KEGI-FM and KJBX-FM to get relief to those who needed it. In a single day, the stations rallied the community to donate 40 pickup trucks and four trailers worth of supplies. The minute a vehicle was filled, it left for delivery. The stations broadcast live cut-ins during the drive and raised an additional $30,000, which was given to the American Red Cross Tornado Relief Fund.
---
Topic: Youth-Focused Initiatives

Each year, KURB-FM in Little Rock, Ark., continues its commitment to children with its "B98 Champions for Children Radiothon." The station's staff of five broadcast live from the lobby of Arkansas Children's Hospital, which is the only pediatric medical center in Arkansas, for 36 hours during a three-day period. Marking its fourth year, the radiothon raised a record $301,000 in 2008, bringing the total contribution from "Champions for Children" to nearly $1 million. During the fundraiser, montages of children and interviews with doctors and families gave the community a window into the lifesaving services of the hospital. The station donated additional airtime throughout the year and participated in the "Festival of the Stars" toy drive, which provided Santa with more than $79,000 worth of toys for his visit to the patients at Arkansas Children's Hospital this past holiday season.
---
Topic: Youth-Focused Initiatives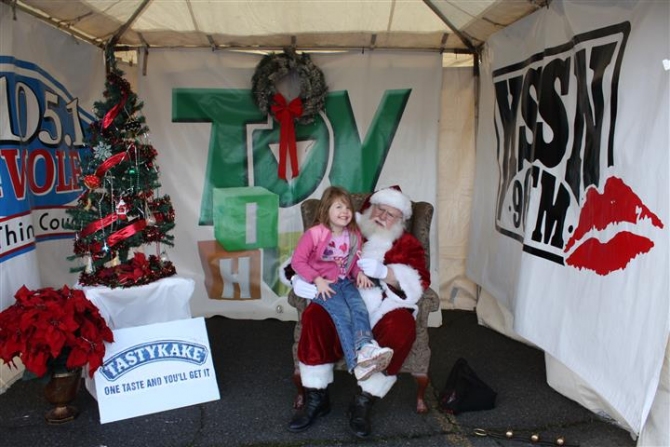 iHeartMedia stations KMJX-FM and KSSN-FM Little Rock, Ark. held their 2014 Toy Hill Toy Drive from Dec. 5-7. During the 72-hour toy drive, KMJX-FM and KSSN-FM collected $24,000 and filled three 18-wheel trucks with 20,000 new toys. The donations benefitted the Marine Corp's Toys for Tots Program.
---
Topic: Politics and Election Coverage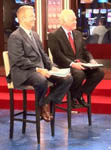 NexStar Broadcasting Group's KARK-TV Little Rock hosted a debate before a runoff election between Q. Byrum Hurst and Gene Jeffress. The runoff determined the Democratic nominee for southern Arkansas' fourth Congressional District. Hurst and Jeffress both promised to focus on job creation and to protect Social Security during the half-hour debate.
---
Topic: Disaster Relief and Recovery

When disaster strikes, KATV-TV in Little Rock, Ark., activates its "Neighbor in Need" relief fund to help its community recover. Through public service announcements and news stories, KATV asks viewers to extend a helping hand to those hit hardest by the crisis at hand. The station uses its phone bank facilities to collect donations. Originally created to provide aid to those affected by Hurricane Katrina who relocated to Arkansas, the fund has been activated several times since 2005 in response to severe weather. In February 2008, storms wreaked havoc across the state, and the community responded by donating hundreds of thousands of dollars to the fund. When killer twisters touched down in April 2008, viewers once again gave generously to help their fellow Arkansans, and KATV kick-started the giving with a $5,000 donation of its own. In the past year alone, more than $480,000 has been raised for the fund, all of which was given to the local Red Cross to further its efforts to provide aid to those affected by the flooding and tornadoes.
---
Topic: Health Awareness Campaigns
Listen to Audio
To serve the large retirement-age population in the area, KTLO-AM/FM and KCTT-FM in Mountain Home, Ark., started an annual event 17 years ago focused on the lifestyle and health of older Americans. Today, more than 3,500 people come to the KTLO/KCTT Senior Expo and Baxter Regional Medical Health Fair each year. With many free and low-cost screening tests, including hearing, eyesight, cardiac health and blood sugar, the fair provides access to needed health services. For weeks before the two-day event, the stations run hundreds of promotional spots. In 2008, 12 live interviews with hospital staff about the importance of the screenings were broadcast to motivate community members to attend. On the day of the expo, live cut-ins aired every hour. "In the ever-changing world of health care it is crucial to impart information to the general public in a variety of venues," said Donna McMullen, director of marketing for Baxter Regional Medical. "It has been a pleasure to partner with KTLO/KCTT and serve the community needs in such a necessary manner for these many years." As pioneers in this area, KTLO and KCTT are helping other stations start up similar health efforts in other areas of the state.
---
Topic: Military-Focused Initiatives

Knowing that last December was the first Christmas away from home for more than 800 local soldiers, KLRC-FM in Siloam Springs, Ark., got involved with the inaugural "Stockings for Soldiers" holiday drive to make sure the 101st Airborne Division 3-187 Infantry Battalion received a bit of Christmas cheer. In addition to airing promotional spots, the morning show broadcast an interview with Elizabeth Dubbell-Beck from "Stockings for Soldiers," whose husband, Major Will Beck, is currently serving in Iraq. Instructions on how to participate were posted on the station Web site, and KLRC staff handed out stockings to get listeners involved during a two-hour live broadcast from a local bookstore. After weeks of promotion, the campaign goal of stuffing 800 stockings was more than doubled. Servicemen and women overseas received a total of 2,000 filled stockings. "People want to give, and KLRC gave them a positive outlet to do just that," said Dubbell-Beck. "Friends, families, companies, schools and civic groups all rallied together to make sure these troops had a blessed Christmas morning. Thank you, KLRC, for your positive difference and for supporting our troops."
---
For more examples of how Arkansas' local radio and TV broadcasters are serving every local community, please contact the Arkansas Broadcasters Association .