Vermont's Broadcasters
Serving Every Local Community
Topic: Community-Focused Initiatives
Date Posted: 12/28/2016
Great Eastern Radio's WRFK-FM, WWFY-FM and WSNO-AM Barre collected two tractor-trailers worth of food donations and lots of cash for the Salvation Army's emergency food shelf in Barre. In less than 60 hours, the stations raised a record 26.7 tons of food and $16,000 in cash. "It's all about neighbors helping neighbors," said morning show host TJ Michaels.
---
Topic: Drug Prevention
Date Posted: 10/24/2016
Shires Media Partnership's WBTN-AM in Bennington, Vermont launched on October 24 a four-part series called "Grip of Addiction." Bennington is experiencing a growing problem with heroin overdose-related deaths and lacks the facilities necessary to address addiction. The series and ensuing follow up will "draw attention to the importance of community radio to keep locals abreast of what's going on in their town, and what's being done or not being done," said WBTN General Manager Ted Hollow. Listen to a sample of the series that WBTN.
---
Topic: Politics and Election Coverage
Date Posted: 3/13/2015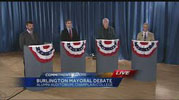 Hearst Television's NBC affiliate WPTZ-TV hosted a debate on Feb. 18 between candidates for Burlington mayor: Independent Greg Guma, Progressive Steve Goodkind, Libertarian Loyal Ploof and incumbent Democrat Miro Weinberger. The debate aired live and was re-broadcast online that day.
---
Topic: Community-Focused Initiatives

Mount Mansfield TV's WCAX-TV's drive, called "The Mitten Tree," joined with UPS Stores to collect hats, mittens and scarves from viewers and distribute them to organizations throughout the Burlington, Vt. area. Last year, the station distributed over 6,000 pairs of mittens and hats. Due to floods from Tropical Storm Irene, need was greater this year. WCAX-TV received over 200 hats and mittens in the kick-off week.
---
Topic: Disaster Relief and Recovery

Radio Vermont's WDEV-AM/FM Waterbury was a lifeline for listeners as historic flooding threatened thousands. With the station running solely on backup generators, WDEV Radio's News Director Eric Michaels gave his personal cell phone number to listeners, encouraging them to call or text in information about those who needed help. For more than 24 hours, Michaels and his team pre-empted regular programming to connect those in need with relief supplies and emergency information.
---
Topic: Youth-Focused Initiatives

For a week each summer, children with cancer get to just be kids when funds raised by WKOL-FM in Burlington, Vt., allow them to go to Camp Ta-Kum-Ta. Every morning from 5 – 10 a.m. during the week before Christmas, the station replaces regular programming with a "Camp Ta-Kum-Ta-Thon" fundraiser, where doctors, local television personalities, politicians and sports figures join WKOL staff in asking listeners to help send kids to the all volunteer-run camp. Mark Knight, co-host of the radiothon, travels to the camp each summer to interview children and record their stories for broadcast during the radiothon. Jon Brooks, morning show personality and co-host of the radiothon, is on the camp's board. Businesses challenge each other to raise the most funds for this true community-wide event, and a group of brave souls jumps into Lake Champlain in exchange for pledges. The radiothon also has inspired listeners to share their time and talents at the summer camp. One year a farmer transported his farm animals and created a Camp Ta-Kum-Ta petting zoo; another listener set up a tethered hot-air balloon ride. The station starts promotional mentions for the five-day event right after Thanksgiving, and calls in anticipation of the event start long before its official kick-off. The camp has room to accommodate 70 children. The $160,000 raised by WKOL during its most recent "Camp Ta-Kum-Ta-Thon" was enough to fund all 70 spots.
---
Topic: Youth-Focused Initiatives

The "Mitten Tree," an effort by WCAX-TV in Burlington, Vt.,has helped keep many fingers toasty and warm throughout the winter. During the annual campaign, the station asks its viewers to donate new hats, mittens, scarves and socks to help those less fortunate. The items are then distributed to more than 30 schools, shelters and agencies in the area. In 2007, a new "Mitten Tree" record was set when viewers donated more than 5,000 items. To keep up the momentum of the drive, the station airs promotional announcements throughout the holiday season and features updates during the morning newscast. One segment featured a very special woman, who despite losing almost all of her eyesight, hand-knit more than 100 items to donate and has a goal of making more than 250 items next year. During its four-year history, the "Mitten Tree" has grown exponentially, making it necessary to move its headquarters from the station to an empty storefront this past year.
---
Topic: Health Awareness Campaigns

Helping to keep its listeners' hearts pumping strong, WEZF-FM in Burlington, Vt., invited its audience to "Go Red for Women" and to participate in the Vermont Heart Walk this year. The station supported both American Heart Association campaigns with public service announcements and in-studio interviews. On-air personality Lana Wilder emceed the Heart Walk, where participants pledged to become more active and to make healthy heart lifestyle changes while raising more than $65,000 for the cause. For both campaigns, WEZF used its Web site to connect listeners to additional information. "WEZF has opened their airways and their hearts to the American Heart and American Stroke Association here in Vermont for a number of years," said Caisil Weldon, corporate events and marketing director for the American Heart Association Founder's Affiliate. "The station gives its listeners a sense of who we are, what we do and why it is important for them to become involved as volunteers, sponsors and/or donors. They help others understand our mission by providing a forum for our survivors and volunteers to tell their stories. They stress the importance of the research funded by the AHA and how it saves lives."
---
Topic: Health Awareness Campaigns

With the help of WVNY-TV in Colchester, Vt., more people will experience the joy of man's best friend through the services of Therapy Dogs of Vermont. The organization sends people-loving dogs and their handlers to help improve emotional health in a variety of settings, including hospitals, nursing and retirement homes, child and adult day care centers and correctional facilities. WVNY selected the organization as part of "Oprah's Big Give" campaign, which provided the station with $10,000 to donate to a local charity in hopes of jumpstarting the charity's fundraising and growth. By the end of the campaign, $38,000 had been raised for the all-volunteer, nonprofit organization. WVNY ran a six-week on-air sponsorship schedule promoting the group and its needs. In addition, the station aired three news stories and gave billboard mentions five times a week on how to "Give Big" to help Therapy Dogs. With the new resources, the organization plans to add additional canine and handler teams, making it possible to fill more requests from facilities requesting therapy dog visits, and to embark on new programs, such as using therapy dogs at library literacy events and to assist with victim advocacy.
---
Topic: Disaster Relief and Recovery

When a nor'easter left the area with all lights out, WJJR-FM in Rutland, Vt., provided its community a voice in the dark. The station broke from its regular format for three days, keeping the community up-to-date until power was restored to homes and businesses. The storm brought strong winds, snow and flooding, taking down thousands of trees and leaving power lines in the streets. WJJR advised listeners of drivable streets and where to get needed supplies, such as kerosene. The mayor, fire chief, police officers and utility companies gave live updates from the station and used airwaves to get safety information out to the public, such as how to avoid stepping on a live wire. Throughout the ordeal, calls came pouring in to the station. WJJR's Terry Jay took one call from a woman who needed a generator for her husband's oxygen tank. Within 40 minutes of airing the information, a listener with a generator was en route to her house bringing the power of radio into focus. "There was not one injury, and I think we had something to do with it," said Jay. "This is the reason why we got into radio in the first place."
---
Topic: Neighbors in Need

During a single four-hour remote, WGMT-FM, WMTK-FM, WSTJ-AM and WKXH-FM in St. Johnsbury, Vt., collected 17,000 pounds of food. It was the fourth year of the group-wide event, which stocks the pantries of four area food banks. The stations spotlighted food bank representatives in interviews, public service announcements and promotional spots, which aired on a heavy schedule prior to the event. On the day of the collection, station staff withstood winter weather at a crossroads in downtown, where they took donations and shared the stories of donors, such as the little girl who saved all of her babysitting money from the entire year for the cause. "We had traffic backed up with people bringing in food," said Operations Manager Candis Leopold. "It is amazing how people respond to stories. The more they hear, the more they participate, which is why broadcasting is such a gift."
---
For more examples of how Vermont's local radio and TV broadcasters are serving every local community, please contact the Vermont Association of Broadcasters .