West Virginia's Broadcasters
Serving Every Local Community
Topic: Disaster Relief and Recovery
Date Posted: 7/1/2016
West Virginia broadcasters raised $334,000 on July 1 in the "Rebuild West Virginia" telethon to support Red Cross relief efforts across West Virginia. Quincy Media's NBC affiliate WVVA-TV Bluefield hosted the telethon, which aired on Gray's NBC affiliate WSAZ-TV, Wither's CBS affiliate WDTV Weston, Cunningham's Fox affiliate WVAH-TV Charleston and Thomas Broadcasting's ABC affiliate WOAY-TV Oak Hill. "West Virginia Broadcasters have always been at the forefront when it comes to serving our communities," said West Virginia Broadcasters Association President Joe Parsons. "In the wake of the devastating floods that have impacted so many West Virginians, we want to use the power of radio and television to do all those that we can help those in need."
---
Topic: Investigative Reporting
Date Posted: 5/17/2016
Gray Television's NBC affiliate WSAZ-TV Charleston, W.V. aired "WSAZ Investigates: E.R. Gridlock" on May 17. Reporter Nathan Takitch found that some patients transported by ambulance are waiting up to four hours in Kanawha County's four emergency rooms. Due to the wait times, EMTs regularly test and treat patients in the ambulance while in the parking lot.
---
Topic: Youth-Focused Initiatives
Date Posted: 2/15/2016
West Virginia Radio Group's WCHS-AM Charleston raised $188,000 for St. Jude Children's Research Hospital, in a radiothon held February 11-12. "People respond. They're listening to the radio; they want their on-air personalities to hit their goals," said St. Jude 's Associate Director of Fundraising Dan Warble. "They want St. Jude to hit their goals. It always happens."
---
Topic: Politics and Election Coverage
Date Posted: 2/4/2016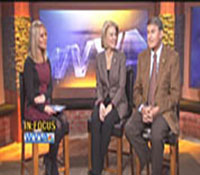 Quincy's NBC affiliate WVVA Bluefield, W.V., hosted Senators Shelley Moore Capito and Joe Manchin on a special edition of "In Focus." On the show, the senators discussed past accomplishments, goals for 2016 and answered viewer questions.
---
Topic: Youth-Focused Initiatives

Staff at WVAQ-FM in Morgantown, W.Va., has a favorite event: the station's annual radiothon in support of the West Virginia University Children's Hospital. For well over a decade, the "WVAQ for Kids Radiothon" has helped raise funds for the facility, which provides care to high-risk mothers, premature infants and children with serious illnesses. The three-day event allows patients, their parents, doctors and nurses to tell their stories and is broadcast from the hospital. A videocast of the radiothon plays on the station's Web site, allowing listeners to see the action behind the audio. The most recent radiothon raised $165,000, an increase of $15,000 from the year before. The long-term partnership between the station and the hospital extends throughout the year, including the promotion and broadcast of the annual Mountaineers spring football game where all proceeds from ticket sales go to the hospital. WVAQ was named the Marconi Radio Awards 2007 Contemporary Hits Radio Station of the Year.
---
Topic: Neighbors in Need

Christmas dinner, complete with a ham, is made possible for needy families through a 10-day food drive organized by WQBE-FM and WVSR-FM in Charleston, W.Va. In addition to a traditional holiday dinner, the Union Mission Christmas Food Drive collects enough donations to give each family food for a week or more. Every morning and every afternoon during the effort, WQBE and WVSR broadcast live from a command center set up in parking lot of a local grocer. The broadcasts target people during their commute to and from work, encouraging listeners to stop by and make a donation. In 2007, the generosity of listeners filled five tractor-trailers full of canned items and raised $15,000. The stations also held a potato challenge, where a local business agreed to give 7,500 10-pound bags of potatoes if the community would collectively match that number, which it did within one week. The stations have held the annual food drive for the past decade, feeding 2,500 families each year; Union Mission, which distributes the food, serves 51 of West Virginia's 55 counties. "This event has become so necessary, and the rewards we get from the listeners and the families who are provided Christmas meals mean the world to us," said WQBE's Jeff Jeffreys Whithead. "It is so important they we take care of each other."
---
Topic: Youth-Focused Initiatives

When Norm Slemenda, general manager of WLTF-FM in Martinsburg, W.Va., learned that needy children in the area wouldn't be receiving holiday assistance, he immediately got to work with his staff. Starting that morning, every time the broadcast went live, on-air personalities asked listeners for toys and donations. In a day and a half, three SUVs were stuffed with toys and thousands of dollars had been raised. Wanting a head start for the next holiday season, the station launched its inaugural "Christmas in July" campaign in 2007. Prettyman Broadcasting sister stations WEPM-AM and WICL-FM joined the effort. For 36 hours, morning host Stacy Drake provided live updates from a local bank that acted as headquarters for the summer toy drive. Slemenda was nearby, dressed in a Santa suit and collecting donations. Five months later, all three stations supported the "Christmas Cash for Kids" campaign to complete the year-long effort. In total, more than $12,000, new bikes, toys and clothing were donated for 200 children in the Eastern Panhandle. "Without this program, these kids would not have had any presents," said Jan Callen of the local United Way. "Prettyman Broadcasting truly made a difference."
---
Topic: Community-Focused Initiatives

The U.S. flag code calls for flags that have become faded or torn to be destroyed in a dignified way, which is why WVVA-TV in Bluefield, W.Va., partners with the Marine Corps League to retire flags in Bramwell each Memorial Day. Viewers were asked to bring Old Glories to the station to be disposed of honorably. Following a parade in remembrance of fallen troops, the collected flags become part of a flag retirement ceremony involving the Boy Scouts and members of the Marine Corps League. In another patriotic effort, the station invited viewers to share their personal thoughts on the Stars and Stripes with a "What the Flag Means to Me" essay contest. A nightly winner was chosen from Memorial Day through Fourth of July, and each was given a flag that had flown over the state capitol.
---
Topic: Youth-Focused Initiatives

For two days every year, WJLS-AM/FM in Beckley, W.Va., breaks from its regular format and switches to non-stop talk about St. Jude Children's Research Hospital. Now in its fourth year, the WJLS-hosted radiothon brings awareness of St. Jude's lifesaving work to listeners while raising funds to help the hospital continue to treat children from West Virginia and across the country regardless of their ability to pay. Cancer, in some way, touches all families, which is why the station decided to make a strong commitment to the campaign. To put the radiothon on its listeners' radars, the station runs a heavy schedule of public service announcements leading up to the event. On-air time is also donated to support "Battle of the Banks," where listeners are encouraged to drop off their spare change at buckets located in local bank lobbies in support of St. Jude. In 2008, the WJLS radiothon brought in $56,000. "As we were doing the final countdown, it was amazing. During that last hour we really put the rubber on the road, and donations surged," said Bill O'Brien from WJLS. "To have that much money raised in a small town and a weak economy was really heartwarming."
---
Topic: Disaster Relief and Recovery

When an apartment building fire killed nine people and left hundreds of residents without belongings or a place to stay, WDGG-FM in Huntington, W.Va., organized a dinner that brought the community together to honor the firefighters who responded to the emergency and to raise money for the victims. The station worked with a local church to secure food and other items for the event, making it possible for 100 percent of the proceeds to go to those recovering from the crisis. "This is a small town not used to battling fires," said WDGG's Mike Kirtner. "The community needed help, and we were able to provide it." The station started airing recorded promotions and live mentions of the fundraiser two days after the fire. Six-hundred community members, including the mayor, attended. At the dinner, 20 fire departments received a plaque thanking them for their service and more than $60,000 was raised for the victims of the fire.
---
For more examples of how West Virginia's local radio and TV broadcasters are serving every local community, please contact the West Virginia Broadcasters Association .