Florida's Broadcasters
Serving Every Local Community
Topic: Safety Initiatives
Date Posted: 4/30/2018
Graham-owned WJXT-TV Jacksonville, Fla., aired a live town hall discussion, "Generation Under Fire," on March 14 in partnership with the Public Policy Institute at Jacksonville University. Students, parents, educators and law enforcement officials discussed how dangerous situations are handled in local school districts, and how students can get involved. View WJXT's wrap-up discussion.

"No matter your personal feelings, there is a common thread that we at New4JAX have determined is worth spending our airtime and efforts trying to solve, and that is keeping our families safe," said General Manager Bob Ellis.
---
Topic: Community-Focused Initiatives
Date Posted: 4/1/2018
WCTV's "Peanut Butter and Jelly Jam" is a two-week drive during which students are encouraged to collect jars of peanut butter and jelly for struggling families in the local community. In its first year, the initiative collected nearly five tons of supplies. The drive helps fill food bank shelves at a time when demand is high, especially in this community where 25,000 children rely on school meal assistance.
---
Topic: Safety Initiatives
Date Posted: 4/1/2018
Univision-owned WLTV-TV and WAQI-AM Miami and its digital platforms hosted "Ni Una Muerte Más," (Not One More Death) on March 22, a town-hall meeting to address school safety concerns. Award-winning anchor Ambrosio Hernandez moderated the event, which featured Miami-Dade Public Schools (MDPS) Superintendent Alberto Carvalho and a panel of experts, elected officials, student leaders, and parent. Panelists addressed questions from the audience and those sent via Facebook.
---
Topic: Disaster Relief and Recovery
View Video Date Posted: 3/1/2018
In September 2017, Hurricane Irma struck the southeastern United States. As Irma approached, radio and television broadcasters took to the airwaves to warn those in the storm's path about the oncoming danger. During the storm, local broadcasters provided lifeline support as 'first informers,' relaying emergency and disaster relief information. And after the skies cleared, radio and TV stations played a critical role in the recovery and rebuilding efforts of their hometown communities.

These feats of courage, dedication and generosity demonstrated by local radio and TV broadcasters are captured in this short film produced by Media Arts Professor Scott Hodgson and his students at the University of Oklahoma, and Chandra Clark, professor of Journalism and Creative Media at the University of Alabama.
---
Topic: Children's Issues
Date Posted: 12/7/2017
Beasley Media Group's WQYK-FM Tampa partnered with St. Jude Children's Research Hospital to host a "Country Cares for St. Jude Kids" radiothon on December 7 and 8. The two-day fundraising event collected a total of $300,620 to benefit St. Jude.
---
Topic: Children's Issues
Date Posted: 12/1/2017
Beasley Media Group's WPBB-FM Tampa morning personalities Chadd & Kristi held their 17th annual "Toys for Tots Toy Drive" on December 1. The all-day live broadcast encouraged donations, collecting tens of thousands of toys to benefit less fortunate families throughout the Tampa Bay community. "We are so excited to be doing our 17th annual marathon Toys for Tots Toy Drive because it is such an amazing day, knowing that through our listeners' and partners' help, we are putting smiles on thousands of kids' faces right here in Tampa Bay," said Morning Show Host and Program Director Chadd Thomas.
---
Topic: Disaster Relief and Recovery
Date Posted: 10/21/2017
Cox Media Group (CMG) launched an initiative, "Cox Media Group Cares Tampa Bay" to help small businesses recover after Hurricane Irma. Many small businesses faced power outages, lost inventory, or closed for days. CMG stations are featuring local businesses each Saturday between October 21 and November 25 and providing free on-air, online and social media promotion throughout the week. The initiative will benefit 40 local small businesses with approximately $250,000 in promotional support.
"CMG understands local businesses are an important part of our communities," said Keith Lawless, Vice President/General Manager for CMG Tampa. "The disruption from Hurricane Irma has greatly impacted these businesses. We are proud to help support them at a time when they need it most."
---
Topic: Disaster Relief and Recovery
Date Posted: 9/13/2017
Beasley Media Group's WYUU-FM Tampa partnered with Walmart for a Hurricane Relief Drive. The drive, held September 24 – 25, raised money to support Hurricane Maria relief efforts. CaringForPuertoRico.org provided cargo planes to deliver supplies directly to Puerto Rico.
---
Topic: Disaster Relief and Recovery
Date Posted: 9/10/2017
Montclair Communications' ABC affiliate WZVN-TV Naples, Fla., and Waterman Broadcasting's NBC affiliate WBBH-TV Fort Myers, Fla., provided 65 hours of continuous coverage, with the combined newsroom staffs of 110 people, including eight meteorologists, working 12 hours on and 12 hours off. They became a refuge for staff members' families and pets, serving hundreds of meals to the 236 people, 26 dogs, plus cats, reptiles and a Macaw. The guests, who ranged in age from 87 years old to two weeks, slept in mechanical rooms, the conference room and hallways. The eye of the hurricane passed directly over both the studios and their transmitter site, breaking a water main and crashing a tree onto a parked car. Both stations suffered minor service outages, but simulcasting ensured uninterrupted local coverage. The stations' over-the-air signals served as a lifeline, as millions lost cable and satellite TV service. Station websites received nearly three million page views per day.
---
Topic: Disaster Relief and Recovery
Date Posted: 9/10/2017
Beasley's WYUU-FM Tampa midday host Nio Fernandez recognized a need for information in Spanish, so he broadcast in the Spanish language for 19 straight hours. Hundreds of listeners called in to talk about their experiences, such as seeing trees fall on cars, or to share information about stores that had water and supplies still in stock. Listeners who had been evacuated to neighboring states followed Beasley stations using mobile apps. Fernandez said callers told him, "If it wasn't for you, we'd have no idea what's going on there."
---
Topic: Disaster Relief and Recovery
Date Posted: 8/31/2017
Beasley Media Group's WXKB-FM, WJPT-FM, WWCN-FM, WRXKFM and WRXK-FM Fort Meyers, Fla., raised $31,483 on August 31 for the American Red Cross in a special live "Music Thon." The event included local artists, hit music and special requests.
---
Topic: Community-Focused Initiatives
Date Posted: 7/12/2017
Beasley Media Group's WPBB-FM Tampa supports listeners through the "#bNice" campaign. Morning show hosts Chadd & Kristi recently gathered hundreds of dollars worth of supplies for a local domestic violence shelter after learning that they were in need. They also recently treated a little girl, Alidy, who had tragically lost her father, to an amazing Disney-filled day. In May, Chadd & Kristi delivered treats to local firefighters during one of the worst fire seasons in memory.
---
Topic: Community-Focused Initiatives
Date Posted: 3/31/2017
Univision Communications Inc. (UCI) established the Univision MAGIC Scholarship Fund with a $100,000 donation to the Miami Dade College (MDC). The scholarship supports a fellowship and internship program for students currently attending MDC's Miami Animation & Gaming International Complex (MAGIC), the region's premier animation and gaming educational facility. MAGIC program at MDC.
---
Topic: Community-Focused Initiatives
Date Posted: 2/16/2017
Salem Media Group's WTBN-AM Tampa aired live interviews and discussions on race relations on February 16 in partnership with Tyndale House Publishers and NFL tight end Benjamin Watson. Watson's book, Under Our Skin, inspired the event. Personality Bill Bunkley hosted live interviews with the six panelists, including Watson, each of whom offer unique perspectives. Thousands of listeners engaged in the conversation. The main forum, moderated by ESPN's Sage Steele, was simulcast nationwide and can still be accessed at UnderOUrSkinForum.com.
---
Topic: Investigative Reporting
Date Posted: 1/29/2017
The Orlando Sentinel recently profiled Todd Ulrich, a well-respected, long-time consumer investigative reporter with Cox Media's ABC affiliate WFTV Orlando. "Todd Ulrich is a champion for trust," said Holly Salmons, president and CEO of the Better Business Bureau in Central Florida. "We appreciate his love for transparency and ethics. His tenacity has helped countless consumers and has helped to drive a larger divide between the good guys and the bad guys in business."
Ulrich receives more than 250 requests per week and reports roughly 100 stories a year. WFTV contacts the business even if a story doesn't air and keeps a database of complaints so Ulrich can look for patterns. Many stories involve restaurant inspections and used car sales. As Florida is one of the few states with no used-car sales protection, these stories often affect low-income families.
Other recent stories have included local grocery stores with poor inspection histories, a new automobile scam on Facebook and a local man who lost $28,000 in a social media scam. Viewer Kevin Nowak had trouble with his refrigerator from Sears Home Services for more than a year. Within a month of Ulrich's contact with the corporate office, Nowak received a replacement. Some business people hurl insults at Ulrich when he confronts them. "You're the biggest piece of garbage, and I'm sure that will be edited out," said one. Ulrich does not let this bother him. "I consider myself a consumer advocate along with being a consumer investigator," he said.
---
Topic: Community-Focused Initiatives
Date Posted: 11/14/2016
Media General's NBC affiliate WFLA Tampa consumer reporter Shannon Behnken hosted a six-and-a-half hour phone bank on November 14 that netted residents more than $2.3 million of unclaimed cash. The money is often from dormant accounts in financial institutions, insurance and utility companies, securities and trust holdings. "The volume of calls we received was unbelievable, proving once again that News Channel 8 is truly 'On Your Side'," said WFLA General Manager Andy Alford.
---
Topic: Investigative Reporting
Date Posted: 11/1/2016
Graham Media Group's WJXT-TV Jacksonville, Fla., aired an investigation into Housing and Urban Development (HUD) shortcomings, resulting in a U.S. Senate committee demanding answers. WJXT exposed deplorable living conditions at some HUD facilities in a series of investigative reports about Jacksonville housing complexes, including Eureka Gardens.
---
Topic: Community-Focused Initiatives
Date Posted: 10/17/2016
Graham Media Group's CBS affiliate WKMG-TV Orlando anchor Matt Austin suffered a severe concussion and required 10 staples in his head last month after his car was totaled by a driver who was texting. On the 11 p.m. news on October 17, Austin issued a call to action about texting and driving, in the hopes of inspiring change to laws that he considers to be lenient. Austin reported that the driver did not receive a ticket because the officer did not see that the other driver was texting.
---
Topic: Disaster Relief and Recovery
Date Posted: 10/8/2016
For Entercom Miami/Fort Lauderdale stations, simulcasting was a key component to a successful communication strategy during Hurricane Matthew. "We are devoting more time to simulcasting," said Entercom Miami/Fort Lauderdale Director of Programming and Operations Rob Sidney. For example, talk-centered stations devoted programming to weather updates and information. Music stations interspersed local news, weather and traffic with locally-generated content, calls and preparation information.
---
Topic: Disaster Relief and Recovery
Date Posted: 10/8/2016
Alpha Media West Palm Beach stayed live throughout the course of Hurricane Matthew to provide important updates and information to its area listeners. In addition to constant weather updates, the stations aired conversations with community leaders and shared critical information, such as locations where listeners could obtain shelter or supplies. Alpha Media West Palm Beach Market Manager Elizabeth Hamma said the station is "a conduit of critical information for our listeners."
---
Topic: Disaster Relief and Recovery
Date Posted: 10/8/2016
With the threat of historic Hurricane Matthew barreling toward the Florida Coast, CBS Radio Miami (WKIS-FM, WPOW-FM, WQAM-AM) wasted no time in providing weather updates and critical evacuation information. "On-air and via social we are reminding listeners how to prepare before the storm – such as supply lists, family plan, securing your property/yard, pets and overall safety during and after the storm," said CBS Radio Miami Vice President of Programming Rob Morris. The station cluster also manned communication lines to gather information from area residents. Additionally, the cluster worked closely with sister station WFOR-TV to ensure updates and information were shared with as many people as possible.
---
Topic: Disaster Relief and Recovery
Date Posted: 10/8/2016
iHeartMedia Miami, iHeartMedia Latino and NewsRadio 610 WIOD provided coverage before, during and after Hurricane Matthew tore through Florida and up the East Coast. WIOD broadcast all related press conferences and added five hours of local programming as the storm headed toward the Florida coast. On October 6, all station employees and other programmers temporarily moved into the WIOD building in order to provide around-the-clock coverage. Additionally, the station updated breaking news alerts every hour in both English and Spanish, and partnered with NBC-owned WTVJ Miami and area meteorologists to provide the most up to date information.
---
Topic: Disaster Relief and Recovery
Date Posted: 10/7/2016
Stations in the Cox Media Jacksonville cluster relied on their websites and social media platforms as an effective way to communicate important Hurricane Matthew updates to area residents. "We're posting interactive maps to track the storm with layers that show local top flood zones and traffic issues," said Cox Media Group's Director of Branding and Programming Aaron Schachter. "Everything they could need is on our websites, and we make it easy to share as a resource to anyone looking for information. This is about using different ways to talk to and engage listeners."
---
Topic: Community-Focused Initiatives
Date Posted: 9/16/2016
Berkshire Hathaway's ABC affiliate WPLG Miami aired an hour-long primetime special about gun violence on September 16. The program is part of its "My Future, My Choice" initiative, which focuses on youth and gives voice to parents who lost children to gun violence. "We are fully invested in this endeavor, and we want this town hall meeting to also serve as a youth summit where young minds can hear, contribute to the dialogue and feel free to respond to ideas for solutions," said WPLG President Bert Medina.
---
Topic: Community-Focused Initiatives
Date Posted: 9/8/2016
Media General's NBC affiliate WFLA-TV Tampa investigative reporter helps Tampa viewers get $1 million in unclaimed property and money on August 11. Investigative consumer reporter Shannon Behnken hosted a one-day phone bank that helped residents reclaim more than 4,000 accounts totaling over $1,051,000. The phone bank connected viewers to a Florida database of unclaimed money and property from dormant accounts in financial institutions, insurance and utility companies, securities and trust holdings. The property can include items such as watches, jewelry, coins, stamps and cash. "The volume of calls we received was unbelievable proving once again that News Channel 8 is truly On Your Side," said General Manager Andy Alford. Watch video via TVNewsCheck.
---
Topic: Politics and Election Coverage
Date Posted: 8/16/2016
Graham Media's WJXT-TV Jacksonville held debates for the following races: State Attorney on August 16; 4th Congressional District on August 17; and 5th Congressional District on August 18. The hour-long debates were held in Jacksonville University's Swisher Theater. The debates aired on WJXT-TV and were livestreamed on the station's website.
---
Topic: Politics and Election Coverage
Date Posted: 8/14/2016
CBS owned-and-operated WFOR Miami held a debate between incumbent Debbie Wasserman Schultz and Tim Canova in the race for Florida's 23rd Congressional District on August 14. The hour-long debate was broadcast live during the station's "Facing South Florida with Jim DeFede" program. It will likely be the only race debate before the August 30 election.
---
Topic: Disaster Relief and Recovery
Date Posted: 7/24/2016
Univision News reported from Orlando within hours of the Pulse shooting, providing coverage on television, radio and digital platforms. A special digital report "49 víctimas del odio" (49 victims of hatred) launched on June 17. The exclusive report "Inside the house of Omar Mateen" was picked up by media organizations in the U.S. and all over the world, including in Italian and Dutch. Univision Puerto Rico aired the hour-and-a-half special "Unidos por Orlando" (United for Orlando) on June 17. Univision's news magazine show produced "Aqui y Ahora" (Here & Now); "Terror en Orlando" (Terror in Orlando) on June 19 and "El Omar Que Yo Conoci" (The Omar I Knew) on June 24.
---
Topic: Investigative Reporting
Date Posted: 7/14/2016
Cox Media's ABC affiliate WFTV Orlando investigated new ways drivers are hiding license plates from traffic cameras. Each year, thousands of dollars in fines are lost to drivers who hide their plates.
---
Topic: Investigative Reporting
Date Posted: 7/7/2016
Cox Media Group's ABC affiliate WFTV Orlando investigated Attorney general Pam Bondi's involvement in a local red light camera case. A local driver, who is fighting a red light camera ticket, said he was shocked when the highest law enforcement official in the state took an interest in his case. But court documents obtained by the station show that, in part, the motivation for Bondi is money. The 9th Circuit has already ruled in previous cases that companies can't replace cities and counties. The question: Can drivers use that as a defense to get tickets tossed? And, if they can, how much money does the state stand to lose?
---
Topic: Investigative Reporting
Date Posted: 7/7/2016
Cox Media Group's ABC affiliate WFTV Orlando investigated area school's background check process after a high school coach was arrested on a drug charge. The coach failed to disclose his criminal history years ago on his employment application, and was recently accused of running a multistate drug ring. The district didn't catch the issue until after the coach, Benjamin Jenkins, was allowed on the field and in classrooms after failing to disclose a misdemeanor drug arrest on his 2014 application, and no background check was performed.
---
Topic: Investigative Reporting
Date Posted: 7/7/2016
E.W. Scripp's Fox affiliate WFTX-TV Fort Myers, Fla. investigated beach water quality after bacteria and potentially toxic algae began plaguing local waterways. The problem, likely sparked by Lake Okeechobee water releases, is gaining national attention, but the solutions to the problems remain in short supply.
---
Topic: Disaster Relief and Recovery
Date Posted: 6/19/2016
TVSpy reported on television station groups collaborative efforts. Cox Media Group's CBS affiliate WJAX-TV Jacksonville, ABC affiliate WSB-TV Atlanta, Fox affiliate WFXT Boston, CBS affiliate WHIO Dayton, and its Washington, D.C. bureau sent reporters, photographers and producers to support ABC affiliate WFTV Orlando.
Hearst's NBC affiliate WESH Orlando was joined by team members from its Washington, D.C. bureau, ABC affiliate WPBF-TV West Palm Beach, plus NBC affiliates WBAL-TV Baltimore, WXII Winston-Salem, N.C., WYFF-TV Greenville, S.C., and WGAL Lancaster, Pa.
Fox-owned WOFL received support from stations in Tampa, Philadelphia and Chicago during wall-to-wall coverage from 6 a.m. to 11:40 p.m. on June 12. On June 13, WOFL focused on the police investigation and the effect on the community from 5 – 10 a.m. and in special hour-long newscasts at noon and 4 p.m.
It does give you pause for what this business is all about, which is providing a service and information to the public," WOFL Vice President of News Jeff Zeller told Broadcasting & Cable.
Graham Media Group's (GMC) NBC affiliate WDIV Detroit told TVSpy that all GMG stations made an effort to assist CBS affiliate WKMG Orlando, as the station provided wall-to-wall coverage. "Our hearts go out to the people of Orlando. WKMG is part of the Graham Media family and we all support each other," said WDIV General Manager Marla Drutz. "I can't imagine what they and their viewers are going through."
---
Topic: Disaster Relief and Recovery
Date Posted: 6/19/2016
Radio Ink and Inside Radio provided details on broadcast radio stations' response to the tragedy. CBS Radio brought personnel from all of its morning shows to help WQMP-FM and WOMX-FM Orlando. As listeners asked how they could help, CBS provided information on where to donate blood.
Westwood One sent two reporters, Alan Scaia and Scott Kimbler, to Orlando on June 12 to cover the massacre. The station group quickly committed to keeping Scaia and Kimbler in Orlando all week to cover the aftermath and President Obama's planned trip to Orlando on June 16.
iHeartMedia Orlando's WFLA-FM, WXXL-FM, WJFF-FM and WYGM-AM preempted programming to air extensive news coverage produced by WFLA-FM and partners WOFL-TV and WESH-TV. "The LBGT community is well represented within our on-air talent and so there was poignancy to many of the talent exchanges," iHeartMedia's Chris Kampmeier said. He added that radio has a unique ability to "allow and embrace listeners calling in to share their feelings and any direct knowledge of the situation they may have... They want to feel like they are part of the community and being on the radio and/or hearing those who are helps everyone feel connected and involved."
"Watching radio doing just that with its audience during such heartbreak these past few days was another reminder of the value of our storied industry and why radio talent matter," Cumulus and Westwood One Vice President Lori Lewis told All Access. "The Orlando radio market, along with cities across the country, shined in the darkest times."
"Where radio distinguishes itself and what truly spotlights its niche among all media is/was and will continue to be, its distinct ability to reach out, dig in and be part 'of' the community," said Radio Ink Publisher Deborah Parenti.
Cox Media Group (CMG)'s Orlando stations WPYO-FM, WCFB-FM, WMMO-FM, WWKA-FM and WDBO-FM worked with CMG's ABC affiliate WFTV to simulcast live coverage and provide reports to stations nationwide. Morning show hosts from all stations gathered at WDBO for an on-air roundtable discussion, allowing listeners to react while the news team gathered and distributed information. CMG Orlando staff members worked around the clock, providing 12 hours of wall-to-wall coverage on June 12.
"We knew that this story would capture the community, the state, and the nation and we wanted to provide a way for listeners to learn, share, and connect with each other and with our on-air team," said Operations Manager Drew Anderssen. "[We were] getting very diverse calls, most from concerned listeners who want to be able to contribute in some way to the needs of the community. Many are sharing their stories from loved ones and their families/friends."
"We are an extension of the community and we are here for our listeners to vent, cry and share their feelings," WQMP-FM and WOMX-FM Program Director Dennis Martinez told Inside Radio.
---
Topic: Disaster Relief and Recovery
Date Posted: 6/19/2016
Radio Ink also reported on CBS Radio and Cox Media Group's efforts in the week following the attack. CBS Radio's WQMP-FM Orlando hosted a blood drive on June 13, also collecting donations of water, sports drinks and orange juice for blood donors. CBS Radio also worked with the city to plan and promote a candlelight vigil. Stations promoted and provided complete live coverage of local vigils across the country.
Cox Media Group's Orlando stations broadcast and streamed on June 13 a two-hour roundtable discussion "Orlando Terror Attacks. Our City Reacts," during which on air hosts discussed the massacre and took calls from listeners. WWKA-FM and WRDQ-TV will host abenefit concert on June 21 for the City of Orlando's OneOrlando Fund.
OTA Broadcasting's MyNetworkTV affiliate KMIR-TV Palm Springs, Calif. invited the public to attend a special live event "Standing United," held June 17. The Palm Springs mayor, LGBT and Islamic officials, and other local faith and community leaders will participate in the event. "Standing United" will air with no commercial interruptions and stream live on KMIR.com and Facebook LIVE. "We heard the community loud and clear at Sunday night's vigil in Palm Springs," said KMIR News Director David Reese. "They want to come together after this tragedy and KMIR News is committed to doing our part to make that happen."
---
Topic: Disaster Relief and Recovery
Date Posted: 6/16/2016
Broadcasting & Cable provided details on network television coverage of the massacre. The television networks main anchors - CBS's Scott Pelley, NBC's Lester Holt and ABC's David Muir also all flew to Orlando on June 12 to broadcast special evening newscasts. ABC sent six reporters to assist those already in Orlando, with NBC dedicating four reporters to the story. Charlie Rose and Gayle King of "CBS This Morning" also broadcast from Orlando. Coverage in the days that followed included special editions of "Dateline NBC" and ABC's "20/20" that were devoted to the massacre.
---
Topic: Disaster Relief and Recovery
Date Posted: 6/14/2016
Broadcasting & Cable provided details on network television coverage of the massacre. The television networks main anchors - CBS's Scott Pelley, NBC's Lester Holt and ABC's David Muir also all flew to Orlando on June 12 to broadcast special evening newscasts. ABC sent six reporters to assist those already in Orlando, with NBC dedicateing four reporters to the story. Charlie Rose and Gayle King of "CBS This Morning" also broadcast from Orlando. Coverage in the days that followed included special editions of "Dateline NBC" and ABC's "20/20" that were devoted to the massacre.
---
Topic: Local News
Date Posted: 6/12/2016
Hearst's NBC affiliate WESH-TV Daytona Beach supplemented its wall-to-wall coverage with live breaking news coverage with Spanish captioning on its sister station, Estrella TV Orlando during primetime on June 12. This live coverage was distributed to Hearst's Spanish stations in Sacramento, Tampa, Albuquerque and Monterey.
---
Topic: Investigative Reporting
Date Posted: 6/1/2016
Cox Media Group's ABC affiliate WFTV Orlando exposed a contractor for deceiving consumers. After viewer Bessie Hudson claimed McMurphy Fencing collected $2,000 for a new fence but did not deliver, WFTV found seven other families had the same issue. When reporter Todd Ulrich contacted McMurphy, he promised a full refund for Hudson. It never came. Ulrich found that McMurphy Fences illegally uses a different company's address in legal documents. Thanks to WFTV, Florida's Attorney General sued McMurphy for unfair and deceptive trade. The police later charged him with grand theft and fraud.
---
Topic: Children's Issues
Date Posted: 6/1/2016
Cox Media Group's WHPT-FM Tampa Bay afternoon host Drew Garabo threw a party on June 4 for children battling cancer. At the event, he presented an iPad to 12 of the kids. The party concluded WHPT's "Apple a Day" program in May. Morning host Mike Calta also helped raise over $13,000 through his show. "Children should have to worry about what video game they want to play, or how to ace a test, not about fighting for their life. I'm hoping that we can help them keep their mind occupied at such a challenging time," Garabo said.
---
Topic: Investigative Reporting
Date Posted: 5/12/2016
Berkshire Hathaway's ABC Affiliate WPLG-TV Miami aired an investigation by reporter Bob Norman into the Broward County Public School System's failed bullying policies. WPLG also exposed Dillard High School's inactivity in addressing the repeated bullying and alarming physical and verbal attacks on students targeted by gangs of classmates.
---
Topic: Investigative Reporting
Date Posted: 5/12/2016
Hearst Television's ABC affiliate WPBF-TV West Palm Beach, Fla. aired "WPBF Investigates: Planes, Trains and Automobiles" on May 12. The report explores cutting-edge technology that is improving the way we operate transportation. Learn more here.
---
Topic: Community-Focused Initiatives
Date Posted: 5/12/2016
Fort Meyer's Broadcasting's CBS affiliate WINK-TV Ft. Meyers, Fla. conducted an investigation that found at least 13 offenders who were not following the state law requiring them to register their internet information and social media accounts with their local sheriff's office. The station's work led to criminal investigations headed by the county.
---
Topic: Education
Date Posted: 5/5/2016
Univision-owned WLTV Miami honored ten local high school seniors with its 19th annual "Orgullo de Nuestra Juventud" (Pride of our Youth) award, presented at a lunch on May 5. Six students received awards for academic excellence and community service, while the other four were recognized for academic growth. The students received college scholarships and gift cards to help with expenses.
---
Topic: Local News
Date Posted: 5/4/2016
Media General's NBC affiliate WFLA Tampa, will be expanding its local news coverage with a new one-hour midday newscast at 11 a.m. beginning on June 13. Meteorologist Leigh Spann will join co-anchors Stacie Schaible and Gene Ramirez.
---
Topic: Investigative Reporting
Date Posted: 5/1/2016
Cox Media Group's WFTV-TV Orlando aired an investigative story on May 1 in which reporter Christopher Heath highlighted the fact that scientists from Florida Atlantic University have discovered a new link between people's exposure to a deadly bacteria in Florida lagoons and estuaries known as Vibrio and their consumption or handling of raw and uncooked fish or shellfish.
---
Topic: Health Awareness Campaigns
Date Posted: 5/1/2016
Graham Media Group's WJXT Jacksonville, Fla. partnered with the Florida Dental Association on a free clinic that provided over 5,000 dental procedures to 2,900 patients on April 22 – 23. The services, valued at $2.7 million, included fillings, examinations, extractions, root canal therapy, children's care and cleanings. People began to line up two days prior to the event. "The ability of WJXT to get the word out and reach the dentally underserved was absolutely astonishing as witnessed by the tremendous turnout of dental patients on both days," said Dr. Roger Robinson, an event organizer.
---
Topic: Youth-Focused Initiatives
Date Posted: 4/28/2016
NBC-owned WTVJ-TV Miami partnered with the YMCA of South Florida on a week-long "Swim Week" series, which aired April 18–22. The series addressed the high rate of drowning for children younger than 14. "We hope that our viewers benefit from the information our series will provide so in the end, no one has to suffer from more drowning tragedies," said General Manager Larry Olevitch. The series highlights stories of families affected by drowning and YMCA resources available to viewers. The YMCA's mobile aquatic team travels to local communities throughout the summer to offer free swim lessons.
---
Topic: Environment
Date Posted: 4/14/2016
CMG Orlando Radio and Cox Events held "Keep Winter Park Beautiful's Earth Day in the Park" on April 10. The event included yoga, sustainability projects, tree giveaways and seedling plantings.
---
Topic: Local News
Date Posted: 4/12/2016
Univision-owned WLTV Miami debuted a new Sunday morning public affairs show, "Al Punto Florida," on April 24. The hour-long program features politicians, newsmakers and celebrities discussing issues that affect the Hispanic community in Central and South Florida. The show's premiere featured an exclusive interview with former Republican presidential candidate Marco Rubio; a segment on the impact of the Hispanic vote in Florida; and analysis of the 2016 Miami-Dade County mayoral race.
---
Topic: Local News
Date Posted: 4/4/2016
Fox-owned WOFL-TV Orlando expanded its morning weekday local newscast to begin at 4 a.m., starting April 25. The station now offers six hours of local news from 4 to 10 a.m. each weekday, bringing the weekly total to 53 hours.
---
Topic: Environment
Date Posted: 3/17/2016
Cox Media Group Orlando hosted the 2016 team Cox Orlando River Cleanup with American Rivers and Keep Seminole Beautiful on March 12. The cleanup was held at Wekiva island in Longwood, Fla. Cox employees picked up nearly 1,000 pounds of trash.
---
Topic: Disaster Relief and Recovery
Date Posted: 3/2/2016
Suncoast News Network's WSNN Sarasota, Fla., provided lifeline coverage of tornados on Jan. 17 that killed two and caused widespread property damage. Meteorologists Justin Mosely, Cassie Nall and Joshua Rivas accurately predicted the storm's development off the Gulf Coast, providing viewers with ample warning so they could prepare. WSNN provided more than nine hours of continuous live coverage. In the following weeks, WSNN covered rebuilding efforts, including Governor Rick Scott's trip to Siesta Key. "Our viewers depend upon SNN," said President and General Manager Doug Barker. "They know when the weather turns bad, SNN will be there live and will stay live as long as conditions warrant." Read comments from appreciative viewers.
---
Topic: Education
Date Posted: 3/1/2016
Hearst's NBC affiliate WESH Orlando highlighted and honored local black Central Floridians who have made significant contributions to the community.
---
Topic: Investigative Reporting
Date Posted: 2/4/2016
Graham Media Group's WJXT-TV Jacksonville, Fla. aired an investigative report on February 8 showing that the city was prepared to write off millions of dollars of municipal property found to be missing or stolen over the past several years. WJXT analyzed a list of hundreds of missing or stolen city equipment from June 2014 to July 1, 2015 that included courthouse video systems, ice machines, breathalyzers, and even bullet proof shields. The purchase prices of the items on the list totaled $1.2 million. One week after the report aired, new legislation was introduced to the council authorizing the director of finance to delete all unaccountable items from their books from 2010 to 2016.
---
Topic: Safety Initiatives
Date Posted: 2/1/2016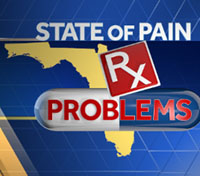 Hearst's NBC affiliate WESH-TV Daytona Beach, Fla. conducted an 11-month investigation into a rule intended to curb drug abuse in Florida that prevented dying patients from getting pain medication their doctors had lawfully prescribed. The investigation forced change at pharmacies and in Florida's capitol.
---
Topic: Youth-Focused Initiatives
Date Posted: 1/20/2016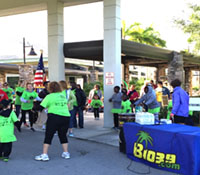 On-air personality Joe Winner of Beasley's WXKB-FM Cape Coral, Fla. participated in the 7th Annual Baby Basics Walking Challenge, which raises money to buy diapers for babies in low-income families whose parents are working but not receiving federal or state assistance. These event raised enough to purchase 120,000 diapers.
---
Topic: Safety Initiatives
Date Posted: 11/5/2015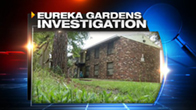 Graham Media owned WJXT Jacksonville exposed unsafe conditions at the Eureka Gardens Apartments, including crumbling staircases, mold and gas leasks. WJXT brought attention to residents' frustration, which they voiced when the complex passed a Department of Housing and Urban Development inspection. Eureka Gardens' owner subsequently announced plans for major changes.
---
Topic: Community-Focused Initiatives
Date Posted: 11/5/2015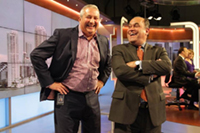 The Miami Herald recently highlighted Telemundo Station Group's local initiatives, including the addition of nine "Telemundo Responde" investigative units. The unit has recovered more than $3.5 million for consumers by investigating local businesses such as auto mechanics and tax agencies. The annual telethon for the Miami-based Liga Contra el Cáncer (League Against Cancer) generates most of the organization's yearly budget. "We want to be the station that breaks news and covers weather for our audience," said Telemundo Station Group President Manuel Martinez. "We have a specific relationship with our audience, because if you're not 100 percent fluent in English, you come to us every day for your entertainment and information.
---
Topic: Community-Focused Initiatives
Date Posted: 11/5/2015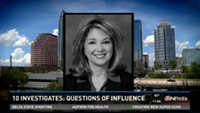 Tegna's CBS affiliate WTSP St. Petersburg, Fla. aired "The Gatekeeper," a newscast and 6,000-word online story with links to public records and online-only videos based on reporter Noah Pransky's year-long investigation into private public relations consultant Beth Leytham. Pransky found evidence that Leytham may be skirting lobbying registration laws. Her clients include Tampa Mayor Bob Buckhorn and Hillsborough County Commissioner Ken Hagan. After the story broke, a city council member called for a review of Tampa's lobbying rules. The county administrator asked the sheriff to review the award of a $1.35 million contract to one of Leytham's clients, who used her as a subcontractor.
---
Topic: Community-Focused Initiatives
Date Posted: 9/3/2015
Calkins Media's ABC affiliate WWSB-TV Tampa will launch "ABC 7 News at 7:00" on Sept. 14 to focus on investigative reporting and discussions with local newsmakers. It will be anchored by Emmy award-winning journalist Alan Cohn, who also won a George Foster Peabody award in 2007 for a story on defective parts installed on Black Hawk helicopters. "We... believe strongly in localism and have expanded our commitment to providing quality news and local programming," said General Manager Jeff Benninghoff. "We believe that this 7 p.m. newscast will provide the perfect forum for more in-depth reporting — and debate — on important issues and stories in the Suncoast community."
---
Topic: Community-Focused Initiatives
Date Posted: 9/3/2015

Graham Media Group's CBS affiliate WKMG-TV Orlando will offer a 4 p.m. newscast starting Sept. 7. The station announced the additional newscast on social media and during regular newscasts. It will feature anchors Julie Broughton, Matt Austin, Lisa Bell and Ginger Gadsden and Chief Meteorologist Tom Sorrells.
---
Topic: Community-Focused Initiatives
Date Posted: 7/17/2015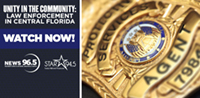 Cox Media Group Orlando hosted "Unity in the Community: Law Enforcement in Central Florida" on June 10. WDBO-FM Orlando's Joe Kelley and WCFB-FM Daytona Beach's Monica May moderated the panel, which aired and streamed live on both stations. Experts discussed local law enforcement's role in the community and answered listeners' questions. Panelists included Orange County Sheriff Jerry Demings, Orlando Police Chief John Mina, Sanford Police Chief Cecil Smith, former Chief Judge Belvin Perry and Executive Director of Crimeline Barb Bergin.
---
Topic: Health Awareness Campaigns
Date Posted: 7/17/2015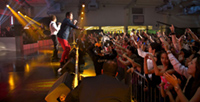 NBC's Telemundo affiliate WSCV-TV Miami raised $4.1 million during a telethon for La Liga Contra el Cancer, bringing the event's 17-year total to $60 million. La Liga Contra el Cancer provides free medical screenings and treatments. "As we move into our 31st year, we remain committed to our audience as providers of journalistic excellence in our newscasts, as a preferred provider of entertainment and as a major supporter of efforts on behalf of our community," WSCV President Jorge Carballo told TVNewsCheck.
---
Topic: Community-Focused Initiatives
Date Posted: 6/4/2015

Cox Media Group's WDBO-FM Orlando aired a one-hour special, Awareness & Action: Domestic Violence on May 6. The program discussed how every minute, 20 people are victims of intimate partner violence and about 25 percent of all women will experience domestic violence at some point. The panel included Belvin Perry, Former Chief Judge, who presided over the Casey Anthony murder trial; Jeff Ashton, Florida's Ninth Judicial Circuit State Attorney and prosecution team member in the Casey Anthony trial; and several experts from the law and social services fields. The program aired live on WDBO-FM and streamed online on Cox Media Group's five Orlando radio stations: WDBO-FM, WWKA-FM, WCFB-FM, WMMO-FM and WPYO-FM.
---
Topic: Politics and Election Coverage
Date Posted: 6/4/2015

Bayshore Television's CBS affiliate WJAX-TV Jacksonville hosted a debate on May 6 between candidates for Jacksonville mayor, incumbent Alvin Brown and Republican challenger Lenny Curry. Cox Media Group's WOKV-FM Jacksonville also broadcast the event.
---
Topic: Politics and Election Coverage
Date Posted: 6/4/2015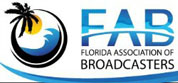 The Florida Association of Broadcasters provided a satellite uplink for local and national stations to cover the Economic Summit on June 2nd. During the event, Florida Governor Rick Scott hosted prospective 2016 Republican Presidential candidates, who each had 30 minutes to discuss their views on jobs and economic growth. Morning speakers included Scott, Florida Senator Marco Rubio, former Arkansas Governor Mike Huckabee, former Texas Governor Rick Perry and Wisconsin Governor Scott Walker. The afternoon program featured New Jersey Governor Chris Christie, Louisiana Governor Bobby Jindal and former Florida Governor Jeb Bush. Texas Senator Ted Cruz and Kentucky Senator Rand Paul declined the invitation.
---
Topic: Youth-Focused Initiatives
Date Posted: 3/15/2015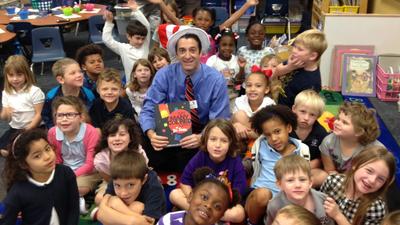 Hearst Television owned NBC Affiliate WESH-TV Daytona Beach, Fla. meteorologists Tony Mainolfi and Amy Sweezey worked to promote national "Read to Me" literacy campaign, which urges adults to read to children. In addition, the two meteorologists encouraged local actors to volunteer for BookPALS, or Performing Artists for Literacy in Schools.
---
Topic: Youth-Focused Initiatives
Date Posted: 2/9/2015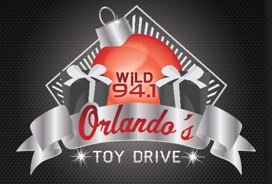 Beasley Broadcast Group's WLLD-FM Tampa raised $12,254 and 305 bicycles in its third annual toy drive benefiting The Children's Home. The Children's Home serves abused and abandoned children and their families through therapeutic and traditional foster homes, in addition to supporting relative care-givers. In just three years Orlando's Toy Drive has raised over $22,000 in gift card and cash donations, 1,100 bicycles and thousands of toys.
---
Topic: Education
Date Posted: 12/4/2014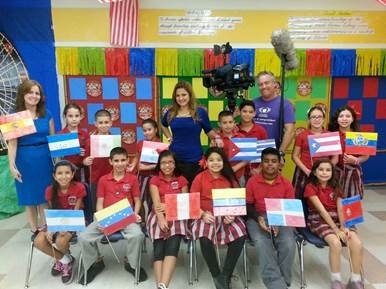 Univision's Education Week 2014, held Oct. 4 - 11 across its 128 radio and TV stations and its multimedia platforms, included on-air segments; phone banks that answered more than 3,000 questions from viewers; and online college fairs. More than 2,000 viewers attended a free education fair in San Antonio on Oct. 4, which included exhibits and sessions on scholarships, financial aid, career planning and bilingual education. WLTV Miami's Education Week events included "Camino a la Universidad," a workshop that educated 11th grade students and their parents on the steps needed for a college education; its 13th annual "Club de Libros 23," a Parent Academy with sessions on enrollment, financial aid and scholarships; and phone banks for questions on education.
---
Topic: Politics and Election Coverage
Date Posted: 11/20/2014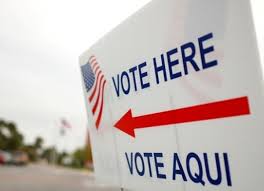 Charlie Crist and Rick Scott, candidates for Florida governor, met in three debates: Oct. 10 on Spanish-language Telemundo; Oct. 15 on CBS owned-and-operated WFOR-TV Miami; and Oct. 21 on Graham Media Group owned-and-operated WJXT Jacksonville. Univision's owned-and-operated WLTV-TV Miami and WAQI-AM Miami hosted a debate on Oct. 21 between Carlos Curbelo and Joe Garcia, candidates for a seat in the U.S. House of Representatives.
---
Topic: Politics and Election Coverage
Date Posted: 11/20/2014
CBS Television owned-and-operated stations produced and aired debates across the country:
KTXA Dallas, Oct. 5, Governor [Greg Abbott, Wendy Davis]; Lt. Governor [Dan Patrick, Leticia Van de Putte]


KYW-TV Philadelphia, Oct. 5, Governor [Tom Corbett, Tom Wolf]


WBZ-TV Boston, Oct. 7, Governor [Charlie Baker, Martha Coakley, Evan Falchuk, Scott Lively, Jeff McCormick]


WJZ-TV Baltimore, Oct. 7, Governor [Anthony Brown, Larry Hogan]


WBBM-TV Chicago, Oct. 14, Governor [Pat Quinn, Bruce Rauner]


WFOR-TV Miami, Oct. 15, Governor [Charlie Crist, Rick Scott]


KCNC-TV Denver, Oct. 24, Governor [John Hickenlooper, Bob Beauprez]


WCCO-TV Minneapolis, Oct. 26, Governor [Mark Dayton, Jeff Johnson]


WCCO-TV Minneapolis, Nov. 2, U.S. Senate [Al Franken, Mike McFadden]


---
Topic: Youth-Focused Initiatives
Date Posted: 10/2/2014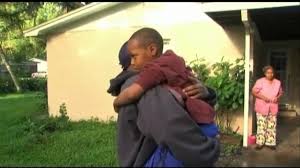 Scripps' ABC affiliate WFTS Tampa reunited a missing boy with his family. Paul Ezekiel Fagan, who has a mild learning disability, was last seen playing in his front yard on September 25. WFTS anchor Cameron Polom saw a child fitting his description after a press conference on his disappearance the next day. After confirming the child was Paul, Polom brought him home. Click here to watch Paul's emotional reunion with his grandmother and father.
---
Topic: Safety Initiatives
Date Posted: 10/2/2014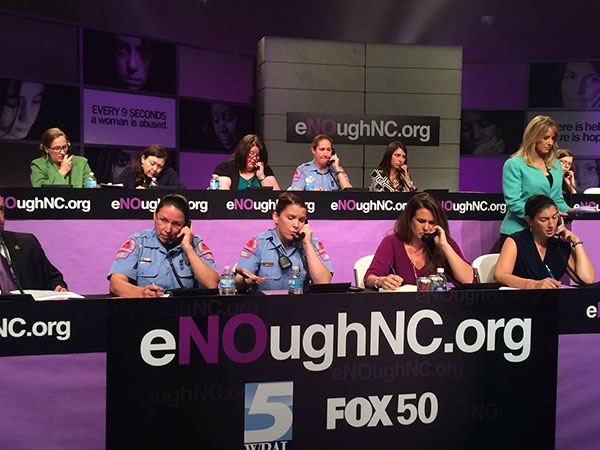 Broadcasters ramping up domestic violence initiatives through special news reports, telethons and tributes to victims following recent NFL incidents include E. W. Scripps' WEWS Cleveland, WFTS Tampa and Raycom's Honolulu stations, CBS affiliate KGMB and NBC affiliate KHNL, according to Broadcasting & Cable. In addition, Capitol Broadcasting launched the "eNOughNC" campaign, with WRAL-TV and WRAZ-TV Raleigh, NC producing two PSAs that debuted during an NFL game featuring Ray Rice's former team, the Ravens, and ran on WILM Wilmington and Capitol radio stations. "eNOughNC" provides education on how to break the domestic violence cycle.
---
Topic: Politics and Election Coverage
Date Posted: 10/2/2014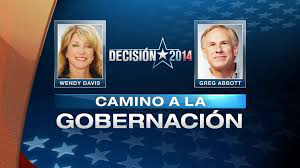 Telemundo is hosting a series of Spanish-language debates in September and October leading up to gubernatorial elections in several states. "We believe it is fundamentally important for our Spanish-language viewers and the Hispanic communities we serve across the country to be actively involved in the discussions that are taking place this election season," said Telemundo Station Group President Manuel Martinez. The debate series and other initiatives on Telemundo-owned stations include:
California, September 4: KVEA Burbank, PBS affiliate KQED San Francisco and the Los Angeles Times hosted a debate between incumbent Gov. Jerry Brown and challenger Neel Kashkari, which also aired on KNSO Fresno, KSTS San Jose and KUNA Palm Springs.


Texas, September 19: KTLM and CBS affiliate KGBT produced a debate between Texas Attorney General Greg Abbott and state Sen. Wendy Davis, which KTMD Houston and KVDA San Antonio also televised. Dallas stations KXTX, KERA and NBC affiliate KXAS co-hosted an Abbott and Davis debate on September 30.


Florida, October 10: WSCV Miami is hosting a Spanish-language debate between Gov. Rick Scott and former Gov. Charlie Crist.


Enfoque, a public affairs program: Airs on stations in Los Angeles, Miami, Dallas, Chicago, San Jose, Phoenix and Tucson and provides in-depth analysis of relevant local, regional and statewide topics.
---
Topic: Education
Date Posted: 9/8/2014

Beasley Broadcasting's WXKB-FM Estero, Fla., recently partnered with Lipman Produce to sponsor a backpack giveaway event. WXKB-FM collected more than 1,200 backpacks, 300 bike helmets, 2,000 pounds of food, 50 free haircuts and much more, all of which were donated to students across Southwestern Florida.
---
Topic: Youth-Focused Initiatives
Date Posted: 8/12/2014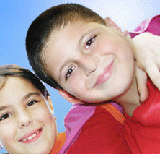 For two weeks during July, the employees of Univision Radio's Miami stations collected nearly $500 and several boxes of food and non-perishable items for the children of His House Children's Home located in Miramar, Fl. His House Children's Home is a private, nonprofit, faith-based group that provides residential care for abused, abandoned and neglected children in a home-like setting. The radio stations assisted the organization, which is constantly receiving and supporting children in need of help.
---
Topic: Environment
Date Posted: 6/9/2014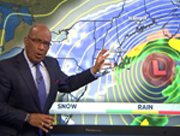 President Barack Obama recently invited eight weather broadcasters to the White House to help raise awareness of the National Climate Assessment, a new report that explains how the warming climate is causing dramatic changes across the United States. The New York Times reports, "Polls show that local television weathercasters are among the most trusted media figures." Broadcasters who were invited included NBC's Al Roker, and meteorologists from Gannett Broadcasting's CBS affiliate WLTX-TV Columbia, S.C., and NBC-owned WTVJ-TV Miami.
---
Topic: Education
Date Posted: 6/9/2014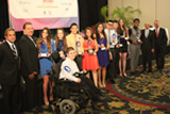 Univision's WLTV-TV Miami honored 10 outstanding South Florida high school students with its 17th annual Papa John's Pizza Orgullo de Nuestra Juventud (Pride of our Youth) Awards. The awards luncheon was hosted by WLTV-TV news anchor Alina Mayo Azze. Six of the 10 students were recognized for academic excellence and outstanding commitment to civic duty. The four other students were recognized with the Academic Achievement Award for demonstrating academic growth and overcoming setbacks in their personal life. The students were awarded scholarships by Papa John's Pizza, and Miami-Dade College offered each student free tuition if they chose to pursue their university education there.
---
Topic: Politics and Election Coverage
Date Posted: 5/14/2014

CBS Television's WFOR-TV Miami announced it will produce and broadcast a statewide televised debate for the major candidates running in the Florida governor's race later this fall. The hour-long debate is slated to air from 7 a.m. to 8 p.m. on October 15, and will be held at Broward College's Davie Campus. The debate will be broadcast on 10 other stations across the state, including Hearst's ABC affiliate WPBF-TV.
---
Topic: Education
Date Posted: 5/14/2014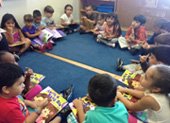 Univision's WLTV-TV Miami has visited more than 18 schools and participated at several events as part of the Pequeños y Valiosos (Young and Valuable) campaign, which raises awareness among parents about the importance of actively interacting with their children every day, from birth through the pre-school years, in order to help them learn. During these school visits, education reporter Maria Fernanda Lopez has read to the children and facilitated workshops for their parents. The campaign invites parents and families to make a pledge to engage with their kids for at least 15 minutes each day, without interruption.
---
Topic: Youth-Focused Initiatives
Date Posted: 5/14/2014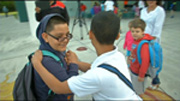 Beasley Broadcasting Group's WPOW-FM Miami recently held an anti-bullying rally for a local nine-year-old boy after learning of his struggles at school. WPOW-FM staff reached out to local sponsors to give the student, Osmany Franco, the royal treatment on his way into school. He drove in a convertible to Redland Elementary School and was joined by WPOW-FM's morning show host "Big Al," the Miami Marlins team van, and a police escort. Osmany, who suffers from developmental issues, will also receive VIP seats to a future Miami Heat game, and will participate in the halftime free throw contest.
---
Topic: Disaster Relief and Recovery
Date Posted: 5/14/2014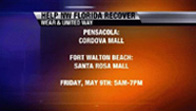 Sinclair's ABC affiliate WEAR-TV Pensacola, Fla., is teaming up with the United Way and several local radio partners to raise money to help the victims of the recent storms. WEAR-TV's staff will broadcast live from two local malls from 5 a.m. – 7 p.m. on May 9 to collect monetary donations from viewers and listeners. All the proceeds will be donated to the United Way.
---
Topic: Politics and Election Coverage
Date Posted: 5/14/2014

Gannett's CBS affiliate WTSP-TV St. Petersburg, Fla., announced it has partnered with the Tampa Bay Times and the University of South Florida (USF) to present a statewide, televised gubernatorial debate on October 7. The debate will broadcast live on CBS stations across Florida, and Gannett's NBC affiliate WTLV-TV in Jacksonville. The event will be held in the USF Music Concert Hall before an audience of 500 guests.
---
Topic: Community-Focused Initiatives
Date Posted: 1/10/2014

Scripps's NBC affiliate WPTV-TV Palm Beach, Fla., launched an Impact 5 campaign, to raise awareness of autism. WPTV-TV assembled an advisory panel of parents, educators and autism advocates to guide the station's on-air and online coverage, which airs every Wednesday in a special segment during the 6 pm newscast and on weekend mornings. The ongoing campaign will also include four phone banks for viewers to call in and ask questions, four primetime specials and a special autism website. Click here to watch videos from the Impact 5 campaign.
---
Topic: Education
Date Posted: 1/10/2014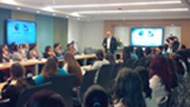 As part of Univision Educación, Univision's WLTV-TV Miami-Fort Lauderdale launched its fourth year of "Camino a la Universidad" (Road to the University), a series of workshops that pairs exceptional students with professional adults who assist students and motivate them to reach their personal, educational and professional goals. The program focuses on those students who have the desire and skills to succeed, but whom also need extra support to reach their potential. The informational sessions feature inspirational speakers that will provide college and career planning advice to help the students throughout their college application process.
---
Topic: Community-Focused Initiatives
Date Posted: 1/10/2014

Independently-owned WIIS-FM Key West, Fla., has partnered with the local Community Foundation of the Florida Keys to launch the "Nonprofit and Volunteer of the Week Awards." Each week the Foundation selects a worthy local nonprofit and an outstanding volunteer, and WIIS-FM mentions that person and the organization on air multiple times throughout the week. The winners get on-air recognition, a framed certificate and a gift certificate to a local restaurant.
---
Topic: Community-Focused Initiatives
Date Posted: 1/7/2014

Addressing head-on a significant problem in the Tampa Bay area specifically and in the country as a whole, WFTS launched a six week Taking Action Against Domestic Violence campaign aimed at heightening awareness, educating viewers and inspiring victims of abuse through the stories of survivors. The campaign featured weekly news stories, PSAs, in-studio interviews with local advocates and a one hour commercial-free primetime special that helped raise approximately $230,000. Included in every element of the campaign, the statewide Domestic Violence Hotline saw a 77 percent increase in calls during the six weeks alone. Not stopping there, WFTS reached out to teens with a 16-page special edition on Teen Dating Abuse, produced with the Tampa Bay Times Newspaper and Education Program. This edition was distributed to more than 150,000 high school students and made available online. WFTS also put a spotlight on workplace violence, hosting a Domestic Violence in the Workplace Seminar. Amid numerous public appearances for domestic violence community events, the collection of supplies for domestic violence shelters, a dedicated year-round website page with links and resources and a Facebook page, WFTS has created a lifeline for many suffering in the shadow of domestic abuse. What started out as a campaign to better the community has ended up a campaign that saves lives.
---
Topic: Education
Date Posted: 11/12/2013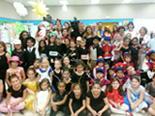 Univision's WLTV-TV Miami organized many events during Univision's Education Week 2013 to inform parents and prepare students for higher education. WLTV-TV held an education town hall moderated by reporter Sandra Peebles to discuss the college application process. The station also kicked off its 12th annual "Club de Libros 23" in which WLTV-TV's education reporter, Maria Fernandez Lopez, visits schools every week and reads with students.
---
Topic: Community-Focused Initiatives
Date Posted: 11/12/2013

Scripps Television's ABC affiliate WFTS-TV Tampa partnered with the Florida Coalition Against Domestic Violence on its 2013 Taking Action Against Domestic Violence Campaign. The six-week campaign featured weekly news stories, PSAs, interviews with local advocates, a free community event and an hour-long, commercial-free, primetime special. All campaign elements displayed the statewide domestic violence hotline phone number.
---
Topic: Community-Focused Initiatives
Date Posted: 10/4/2013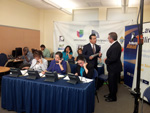 To support National Citizenship Day on September 17, Univision's WLTV-TV Miami partnered with the Florida International University Law Department's citizenship clinic, Hispanic Unity of Florida, Read2Succeed and Catholic Legal Services to provide guidance on the naturalization process and help with the N-400 application. WLTV-TV hosted local workshops to encourage legal permanent residents to apply for U.S. citizenship during National Citizenship Week. In addition, WLTV-TV hosted a phone bank, fielding more than 2,000 calls with questions related to citizenship. As a result, more than 300 applications were processed and additional workshops are being scheduled to assist the rest of the viewers that called into the station.
---
Topic: Health Awareness Campaigns
Date Posted: 7/8/2013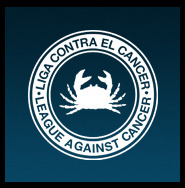 Peg Broadcasting's WSCV-TV Miami raised $4.5 million for the Liga Contra el Cancer (League Against Cancer), which offers free screenings and cancer treatment to low-income patients. "This annual telethon raises the funds ...[so] the organization can continue to provide the medical services and specialized care that will save so many lives in our community," Jorge Carballo, president-GM, told TVNewsCheck. The telethon was dedicated to the memory of salsa performer Celia Cruz, a major supporter of Liga Contra el Cancer.
---
Topic: Disaster Relief and Recovery
Date Posted: 6/7/2013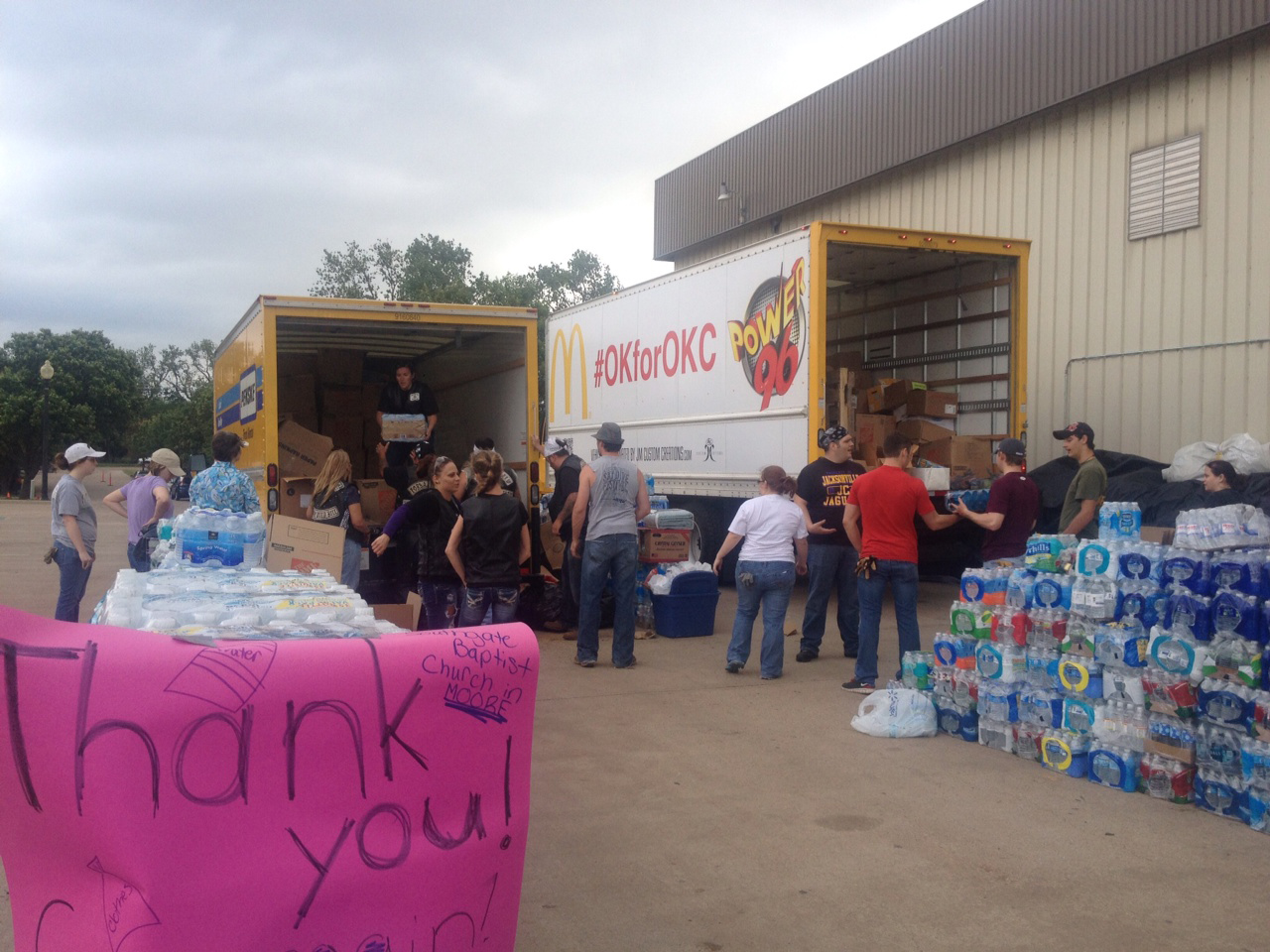 Beasley Broadcast Group's WPOW-FM Miami collected 80,000 pounds of supplies such as water, non-perishable food, baby supplies, pet supplies, electric wheelchairs, toiletries, rakes and shovels for tornado victims in Moore, Okla. During three days of live broadcasts, the station encouraged residents to write "messages of hope" on their donated items to add a personal touch. WPOW-FM afternoon host Africa traveled 27 hours from Miami to Moore with the two trucks that contained the 80,000 pounds of goods. The Blue Knights International Law Enforcement Club provided 300 retired police officers as an escort on the journey, which WPOW-FM documented on-air and via social media.
---
Topic: Community-Focused Initiatives
Date Posted: 5/10/2013
Cumulus Media's WZNS-FM Fort Walton Beach, Fla., donated prom dresses to 111 teenagers at 17 local high schools whose families could not afford to buy prom dresses. Many of the 450 dresses available to the girls, worth more than $22,000, were new and still had the original tags. WZNS-FM partners with a local mall, which provides store space and dressing rooms. A local dry cleaner, which donates its services. For the past nine years, the campaign has served young people from families affected by the Recession, displacement by Hurricane Katrina and depleted savings from medical bills.
---
Topic: Neighbors in Need
Date Posted: 3/1/2013

Clear Channel-owned WTKS-FM Orlando's "The Bucket Show" helped reunite a mentally disabled 13-year-old boy after he wandered away from the residential facility in which he lives. The boy's stepfather called WTKS-FM and asked for help to get the word out about his missing son. WTKS-FM posted the boy's picture and information online. Within two hours, the boy was spotted by a listener and reunited with his family.
---
Topic: Health Awareness Campaigns
Date Posted: 3/1/2013

Beasley Broadcasting Group's WXKB-FM Estero, Fla., has partnered with American Cancer Society to promote the Relay for Life Fort Myers Beach and raise money for the Society. WXKB-FM is holding an online auction, and all proceeds will go to the local American Cancer Society. WXKB-FM is also urging listeners to form a Relay for Life Team to fundraise for the Society. The Relay will take place on April 13.
---
Topic: Politics and Election Coverage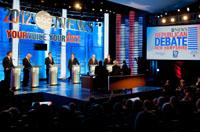 Candidates for the 2012 elections will be eligible for free airtime and free Web-time in the 30 days preceding the general elections. Post-Newsweek stations will offer free airtime on its television stations in the battleground states of Texas, Florida and Michigan: WDIV-TV Detroit; KPRC-TV Houston; WPLG-TV Miami; WKMG-TV Orlando; WJXT-TV Jacksonville; and KSAT-TV San Antonio. In addition to the presidential race, each state has important senatorial and congressional races.
"The 2012 elections are of critical importance, both locally and nationally. Our responsibility as news and public affairs leaders is to ensure that candidates and voters have a platform for rigorous public discussion and debate," said a station representative.

In addition to free airtime and Web-time, Post-Newsweek stations will offer at least 10 minutes per weekday to locally produced political news during the political season, featuring on-air debates, town hall meetings and public service announcements to encourage voter participation.
---
Topic: Youth-Focused Initiatives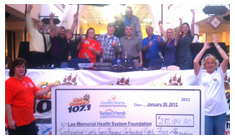 Clear Channel's WCKT-FM Ft. Meyers, Fla., raised over $287,000 during their 10th annual "Helping Kids with Cancer" radiothon to benefit Children's Hospital at Lee Memorial Health System. All proceeds from the event's record-breaking total went to the Barbara's Friends fund, which helps fill treatment and educational needs so pediatric oncology patients do not have to travel far for care.
---
Topic: Politics and Election Coverage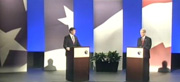 NBC-owned WTVJ-TV Miami televised a Florida senatorial debate on October 17, featuring incumbent Bill Nelson and Republican challenger Connie Mack. The debate was part of "Decision 2012: Before You Vote" and was produced by the partnership with Leadership Florida and the Florida Press Association. All 11 television markets in Florida broadcast the debate live.
---
Topic: Disaster Relief and Recovery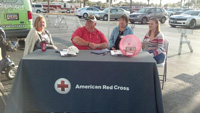 Media General stations that held telethons to raise money for the American Red Cross relief efforts included WBTW-TV Myrtle Beach, S.C.; WCMH-TV Columbus, Ohio ($27,000 raised); WFLA-TV Tampa, Fla. ($28,000 raised); WJBF-TV and WAGT-TV Augusta, Ga. ($15,000 raised); WJHL-TV Johnson City, Tenn. ($25,000 raised); WSAV-TV Savannah, Ga.; and WSPA-TV Spartanburg, S.C. WSAV-TV also ran a ticker promoting Red Cross donations throughout newscasts. WJAR-TV Providence, R.I., dedicated a 7 p.m. newscast to Sandy's aftermath. The station replayed top stories that many viewers missed due to power outages and also fielded calls from viewers who wanted to volunteer or donate money to relief efforts.
---
Topic: Politics and Election Coverage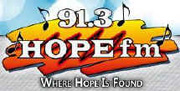 Independently-owned WHIF-FM Palatka, Florida held candidate forums with all the local candidates in the primary and general elections and made the audio available online. The station also hosted discussions to explain various amendments on the ballot.
---
Topic: Education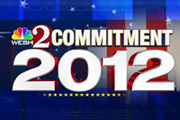 Hearst Broadcasting's WESH-TV Orlando aired a 30-minute daily political program "Commitment 2012: Extra" from Oct. 8 through Election Day. The show included live conversations and debates with local candidates, election news and campaign developments. The program was an extension of Hearst's "Commitment 2012," which offers at least 12 minutes of political news per weekday. "WESH 2 News has always taken our role seriously when it comes to informing and educating our viewers before they head to the ballot box," Bob Longo, WESH news director, told Broadcasting & Cable. "This important election season, we're giving viewers an even greater chance to learn about the candidates asking for their votes and the issues so important to our community."
---
Topic: Politics and Election Coverage


NBC News will partner with Telemundo to cover the presidential election. "Decision 2012" will include joint monthly polls, coverage of the campaigns and conventions and events focused on the role of the Hispanic vote, estimated at 22 million eligible voters. The partnership provides Telemundo access to NBC News' political content and gives NBC News the benefit of Telemundo's expertise in the Hispanic community. "This parnership will allow Telemundo and NBC News to offer news in both languages, reaffirming our deep commitment to inform and empower our community," said Emilio Romano, president of Telemundo Media. NBC News Senior Vice President Alexandra Wallace will oversee the effort.
---
Topic: Politics and Election Coverage

Four GOP candidates - Newt Gingrich, Mitt Romney, Rick Santorum and Ron Paul - participated in a debate sponsored by NBC News, the Tampa Bay Times, The National Journal and the Florida Council of 100. It was the first of two debates focused on the Florida GOP primary.

"Florida has often been the stage for history in politics; we look forward to hosting a substantive and stimulating forum for the candidates to make their case to the voters in this crucial state and the whole country," said NBC News Senior Vice President of Specials Mark Lukasiewicz.
The event was aired live on the NBC television network and was also streamed live on nbcpolitics.com, nationaljournal.com, and tampabay.com. Telemundo's live broadcast featured simultaneous Spanish-language translation.
---
Topic: Politics and Election Coverage


El Dorado Broadcasters Spanish Talk WSUA-AM Miami will start the new year with a greater emphasis on political coverage through a new weekly show "Caracol Decision 2012". The show will air live every Tuesday from 8-9 p.m. until election night and will be hosted by veteran news journalist Yoly Cuello, who has covered the last four elections for Radio Caracol. The coverage will include exclusive interviews with local, state, and national candidates from both parties, top political experts, and discussions among listeners on topics that are important to them.
---
Topic: Military-Focused Initiatives

Hearst Corporation's WMOR-TV Tampa and Ringling Bros. and Barnum & Bailey donated tickets to military families at MacDill Air Force base in Tampa as part of the station's annual Hometown Heroes promotion. WMOR's Hometown Heroes allows deployed military personnel to provide holiday greetings to loved ones in the Tampa Bay area.
---
Topic: Youth-Focused Initiatives

Beasley-owned WXKB-FM Cape Coral, Fla. recently delivered two pallets of school supplies to the Collier County School district to kick off the new academic year. The station's "Big Mama and The Wild Bunch" staff partnered with Pepsi to collect an assortment of supplies including pencils, pens, markers, crayons and notebooks for area students in need. Together WXKB-FM and Pepsi constructed a house made out of soda cans in the parking lot of a local Wal-Mart. The radio crew broadcasted live from inside the house for four-and-a-half days. In total, the "Big Mama and The Wild Bunch" team collected more than $10,000 worth of school supplies. The station also adopted 43 students from the Abuse Council Treatment Center. Each of the 43 kids received a new outfit for their first day of school and supplies for the academic year.
---
Topic: Disaster Relief and Recovery

Northwest Florida radio broadcasters recently organized a half-hour radio program that updated listeners about the Gulf Coast Claims Facility (GCCF) filing procedures in the wake of the BP Gulf Coast oil spill, including how to file initial claims and what to do if a claim has been denied. The project was organized by Dave Cobb, general manager of Sunshine Broadcasting. "The BP oil spill hurt the economy of Northwest Florida," he noted. "Radio stations have come together to promote the importance of filing and [if denied] refilling claims to Ken Feinberg's GCCF organization." Many Northwest Florida radio stations also began a 60-day radio advertising campaign that encourages Floridians to file claims. Thus far, radio stations have donated $192,018 in airtime to this initiative.
---
Topic: Safety Initiatives

Beasley Broadcast Group-owned WWNN-AM Boca Raton, Fla., broadcasts a weekly community-minded radio show, "All Points Bulletin with Sheriff Al Lamberti." During the program the Broward County, Fla., Sheriff speaks with law enforcement experts about local crime trends and issues. To date, the show - which debuted February 2010 - has been directly responsible for the capture of eight fugitives and has profiled more than 70 additional criminals. Recently, WWNN-AM welcomed "America's Most Wanted" host John Walsh who contributed to the "You're on Our List" segment of the show, which is dedicated to apprehending South Florida's most wanted criminals.
---
Topic: Health Awareness Campaigns

New Year's resolutions to eat right and work out are always easier to keep with a little encouragement, which is why WPOZ-FM, WMYZ-FM and WHYZ-FM in Orlando, Fla., started "Ellis and Tyler's Dash for Health." The stations' morning show team, Ellis Feaster and Tyler McKenzie, invited listeners to join an eight-week wellness initiative, with an ultimate goal of getting both themselves and their fans healthier. Each weekday, local health experts went on the air to give helpful advice about everything from eliminating high-fat foods from the dinner table to finding a balance between family, work and a healthier lifestyle. In addition, weekly emails containing tips and practical recipe ideas were sent to participants, and free "Dash for Health" exercise classes were offered at area YMCAs. "We feel this is an amazing opportunity to join with the community to learn how to make healthier lifestyle changes a priority in 2009," said McKenzie.
---
Topic: Politics and Election Coverage

Cox Media Group's WOKV-AM/FM Jacksonville, Fla., held Hob Nob 2011, an exclusive event for local Floridians to meet and greet nearly all of the major candidates running in the area's spring elections. More than 700 people, including leaders from business and government, attended the March 10 gathering and cast ballots in a straw poll. Twenty-nine candidates were represented with tables at Hob Nob, and several made appearances with their supporters. WOKV-AM/FM reporters covered the event and gathered exclusive audio with key candidates for Jacksonville mayor and sheriff. Hob Nob 2011 was an excellent opportunity for Jacksonville residents to learn more about the politicians running for elected office and served as a forum for discussing the key issues affecting area residents.
---
Topic: Neighbors in Need

When Lazaro ''DJ Laz'' Mendez of WPOW-FM Miami, Fla., heard that a local family was struggling to pay for funeral services after their three children were tragically killed in a car accident, he went to the airwaves. During five hours of broadcast, Mendez brought the community together, raising more than $50,000 for a proper burial. Many listeners called in to share their own stories of loss and remembrance, and others came to the station to give in-person donations, including children who brought in their piggybanks.
---
Topic: Youth-Focused Initiatives

WPOZ-FM in Altamonte Springs, Fla., provided expectant moms and parents of young children with free health and safety information at its second annual "Little Ears Expo." The expo featured informational booths covering such topics as CPR, parenting techniques, insurance and financial planning, children's fashions, scrap booking, car-seat demos and more. Attendees also had the opportunity to learn about preschool options, health, nutrition and behavioral patterns of young children. In addition to visiting various booths, expectant mothers in their second and third trimesters received a free live 4-D ultrasound at the expo. Throughout the day, experts also delivered seminars on pediatric first aid, what to expect in a baby's first year, breast feeding and pool safety.
---
Topic: Animal Protection

More than 4,000 pet owners and their wagging best friends showed up on a Saturday morning in February to participate in the local "Walk for the Animals," a fundraising event cosponsored by WLYF-FM in Miami, Fla., every year. The event raised $195,000 for the Humane Society of Greater Miami in 2007, a 42 percent increase from 2006. Talent from WLYF hosts the walk and live updates air every hour. In the weeks leading up to the fundraiser, the station uses live and recorded announcements to invite its listeners to join the "LITE FM Paws Patrol" team or create their own. The station Web site lists information and acts as a gateway for the registration process. "Thanks to the airing of public service announcements, live mentions and deejay endorsements before the event, we can ensure that more than 3,000 people join our efforts. At the event, WLYF puts on a show and ensures that everyone has a memorable time," said Emily Marquez-Dulin, the executive director of the Humane Society of Greater Miami. "This event could not be what it is without WLYF."
---
Topic: Safety Initiatives
View Video
Drowning is the number one cause of death for young children in Florida. To help reduce that number, WMOR-TV in Tampa Bay, Fla., started its "Pool Patrol" initiative. The station has run hundreds of spots covering four different topics: pool safety and what to do in case of an emergency; swim safety and the benefit of swim classes; securing pool areas with proper fencing and alarms; and the importance of "Water Watchers" supervising all children younger than 14 when near a pool. The station doesn't stop at the microphone. It also prints and distributes 20,000 water safety activity books through the Pinellas County Health Department and member agencies of the Hillsborough County Water Safety Team, which includes a wide variety of civic, community and public health groups. "We feel these books are a valuable asset for informing children and their caregivers about staying safe in and around water," wrote Kathy Moes of the Children's Board of Hillsborough County in a letter to the station. "Thank you so much for producing this valuable community resource."
---
Topic: Community-Focused Initiatives
View Video
In support of the United Way, WFLA-TV in Tampa, Fla., volunteered its talent and time to produce a series of six public service announcements. The station rounded up community leaders and local celebrities to inspire viewers to "Live United." The mayors of Tampa, St. Petersburg and Clearwater and Tampa Bay Buccaneers quarterback Jeff Garcia are among those featured in the spots. To augment the reach of the campaign, the station left its logos and branding off the announcements and distributed them to television stations throughout the Bay. All six announcements are receiving airtime on WFLA. "Simply put, without WFLA's contribution of creative talent, production and airtime the United Way of Tampa Bay would have not been able to reach our community stakeholders with any degree of impact or frequency," said Douglas Arnold, vice president of marketing and communications for United Way of Tampa Bay. "WFLA demonstrates the highest level of community service to the people of Tampa Bay and continues to provide United Way support that truly makes a difference in our regional operations."
---
Topic: Safety Initiatives

Situated in the path of Atlantic hurricanes and located in the state hit by the most tornadoes each year, WPBF-TV in Palm Beach Gardens, Fla., has a commitment to preparing and protecting the people in its community when severe weather threatens. The station produces an annual hurricane special and devotes a special series to protecting families, pets and property in the face of a storm during newscasts. A "Hurricane Homepage," which includes an interactive radar map to track weather activity and a Hurricane and Storm Survival Guide, makes up a comprehensive section of the station Web site. Viewers are invited to meet the WPBF Weather First meteorologists in person to discuss the latest in hurricane protection and awareness at three major hurricane expos each year. In addition, the Weather First team goes into the classroom and in front of groups to talk about severe weather and how to stay safe throughout the year.
---
Topic: Health Awareness Campaigns
View Video
WJXT-TV in Jacksonville, Fla., partnered with the Baker-Gilmour Cardiovascular Institute to help alert its female viewers about the threat of heart disease, which kills more American women than all cancers combined. Since the "Take It to Heart" campaign began in 2003, free screening events have been a cornerstone in the program's outreach efforts to the community. The 2007 event provided cholesterol and blood glucose testing as well as blood pressure measurements to more than 1,700 people. WJXT aired live coverage throughout the day, and the mayor of Jacksonville proclaimed February 7 as "Take It to Heart Day." News stories and public service announcements support the campaign, as well as billboard messages. Businesses are invited to bring "Take It to Heart" to their employees by distributing risk awareness sheets and other materials developed for the campaign. To date, 20 businesses have participated. The program has been recognized with several awards, including a state award from the American Heart Association and a Wellness Council Award for workplace health. In 2008, the screening event grew to include three local hospitals in three counties within the station's broadcast area.
---
Topic: Neighbors in Need

When two police officers lost their lives in the line of duty, WMXJ-FM in Miami, Fla. organized a benefit concert to support the families left behind. The "Cop Rock 2007 Friday Night H.O.P. (Help Our Police)" event starred Chuck Negron and the Classic Rock All Stars at an outdoor venue. In addition to raising awareness of the violence that law enforcement faces to keep neighborhoods safe, ticket sales and donations brought in $30,000, which was spilt between the Miami-Dade County chapter of The Police Officer's Assistant Trust and the Sheriff's Foundation of Broward County. During the two weeks prior to the event, the station aired two interviews with the bands during its morning show, more than 100 public service announcements and pre-recorded promotional spots and more than 100 live mentions. Station talent emceed the concert and the station donated 336 staff hours in total to make "Cop Rock" a success. A five-hour live broadcast of the concert allowed listeners throughout the community to partake.
---
Topic: Youth-Focused Initiatives

Raising awareness and funds to help children fight cancer and other catastrophic illnesses comes easy to WQYK-AM/FM in Tampa, Fla. The stations held their annual "St. Jude Kids Radiothon," a two-day event that included live broadcasts, music and on-air personalities discussing how even small donations add up to make a big difference in the lives of those affected by pediatric cancer. This year, the station's efforts raised $327,000. The money helps provide medical treatment to children who come to St. Jude Children's Research Hospital from the immediate area, as well as nationally. The stations' 19-year total for the radiothon tops $5.5 million. Operations Manager Mike Culotta says the effort is a success because "everybody at the station works together as a team." The radiothon is part of the thousands of minutes WQYK provides to local charities, community projects and awareness campaigns each year.
---
Topic: Environment

WSUN-FM in St. Petersburg, Fla., uses its "Green Room" to record live performances of major and local artists. These in-studio performances are released in an annual 97X Green Room CD, with all net proceeds going to an environmentally minded charity, most recently the Nature Conservancy, which has protected 1.2 million acres of natural lands in Florida and heads up the Florida Reef Resilience Program. The "Green Room CD Project" raises critical awareness of the benefiting organizations. Promotions for the most recently released volume as well as CD inserts include information on the Nature Conservancy and steer listeners on how to get involved. More than 15,000 copies have been sold to date, and 97X Green Room volumes have consistently been the number one selling rock disc in Tampa during the first week of sales. In a related effort, WSUN is working with the Ocean Conservancy to recruit volunteers for the organization's annual coastal clean up. A Memorial Day benefit concert organized by WSUN raised $6,000 for the Ocean Conservancy, doubling its budget for this year's clean up; recyclables that were placed in bins set up at the concert are being converted into material that will be used to make sweaters for children. "I'm a native Floridian. The environment is what we live for," said WSUN on-air personality Shark. "As a radio station, we can get people involved with conservancy and raise awareness about organizations doing good in the area."
---
Topic: Community-Focused Initiatives
View Video
A year-long, comprehensive campaign launched by WLTV-TV in Miami, Fla., together with radio stations WAMR-FM, WRTO-FM, WAQI-AM and WQBA-AM, was pivotal in getting citizenship information to the 600,000 permanent legal residents in the area. The "Ya es Hora ¡Ciudadnia!" (It's Time Citizenship Campaign) promoted nationalization through public service announcements, special editions of public affairs programming, call-in phone banks that allowed residents to ask questions and extensive information on the stations' Web sites. The stations also promoted citizenship centers and hosted citizenship application events throughout South Florida. In addition, the radio stations broadcast a series of interviews with legal experts and top immigration lawyers, which allowed listeners to call-in questions. The campaign was timed to encourage legal residents to apply for citizenship before a planned 69 percent naturalization fee hike was implemented by the U.S. Citizenship and Immigration Services. "It is critical that permanent legal residents in South Florida have all the relevant facts to make timely citizenship decisions," said Enrique Teutelo, an anchor for WLTV who regularly covers the real-life stories of immigrants.
---
Topic: Politics and Election Coverage

To make viewers aware of their option to vote by absentee ballot, WKMG-TV in Orlando, Fla., teamed with the League of Women Voters for a "Stay at Home and Be Counted" campaign. In the month leading up to Florida's presidential primary, the station broadcast public service announcements (PSAs) hundreds of times showing the ease of voting by mail. The four station-produced announcements featured WKMG's top anchors voting on their schedule and in the privacy of their own homes. Viewers were directed to the League's Web site for details on ordering absentee ballots within the seven counties covered in the station's viewing area. In production and airtime, WKMG donated $75,000 worth of services to the campaign. Absentee ballot requests were up 300 percent when compared to the 2004 primary elections, and the League credits the campaign with the results; similar efforts are being recommended across the country. To continue this voter momentum into the general election, WKMG has partnered with the League for a "Central Florida Video Challenge." High school students, film and college students, and the community at large have been asked to create 30-second PSAs about how their votes count. For each of the three categories, the top videos will be posted on the station's Web sites so viewers can vote for their favorites. The winning spots will be played for a two-week rotation to inspire those in the Sunshine State to get out and vote.
---
Topic: Military-Focused Initiatives

Part of a close-knit military town, WYCT-FM in Pensacola, Fla., adopted local Naval Reserve Battalion 11 before it shipped out to Kuwait. Days before the sailors' departure, a crew from the station went out to the base and recorded live interviews with these brave men and women. On the day of their departure, the station gave the sailors a send off and provided box lunches. During Thanksgiving, WYCT's morning show host Dana Cervantes went to visit the battalion overseas and hand-delivered 14,000 "Letters from Home." The station also linked up with WEAR-TV to air personal messages from the sailors via satellite for family members back in the United States. WYCT's efforts will continue until the battalion arrives back home safely. The station has made a commitment to make sure these men and women know how much their community and country care. WYCT was a National Association of Broadcasters' Crystal Award Finalist in 2008.
---
Topic: Community-Focused Initiatives

For the listeners of WQBA-AM in Coral Gables, Fla., budget cuts in higher education was a top issue last year, so the station took action and organized a town hall meeting. The community wanted to discuss the effects the cuts would have on the quality and availability of community colleges in South Florida. The forum offered students and educators the opportunity to address elected officials and college presidents about how the loss in funding would impact the quality of available education. WQBA's Oscar Haza and Bernadette Pardo moderated the event. The community was invited to join through promotional announcements throughout the week prior. Live cut-ins during the meeting broadened the reach of the discussion. Station staff contributed 75 hours to the event. WQBA organizes regular town hall meetings as a venue for area residents to discuss issues facing their communities and neighborhoods.
---
Topic: Community-Focused Initiatives

Beasley Broadcasting-owned WXKB-FM Fort Myers' morning show, "Big Mama & The Wild Bund" were recently awarded the key to the City of Naples from Mayor John Sorey for the team's commitment to the local community. The proclamation mentioned WXFB-FM's efforts to raise money for the American Cancer Society and the local Little League and to collect supplies for area schools and clothes for children in the Abuse Council Treatment Center.
---
Topic: Health Awareness Campaigns

"Buddy Check," a program developed by WTLV-TV and WJXX-TV in Jacksonville, Fla., in partnership with Baptist Medical Center, is helping women find breast cancer early, when it is easiest to treat. Every 12th day of the month, the stations run stories during the morning, early evening and late-night newscasts, reminding women to perform breast self-exams and encouraging them find a buddy who will remind them as well. To highlight the importance of the program, the stations run a monthly feature story about a person who credits finding her breast cancer to "Buddy Check." To date, 285 local women and men have contacted the station to say "Buddy Check" saved their lives. The program was implemented by Jeannie Blaylock, an award-winning anchor whose enthusiasm and dedication to the mission of educating women on the value of early detection has remained one of the program's greatest strengths since its inception 16 years ago. Blaylock continues to speak to groups around the community about the importance of breast self-exams. More than 2 million free "Buddy Check" kits have been distributed to women throughout the globe, and the program has been duplicated in more than 50 U.S. cities.
---
For more examples of how Florida's local radio and TV broadcasters are serving every local community, please contact the Florida Association of Broadcasters .