Topic:
Youth-Focused Initiatives
KLUC-FM
Las Vegas Morning Show Collected 2000 Bikes and 16 Semi Trucks Full of Toys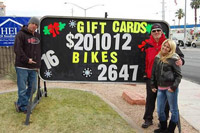 The 13th Annual CBS Radio KLUC-FM's Chet Buchanan & The Morning Zoo Toy Drive wrapped up with overwhelming numbers: 2,647 bikes, sixteen 50-foot semi-trucks full of toys and $201,012 in gift cards and cash, all of which were gifted to children who may have not otherwise had presents this holiday season.
On December 1, DJ Chet Buchanan moved into a tent atop a thirty-foot scaffolding for 24-hours, enduring wind, rain and below average temperatures. His live broadcast encouraged listeners to visit and donate.
"It is so amazing to see all these people come together and be a part of something bigger than them," says Buchanan. "When you're there, its magic; the semi-trucks lined up, the sea of bikes, the gift card count… it's indescribable."
Celebrities who donated or visited to show their support included Nick Cannon, Carlos Mencia, Nick Carter, T.I., Shane Victorino and many more.