Houston Morning Man Runs for Kids With Cancer (KKBQ-FM)
Topic: Health Awareness Campaigns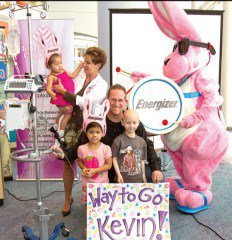 Cox Radioís KKBQ-FM (93Q) morning show host Kevin Kline ran 62 miles a day for a week to help raise awareness and money for the Texas Childrenís Cancer Center. Kline, who doubles as president of the Snowdrop Foundation, which raises money for the hospital, ran on a .75 mile loop around the center. Why 62 miles? There are 62 beds being occupied by kids at the center.
Kline invited listeners and other supporters to join him and run any distance they choose. The Snowdrop Foundation supports the centerís cutting edge work in pediatric cancer research, provides twice annual weekend excursions for patients, and awards college scholarships to pediatric cancer patients and childhood cancer survivors.

"This is to symbolically show what the children have to go through, through their chemotherapy," Kline said. "There is nothing comfortable about this; they actually experience pain. I just experience degrees of discomfort."
---
More stories on Health Awareness Campaigns