Post-Newsweek Stations Offer Free Airtime
Topic: Politics and Election Coverage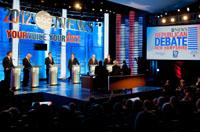 Candidates for the 2012 elections will be eligible for free airtime and free Web-time in the 30 days preceding the general elections. Post-Newsweek stations will offer free airtime on its television stations in the battleground states of Texas, Florida and Michigan: WDIV-TV Detroit; KPRC-TV Houston; WPLG-TV Miami; WKMG-TV Orlando; WJXT-TV Jacksonville; and KSAT-TV San Antonio. In addition to the presidential race, each state has important senatorial and congressional races.
"The 2012 elections are of critical importance, both locally and nationally. Our responsibility as news and public affairs leaders is to ensure that candidates and voters have a platform for rigorous public discussion and debate," said a station representative.

In addition to free airtime and Web-time, Post-Newsweek stations will offer at least 10 minutes per weekday to locally produced political news during the political season, featuring on-air debates, town hall meetings and public service announcements to encourage voter participation.
---
More stories on Politics and Election Coverage