WXFL-FM Big River Morning Man Jailed for Charity (WXFL-FM)
Topic: Neighbors in Need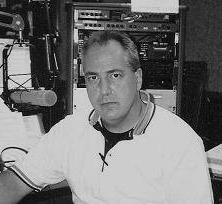 Big River Broadcasting WXFL-FM in Florence, Ala., behind morning man, Johnny Law, started a holiday food drive four years ago that has raised over 17,000 pounds of non-perishable food items. Over the years, Law has come up with some very creative ideas to help the community.
This year was no exception. Law was handcuffed and arrested live on the air in a ploy to raise awareness for the cause. He was taken to the city jail where he was photographed, printed, and processed into the system. During three days and nights in jail, he endured the same conditions as the inmates. He received no special treatment outside of the following exceptions: a laptop and a cell phone to communicate with radio personalities during their air shifts and listeners via social networks.
Listeners donated gift cards that were used to purchase non-perishable food items. Listeners stopped by the jail to visit Johnny during his visitation hours. After Johnny was released, he shopped for food to divide between eight local church pantries that needed the food.
---
More stories on Neighbors in Need