Congressman Recognizes Zimmer Radio for Outstanding Tornado Coverage
Topic: Disaster Relief and Recovery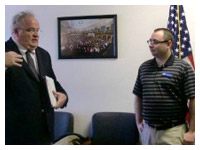 Missouri Congressman Billy Long presented the Zimmer Radio Group with a copy of the Congressional Record from December 16, when he cited Zimmer Radio's work following the May 22 tornado. NewsTalk KZRG-AM Joplin, Mo., and Zimmer Radio provided live 24-hour coverage for over a week following the deadly tornado in Missouri.

"It was just excruciating to drive down over here from Springfield and hear people call crying, panicked, looking for family members, didn't know which end was up, didn't know if their folks were alive, in a hospital, where they might be," said Long.

One KZRG-AM listener, Patricia Katopol, said the recognition was "absolutely well deserved. I listened online for days and was very impressed with the quality of programming – and the obvious concern and care that the broadcasters had for their fellow citizens – during the crisis."
---
More stories on Disaster Relief and Recovery