DonorsChoose.org Chosen for Clear Channel Push
Topic: Education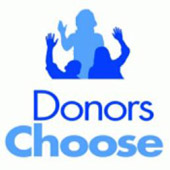 Clear Channel Communications named DonorsChoose.org as its quarter one 2012 non-profit partner. DonorsChoose.org raises funds for teachers' classroom projects. "Tools for Classrooms," a collaboration between Clear Channel Communities, DonorsChoose.org and Chase, will spotlight the lack of educational resources in U.S. classrooms. A three-month radio campaign will air 300,000 radio spots nationally on 850 stations. Personalities and artists such as Ryan Seacrest, Kelly Clarkson, LMFAO and Kris Allen encourage listeners to contribute to DonorsChoose.org. Chase and other partners will match donations for a total commitment of $250,000.
"I am really excited to partner with other great musicians in an effort to help teachers like my wife in communities all around the country," said Kris Allen, platinum recording artist and 2009 American Idol winner.
Approximately 40 percent of U.S. classrooms use DonorsChoose.org. Teachers use the website to post specific requests for their classrooms, such as pencils for a poetry writing unit, violins for a recital or microscope slides for biology. Visitors to the website decide which project to support and DonorsChoose.org delivers the materials once the funding goal is reached. Contributors receive photos of their selected project, a thank-you letter from the teacher and a cost report showing how each dollar was spent; those who donate $50 or more receive hand-written thank you letters from students.
Each quarter, Clear Channel Communities will spotlight a leading national non-profit organization that addresses critical issues in one of four focus areas: family and social impact; health and wellness; education and literacy; and music and arts.
---
More stories on Education