Topic:
Youth-Focused Initiatives
Univision Radio
Univision Radio $5.25 Million for St. Jude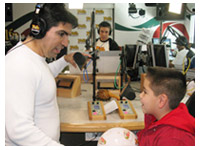 Univision Radio listeners raised more than $5.25 million in cash and pledges to battle childhood cancer and other diseases during the annual St. Jude Promesa y Esperanza (Promise and Hope) Radio Event, benefitting St. Jude Children's Research Hospital. This year, Univision activated 360-degree support of the event via its radio, television, online and social media platforms. A number of Latin celebrities reached out to fans through live interviews, PSAs, call-ins and continuous messages through their social media networks.