Topic:
Health Awareness Campaigns
WSET-TV
WSET-TV Goes to Bat to Find A Cure for Breast Cancer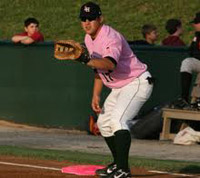 Allbritton Communications-owned WSET-TV partnered with Lynchburg's Minor League Baseball team, the Hillcats, for the Swing For A Cure fundraiser at City Stadium. The event benefited the Susan G. Komen for the Cure Foundation to help raise awareness and funds in the fight against breast cancer. The stadium was packed with fans wearing pink, while the field had Hillcats players in pink jerseys and useing pink Louisville Slugger bats. WSET-TV has participated for the last several years in coverage of the annual event. The station provided extensive promotion and aired stories about the event before and after the game. Through ticket sales, sponsor donations and a silent auction, WSET-TV raised $7,455. Donations increased significantly from 2011 when the Hillcats collected over $4,800.