Univision Educación Designates a Day of "Action for Education"
Topic: Education
Date Posted: 12/6/2013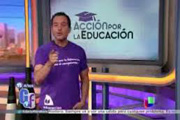 Univision Communications Inc., in partnership with the Bill & Melinda Gates Foundation and numerous national and local organizations, announced "Acción por la Educación!," an effort to create awareness of the Common Core State Standards and its impact on the Hispanic student population. Students and parents were encouraged to take a pledge to access information, create awareness with friends, speak with their child's teacher about the new standards and learn how they can provide support at home. This effort is part of the company's comprehensive, multiplatform education initiative, Univision Educación.
---
More stories on Education