WUSA-TV Hosts Mayoral Debate in Washington, D.C.
Topic: Politics and Election Coverage
Date Posted: 4/13/2014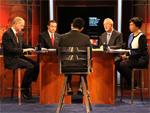 Gannett Broadcasting's CBS affiliate WUSA-TV Washington hosted an hour-long, live debate between the candidates running for mayor of the District of Columbia. WUSA-TV's reporter Bruce Johnson moderated the debate, which included the incumbent Vincent Gray and three of his opponents, Muriel Bowser, Jack Evans and Tommy Wells. The live debate was held less than two weeks before the primary election on April 1. Click here to watch video of the full debate.
---
More stories on Politics and Election Coverage