Debates in Spanish on KVEA Burbank, KQED San Francisco, KNSO Fesno, KSTS San Jose, KUNA Palm Springs
Topic: Politics and Election Coverage
Date Posted: 10/2/2014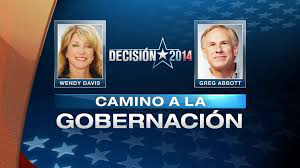 Telemundo is hosting a series of Spanish-language debates in September and October leading up to gubernatorial elections in several states. "We believe it is fundamentally important for our Spanish-language viewers and the Hispanic communities we serve across the country to be actively involved in the discussions that are taking place this election season," said Telemundo Station Group President Manuel Martinez. The debate series and other initiatives on Telemundo-owned stations include:
California, September 4: KVEA Burbank, PBS affiliate KQED San Francisco and the Los Angeles Times hosted a debate between incumbent Gov. Jerry Brown and challenger Neel Kashkari, which also aired on KNSO Fresno, KSTS San Jose and KUNA Palm Springs.


Texas, September 19: KTLM and CBS affiliate KGBT produced a debate between Texas Attorney General Greg Abbott and state Sen. Wendy Davis, which KTMD Houston and KVDA San Antonio also televised. Dallas stations KXTX, KERA and NBC affiliate KXAS co-hosted an Abbott and Davis debate on September 30.


Florida, October 10: WSCV Miami is hosting a Spanish-language debate between Gov. Rick Scott and former Gov. Charlie Crist.


Enfoque, a public affairs program: Airs on stations in Los Angeles, Miami, Dallas, Chicago, San Jose, Phoenix and Tucson and provides in-depth analysis of relevant local, regional and statewide topics.
---
More stories on Politics and Election Coverage