Buffalo Broadcasters: A Lifeline during Record Snow Fall
Topic: Disaster Relief and Recovery
Date Posted: 12/4/2014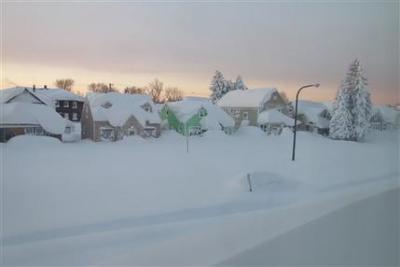 Last month, a lake-effect storm hit Buffalo, N.Y., with more than 60 inches of snow accumulation in one day. By the time the snow stopped falling, more than seven feet blanketed the area. Reports show that more than 140 people were trapped in vehicles and stranded for up to 30 hours on a 100 mile stretch of closed road. The storm claimed at least 12 lives.

During its fall, local radio and television broadcasters provided wall-to-wall coverage, delivering critical updates on weather patterns, road closures and emergency information to local residents.



FCC Commissioner Michael O'Rielly, a Buffalo native, praised area radio and TV stations for their coverage. "They kept powering through the storm, committing umpteen hours of airtime, and bringing in teams from other parts of the country, making sure they had troops to get out the information," he said. "I was very impressed also with their use of social media — not only were people listening and watching their broadcasts, they were also getting their information out as fast as they could on different media as best they could."

NAB President and CEO Gordon Smith said, "Time and again, broadcasters devote countless resources to provide vital emergency information that can't be matched by any other communications service. Broadcasters' response to the unprecedented snow storms that hit upstate New York is yet another example of the dedication of local radio and television stations to serve their communities during times of need."
---
More stories on Disaster Relief and Recovery