NAB Education Foundation Announces KEX-AM As Service to America Award Winner
Topic: Community-Focused Initiatives
Date Posted: 4/7/2015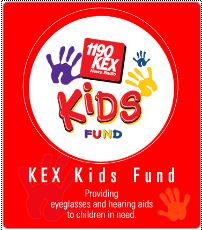 The National Association of Broadcasters Education Foundation (NABEF) announced the winners for the 2015 Celebration of Service to America Awards, recognizing outstanding community service by local broadcasters. Winners will be honored at the Celebration of Service to America dinner held Tuesday, June 16 at the National Building Museum in Washington, D.C. "Broadcasters have an unwavering commitment to serving the public, and the Service to America Awards are an opportunity for us to celebrate those radio and TV stations that epitomize what it means to be a broadcaster," said NABEF President Marcellus Alexander. "This year's winners have gone above and beyond to create a positive and worthwhile impact on the communities they serve." This year's Service to America Awards will honor the following broadcaster:
SERVICE TO CHILDREN AWARDS
These awards spotlight television and radio stations for outstanding programs, campaigns and public service announcements produced for the benefit of children.
Radio
KEX-AM Tigard, Ore. Owner: iHeartMedia
Since 1987, the KEX Kids Fund has provided eye glasses and hearing aids to children whose families cannot afford them in 16 counties of Oregon and Southwest Washington. The program is funded primarily by donations from KEX listeners who contribute through a four-day pledge drive that begins each year on Thanksgiving morning. The annual radio-thon raises approximately $100,000, allowing the Kids Fund to meet the needs of approximately 1,000 children each year. Teachers report that students who are served by the KEX Kids Fund, given proper hearing and vision, invariably move from the bottom to the top of their classes. Since the program's inception, thousands of children have been helped and millions of dollars have been raised.
Category Finalists:
KIRO-FM Seattle, Wash., Bonneville International Corp. WARR-FM Warrenton, N.C. Darensburg Broadcasting WROQ/WTPT/WFBC/WSPA/WYRD-FM/WORD-AM Greenville, S.C., Entercom Communications Corporation
---
More stories on Community-Focused Initiatives