Stations Organize Epic S.C. Relief Efforts
Topic: Disaster Relief and Recovery
Date Posted: 11/5/2015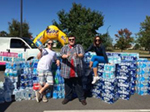 Radio and television stations organized tremendous disaster relief initiatives in the wake of the flood. Hearst Television's NBC affiliate WYFF-TV Greenville, S.C. raised more than
$700,000
for the American Red Cross during a telethon on Oct. 7.
Greater Media's WBT-AM/FM and WLNK-FM Charlotte, N.C. delivered 200,000 bottles of water on Oct. 8 (watch video).
Beasley Broadcasting held several drives, with the company's Augusta, Ga. stations collecting 700,000 bottles of water and WNKS-FM Charlotte, N.C. bringing in an additional 250,000.
Alpha Media stations' two-day radiothon raised $736,000.
Raycom Media's NBC affiliate WIS-TV Columbia, S.C. raised $24,000 in a telethon on Oct. 8 (watch video via TVNewsCheck).
Syndicated radio host Bobby Bones and his band, The Raging Idiots, raised $82,000 at a benefit concert presented by iHeartMedia's WEZL-FM Charleston. Access photos and audio here.
WLTX Columbia raised $141,000 in a telethon, which Congressman Joe Wilson (SC-2) acknowledged on the floor of the U.S. House of Representatives. His remarks are in the Congressional Record for Oct. 20, 2015.
---
More stories on Disaster Relief and Recovery