Viewers, Red Cross Thank Broadcasters
Topic: Disaster Relief and Recovery
Date Posted: 11/5/2015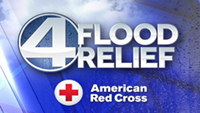 WIS Columbia shared this letter from a viewer: "I would like to commend the entire WIS news team for the outstanding job they have done bringing the viewers of this state very crucial information during this historic natural disaster. We all are aware that many of the WIS news team went many hours and some of them days without sleep. They all continued to provide updated information in the very most professional manner. Your teamís unwavering dedication to getting the news out expeditiously undoubtedly saved lives and property. Your teamís dedication to this state is nothing short of heroic."
WYFF Greenville received this letter from Ann Wright, Executive Director of the Upstate SC Red Cross. It reads, in part: "There really arenít enough words to express our sincere appreciation for the telethon you and your team conducted on October 7, 2015 to help with the floods... Thanks to you and the team at WYFF, we raised $830,519!
The power of your television reach and the mission of the Red Cross to provide immediate, emergency relief resulted in the most successful telethon in our area in recent years. In fact, we have now worked with you and WYFF since Hurricane Hugo, 25 years ago to hold eight telethons and raise $3,325,073. That is truly amazing.

Your willingness to do these telethons means that thousands of people received a hot meal, something to drink, a clean-up kit or a comfort kit filled with hygiene items and toys for children."
---
More stories on Disaster Relief and Recovery