Broadcasters Across the Country Host and Air Debates, Critical Election Coverage
Topic: Politics and Election Coverage
Date Posted: 11/5/2015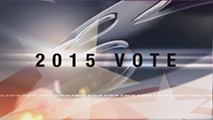 Tegna's NBC affiliate KUSA-TV Denver has gained recognition for quality content and high-profile interviews on its political show "Balance of Power." An interview with Democratic presidential candidate Hillary Clinton aired Oct. 18. Long-form news shows such as this "make a difference in the policy debate and in elections," said the Huffington Post's Jason Salzman.

Hearst's NBC affiliate WDSU-TV New Orleans hosted and aired an Oct. 1 debate featuring six candidates for Louisiana Governor (watch video).

An Oct. 6 debate between Kentucky gubernatorial candidates Jack Conway and Matt Bevin aired on Cordillera Communication's NBC affiliate WLEX-TV Lexington, Ky.; Gray's WSAZ-TV Huntington, W.V.; iHeartMedia's WHAS-AM Louisville; Raycom Media's NBC affiliate WAVE-TV Louisville; Fox affiliate WXIX-TV Newport, Ky.; and NBC affiliate WFIE-TV Owensboro, Ky. (watch video).

Tegna's NBC affiliate WCSH-TV Portland, ME broadcast live a debate between incumbent Mayor Michael Brennan and challenger Ethan Strimling on Oct. 13 (watch video).

KTBS Inc.'s ABC affiliate KTBS Shreveport, La. broadcast live and streamed a debate on Oct. 15 featuring the top four candidates for Louisiana governor (watch video).

Media General's CBS affiliate WISH-TV Indianapolis hosted and broadcast live the city's only mayoral debate, held Oct. 16 (watch video).

Tegna's CBS affiliate KHOU-TV Houston sponsored and aired an hour-long debate on Oct. 17 with seven of the 13 candidates for mayor (watch video).

ABC owned WPVI-TV Philadelphia aired an Oct. 25 debate with five mayoral candidates (election coverage).

Tegna's NBC affiliate KUSA-TV Denver used its Video Call Center system for a post-GOP debate show on Oct. 28. The system allows viewers to be seen on-air as they interact with hosts. KUSA also used the platform when covering the 2015 NFL preseason.

CBS News is partnering with Twitter on an enhanced viewer experience for the Nov. 14 Democratic debate. Twitter will provide CBS News with live reactions and voter questions, some of which may be used in the debate.
---
More stories on Politics and Election Coverage