Broadcasters Increase Local News Coverage
Topic: Community-Focused Initiatives
Date Posted: 2/16/2016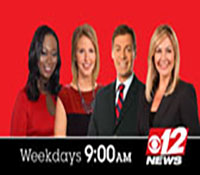 Television broadcasters that recently increased their local news programing include:

•Hearst's NBC affiliate KCRA-TV Sacramento added a one-hour weekday newscast at 4 p.m. on Jan. 25. It features live HD traffic updates and breaking news coverage from the air.
•Sinclair's NBC affiliate WOAI San Antonio added a half-hour noon newscast on Jan. 25 that features developing local stories, breaking news and a weather forecast. "We continue to look for opportunities to serve our community," said News Director Blaise Labbe.
•Hearst's NBC affiliate WLWT-TV Cincinnati added a half-hour 10 p.m. newscast on Jan. 11 that airs in addition to the station's existing 11 p.m. news.
• Tribune's Fox affiliate KTVI St. Louis launched a half-hour weeknight 11 p.m. newscast on Jan. 18. It is anchored by award-winning journalists Shirley Washington and Jasmine Huda.
• Hearst's ABC affiliate WCVB-TV Boston launched two new half-hour weeknight newscasts at 4:30 p.m. and 7:00 p.m. on Jan. 11.
• Cox Media Group's Fox affiliate WFOX Jacksonville, Fla., added an additional hour of weekday local news on Jan. 11.
• The News Press & Gazette's ABC affiliate KMIZ Columbia, Mo., added six hours of local news programming to its weekend lineup on Jan. 9, with newscasts at 6 and 8 a.m.
•Sinclair's CBS affiliate WPEC West Palm Beach, Fla., added an hour-long 9 a.m. newscast on Jan. 11, bringing its weekly total to 42 hours of news. In addition to breaking news, weather and live event coverage, the newscast includes a strong interactive component.
• Hearst's NBC affiliate WBAL-TV Baltimore expanded its "11 News Tonight" to one hour on Jan. 31. They now offer 38 hours of original, locally-produced news every week.
---
More stories on Community-Focused Initiatives