D.C. News Crews Go Above and Beyond
Topic: Disaster Relief and Recovery
Date Posted: 2/16/2016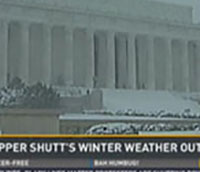 In addition to providing round-the-clock coverage, Tegnaís CBS affiliate WUSA crews helped Montgomery County, Md., residents dig out from under the snow. Watch video.

"It is absolutely ALL HANDS ON DECK here and the round the clock coverage has been underway online all week! I personally have brought a cot to the weather center just in case I donít care to leave, but we have hotel rooms ready just up the street!" said Fox-owned WTTG Weather Anchor Susan Palka.

Broadcasting & Cable and TVSpy featured articles on the temendous storm coverage broadcasters provided.
---
More stories on Disaster Relief and Recovery